BAFFIN ISLAND DIVE SAFARI
Highlights
Arctic diving, with a skilled Arctic Dive Master, in the most incredible ice formations found anywhere on the planet – pack ice, cracks, the sea floor of the Arctic Ocean.

Ice diving under the light of the midnight sun, possibly near grounded icebergs

Experience the floe edge – also known as the "line of life"

Possible viewing opportunities for pods of narwhal, polar bears, harp seals, bearded seals, ringed seals, bowhead whales, and beluga

Visit the Bylot Island Migratory Bird Sanctuary, which attracts more than 200,000 birds annually

Journey to traditional Inuit hunting grounds

Snorkel and kayak amongst sea ice

Enjoy hot, gourmet meals at our Tented Safari Camp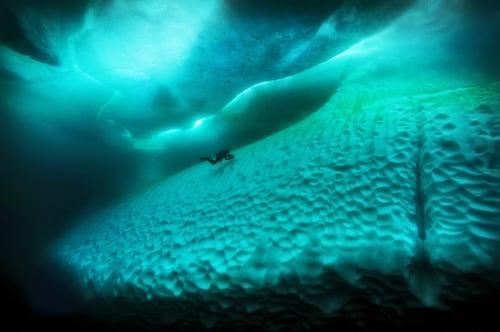 SEE MORE THAN JUST THE TIP OF THE ICEBERG: AN ICE DIVING EXPERIENCE LIKE NO OTHER!
Explore the Arctic from above and below the ice with the best and only Canadian Arctic scuba diving operator. Immerse yourself in a world of icebergs, become an Arctic diver among the drifting pack ice, the Arctic sea floor, and fascinating wildlife including narwhal, bowhead whales and polar bears on our Baffin Island Expedition.
Enjoy the glow of 24-hour sunshine at the floe edge, as you experience some of the most unique, exclusive and spectacular Arctic diver experience on the planet. At the end of full days spent diving, take in dramatic landscapes of towering granite cliffs, mountains, glaciers, and icebergs on this Baffin Island expedition.
Join us on the ultimate Arctic diving experience – on the only ice diving trip of its kind in the world!
Price


CAD $30,125* (including tax)




*per person, based on double occupancy. *Flight pricing is subject to change

Location


Eclipse Sound, Pond Inlet, Nunavut

Travel Package
Flights/Transfers* from Ottawa, ON (YOW) to Pond Inlet, NU (YIO)
International Gateway
Ottawa, ON (YOW)
Group Size
Up to 6
Transportation
Snowmobile & Qamutik
Average Temperature
-2°C to +10°C (+28°F to +50°F)
Daylight
24 hours
Official Dates


May 15 - May 22, 2024
Sold Out
Waitlist Upon Request
Price


CAD $33,120 (Tax Included)




*per person, based on double occupancy. *Flight pricing is subject to change

Location


Eclipse Sound, Pond Inlet, Nunavut

Travel Package
Flights/Transfers* from Ottawa, ON (YOW) to Pond Inlet, NU (YIO)
International Gateway
Ottawa, ON (YOW)
Group Size
Up to 6
Transportation
Snowmobile & Qamutik
Average Temperature
-2°C to +10°C (+28°F to +50°F)
Daylight
24 hours
Tentative Dates


Mid-May (To be Confirmed)
(4 Spaces Left)
Trip Itinerary
Discover the magical underwater world of ice diving in the Arctic while following a program of progressive dives. We may start off with simple dives in an open water environment off the floe edge and finish the trip with diving near natural features. Arctic diving in a drysuit will require more weight than you are normally accustomed to, so we will inspect your equipment and ensure all is functioning correctly and that you are weighted for neutral buoyancy. Each dive will progressively build on the previous dive.
As we evaluate your Arctic diving comfort, we will attempt to dive in an overhead environment, perhaps through a seal hole, or through a crack in the sea ice, or maybe even under the floe edge on a line. Finally, the pinnacle of diving in the Arctic will be on a grounded iceberg. (Subject to local conditions: An iceberg must be present and a safe entry/exit point such as a crack or melt-water pool must be available)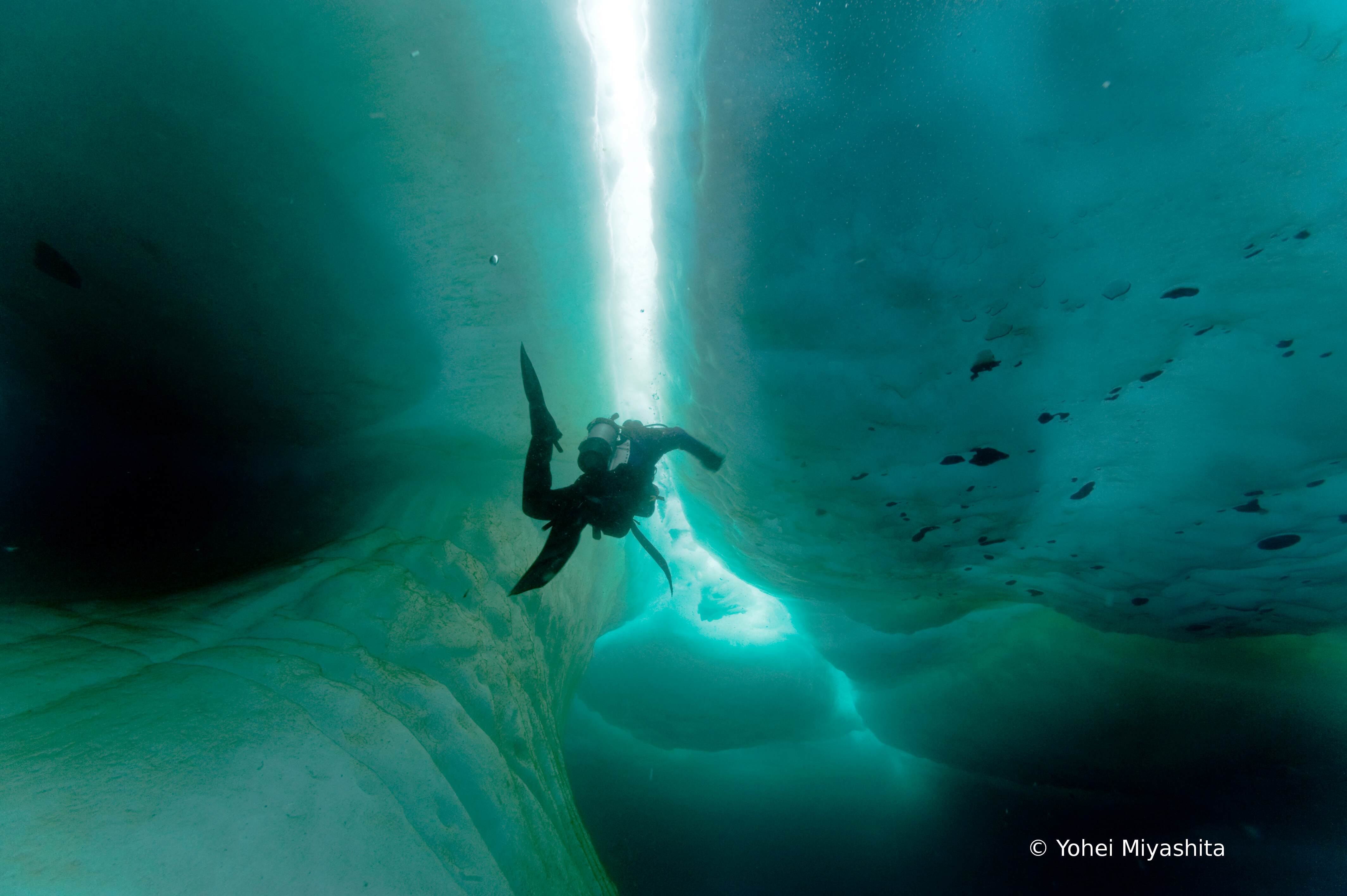 Day 1

Upon landing in Pond Inlet, you will be welcomed by our local Arctic Kingdom representative and transferred to a local hotel. Meet your Expedition Leader for a trip briefing and hot dinner.
Overnight in hotel.
Day 2

After breakfast, an orientation from Parks Canada, meet your guides on the beach in preparation for your departure to our camp on Eclipse Sound. Travelling to our Arctic Safari Camp by qamutik (a traditional Inuit wooden sled with suspension or foam padded seats pulled behind a snowmobile), you will experience the exhilaration of gliding across the ice. The journey's time will vary depending on ice conditions but will include tea and coffee stops. Our Arctic Safari Camp will be set up a few kilometres back from the floe edge.
Day 3-6

Spend the next few days revelling in some of the best diving you will ever experience. Following a program of progressive dives, you'll enjoy new experiences every day as you become more comfortable with this unique underwater environment.

Explore the Arctic seafloor and discover urchins, starfish, and glittering jellyfish. Witness the surreal world of blue and turquoise ice juxtaposed with the black depths below. This is an underwater photographer's paradise. Above the water and on land, you will experience other spectacular scenes and exciting adventures. Expect to see icebergs, 'bergy- bits', and drifting pack ice with playful seals poking their heads up out of the water to look directly at you. On the floe-edge, you will have the opportunity to see narwhals, bowhead whales, polar bears on the prowl, or seals sunning themselves, possibly walrus and beluga, and other Arctic wildlife. Migratory birds can also be seen in abundance. Pure white Ivory Gulls, gaudy King Eider, low flying Northern Fulmars, Thick-billed Murres, Kittiwakes, and Greater Snow Geese are just a few of the bird species known to frequent the area. Ice conditions permitting, you may also visit the Bylot Island Migratory Bird Sanctuary, where more than 200,000 birds choose to nest each year. Other activities include kayaking and hiking, and you may have a chance to visit the evocative ancient Thule sites, where you will see the traditional tent rings and learn about the culture and history of the ancestors of Inuit.
Days 7

After breakfast, depart camp by qamutik and snowmobile to Pond Inlet. Enjoy your final night in Pond Inlet with a special Inuit cultural presentation. Overnight in hotel.
Day 8

Depart for Ottawa with the spirit of the Arctic, and a full album of memories and friendships.
Accommodations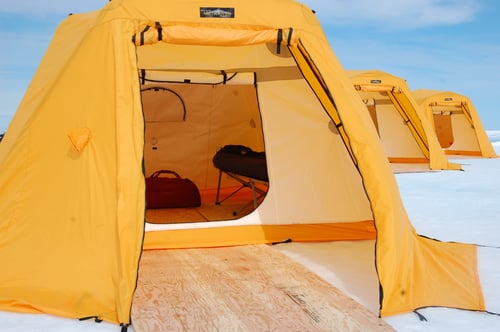 TENTED SAFARI CAMP ON ICE
While they may appear like a tented camp from the outside, our Tented Safari Camp continues to surprise and delight our guests with its roomy and warm interior. Large and spacious, the specially-designed tents for cold weather are tall enough to stand with ample space for all your cameras and luggage.
Features:
2 m (6' 9") tall with an interior of 14 m2 (150 ft2).
All sleep tents have two beds (cots above the floor)
Central dining/lounge area to dine and relax in with other guests
Shared washrooms with other guests.
Included
Round-trip flight from Ottawa to Pond Inlet

Services of Inuit Guides, Arctic Kingdom expedition staff, and Dive Leader

All accommodations from Pond Inlet:

5 nights in Tented Safari Camp on land

2 nights in Pond Inlet hotel

All transportation for duration of stay in camp & Pond Inlet

Meals: All meals and snack while in Pond Inlet and camp

Use of kayaks

Dive equipment including tanks, weights, weight belt, harness, all ice diving safety equipment, and emergency oxygen kit
Not Included
Accommodation & transportation in Ottawa

Tips, gratuities, personal expenses

Travel, medical and evacuation insurance, dive insurance, cancellation insurance. Dive and evacuation insurance is mandatory and Cancellation/Trip Interruption Insurance is strongly recommended as any additional costs associated with weather and/or layovers in Pond Inlet, Iqaluit or Ottawa are not included

Personal dive equipment including drysuit, regulators, BCD, mask, snorkel and fins

Polar Clothing Rental Package - strongly encouraged
With over 20 years of Arctic and expedition experience, we at Arctic Kingdom have been asked all kinds of questions. We understand that many of our guests have never partaken in an experience quite like our safaris nor have visited the Arctic before. We want to take this opportunity to make each of our guests feel comfortable and well prepared for their upcoming safari.
Book Now or Talk to a Travel Advisor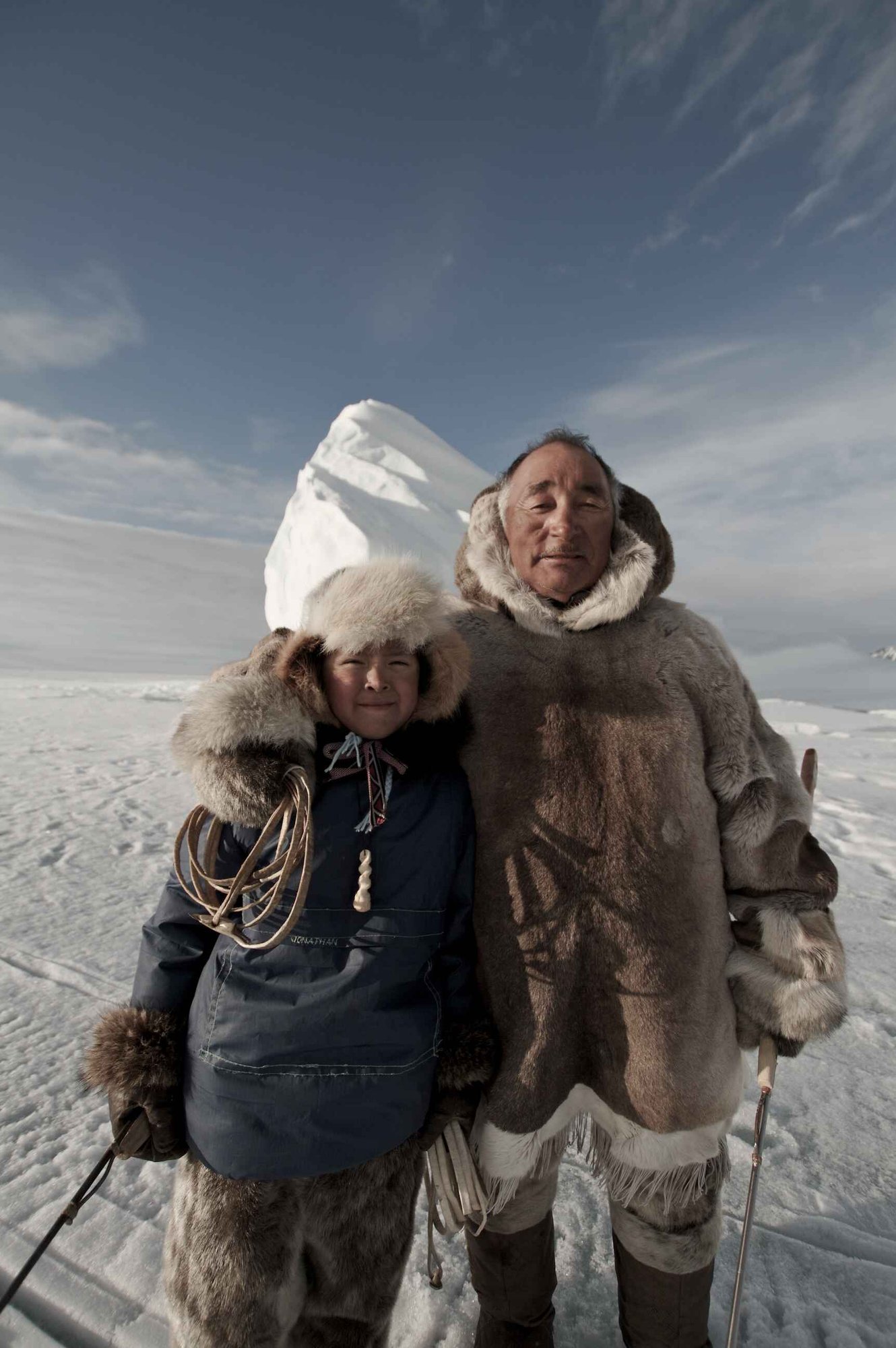 My expectations have been wildly surpassed. This is the most amazing adventure I have ever had in my life.
Carlos G, Mexico