Spring Polar Bears & Icebergs of Baffin Safari
Highlights
Experience the exclusivity of true Arctic and with mother polar bears and cubs in early spring

Stay in our Tented Safari Camp, set on approximately 2.5 meters (8 feet) of solid ice (or more)

Capture unique and stunning photographs of polar bears, and possibly cubs, as the polar bears lounge on icebergs and the sea ice

Take in stunningly vast landscapes and panoramic views of soaring icebergs and mountains in the Arctic

Get the chance to experience the Northern Lights at night in all its glory in the high Arctic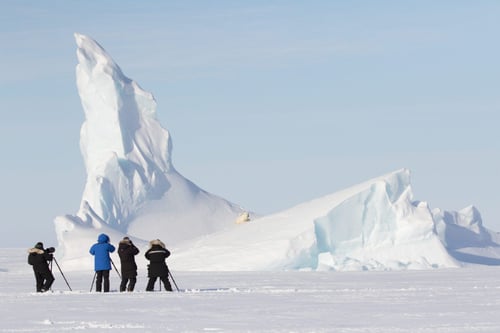 AN EXCLUSIVE OPPORTUNITY TO VIEW POLAR BEARS AND ICEBERGS ON BAFFIN ISLAND
The most incredible spot in the High Arctic to view polar bears and cubs on the icebergs on Baffin Island, Nunavut in the Spring.

Our most adventurous Arctic Polar Bear safari brings you into the heart of the Arctic in early spring, where travellers seldom go. Surrounded by snow-capped mountains and soaring icebergs, experience polar bears close-up in undisturbed splendor as they venture on to the sea ice and climb majestic icebergs. Capture memories of a lifetime with possible sightings of mother and cubs, icebergs and witness the incredible Northern Lights in the evening.

This safari is perfect for professional and keen amateur photographers looking for rare wildlife photography opportunities, seeing polar bears on icebergs and an authentic Arctic adventure.
Price
CAD $26,439* (including tax)
*per person, based on double occupancy. *Flight pricing is subject to change
Location

Air Package
Flights from Ottawa, ON (YOW) to Qikiqtarjuaq (YVM)
Dates


March 19 - March 28, 2023 (Limited Availability)

March 28 - April 05, 2023 (Sold Out)

April 05 - April 13, 2023 (Sold Out)

April 13 - April 22, 2023 (Limited Availability)

Waitlist Available!
Interested in a private trip?

International Gateway
Ottawa, ON (YOW)
Group Size
12
Transportation
Snowmobile & Qamutik
Average Temperature
-40°C to -20°C
(-40°F to -4°F)
Daylight
11 hours
Location
Qikiqtarjuaq, Nunavut
Length
9 days/ 8 nights
Air package
Flights from Ottawa, ON (YOW) to Qikiqtarjuaq (YVM)
International gateway
Ottawa, ON (YOW)
Group size
12
Transportation
Snowmobile & Qamutik
Average temperature
-40°C to -20°C (-40°F to -4°F)
Daylight
11 hours
Dates
2024 Dates TBD
Waitlist Available!
Call for details | 1-888-737-6818
Trip Itinerary
Our Spring Polar Bears and Icebergs of Baffin Photo Safari is the perfect adventure for professional and keen amateur photographers looking for unique wildlife and landscape photography opportunities, and an authentic Arctic experience in Spring.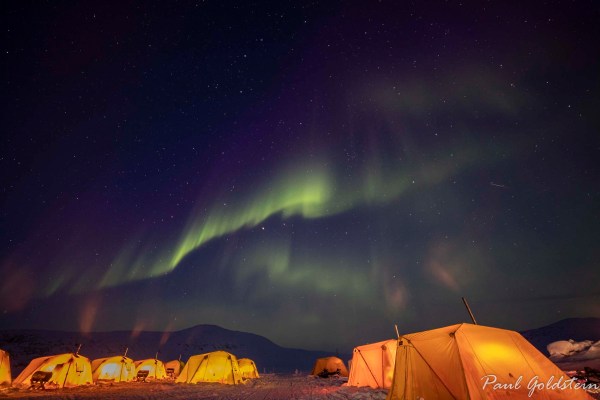 Day 1

Depart Ottawa International Airport for Qikiqtarjuaq. Transfer to local hotel for a hot dinner.
Day 2

After breakfast, travel to camp by snowmobile and qamutik (traditional Inuit sled).
Day 3-7

A photographer's paradise!

Enjoy full-day explorations of the majestic High Arctic wilderness by snowmobile and qamutik, as Inuit guides use traditional expertise to locate and help you safely view polar bears, close-up. Weather and snow conditions determine the exact route.

Enjoy hot lunches served on the land and gourmet comfort food dinners at camp. Schedules are determined by wildlife and our guests. Enjoy the Northern Lights and great company at night.
Days 8

After a hot breakfast, enjoy a full day of looking for polar bears and capturing a few last memories and photographs. Return to Qikiqtarjuaq, and enjoy dinner. Overnight at a local hotel.
Day 9

Fly from Qikiqtarjuaq to Iqaluit, with views of mountain peaks and ancient glaciers. Then from Iqaluit, you will continue to Ottawa for your journey home.
Accommodations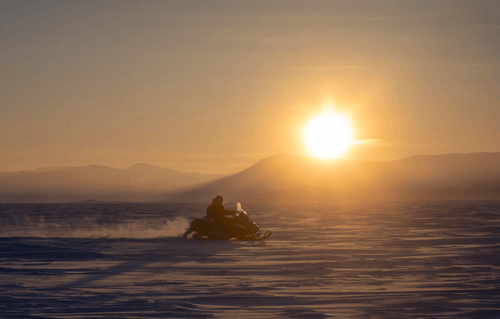 TENTED SAFARI CAMP ON ICE
While they may appear like a tented camp from the outside, our Tented Safari Camp continues to surprise and delight our guests with its roomy and warm interior. Large and spacious, the specially-designed tents for cold weather are tall enough to stand with ample space for all your cameras and luggage.
Features:
2 m (6' 9") tall with an interior of 14 m2 (150 ft2).
All sleep tents are heated with two beds (cots above the floor)
Central dining/lounge area to dine and relax in with other guests
Shared washrooms with other guests.
Included
Round-trip flight from Ottawa to Qikiqtarjuaq included in pricing

Meals: 8 breakfasts, 7 lunches and snacks, 8 dinners

Accommodations:

6 nights, Tented Safari Camp on Ice

2 nights in a local hotel

Arctic Kingdom Expedition Leader and local Inuit guides

Transfers in Qikiqtarjuaq
Not Included
Accommodation & transfers in Ottawa

Tips, gratuities, personal expenses

Travel, medical and evacuation insurance

Additional costs associated with weather and/or layovers in Iqaluit, Qikiqtarjuaq or Ottawa

Polar Clothing Rental Package strongly encouraged




With over 20 years of Arctic and expedition experience, we at Arctic Kingdom have been asked all kinds of questions. We understand that many of our guests have never partaken in an experience quite like our safaris nor have visited the Arctic before. We want to take this opportunity to make each of our guests feel comfortable and well prepared for their upcoming safari.
Book Now or Talk to a Travel Advisor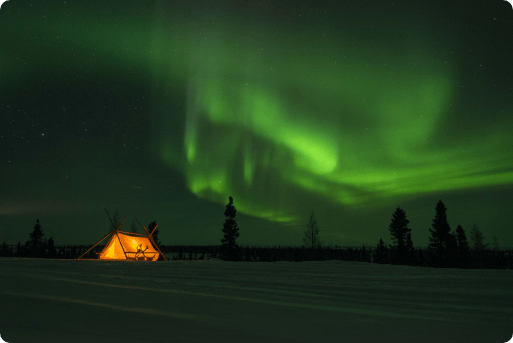 My expectations have been wildly surpassed. This is the most amazing adventure I have ever had in my life.
Carlos G, Mexico