Polar Bears & Glaciers of Baffin Island Safari
Highlights
Observe Baffin Island polar bears in their natural habitat, as they roam the islands and swim amongst icebergs

Search for bowhead whales in the bays and open channels

Visit the bird cliffs, an island with steep cliff faces filled with migratory birds and their nests.

Chances to visit cultural sites and learn about the local animals and vegetation

Explore the breathtaking Coronation Fiord where the Penny Ice Cap glacier ends abruptly in the seawater

Try kayaking on the Arctic Ocean

Visit Canada's stunning Auyuittuq National Park, known for picturesque granite peaked fiords.

Admire the breathtaking landscapes, icescapes, and seemingly endless sunsets

Enjoy hot, gourmet meals at our Premium Safari Camp on land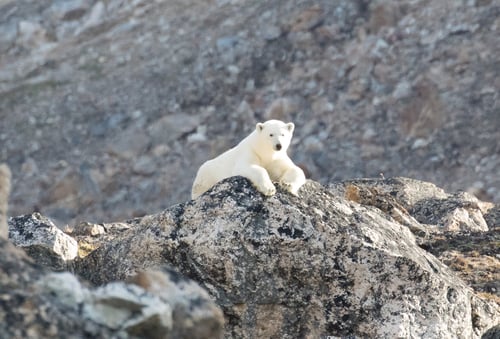 EXPERIENCE THE MAJESTY OF THE CANADIAN ARCTIC SUMMER!
See majestic Baffin Island polar bears swimming amongst icebergs and possibly even bowhead whales, up-close and in their wild, unspoiled natural habitat. Experience the long, mild days of Arctic summer and seemingly endless sunsets. Since most of the wildlife and accessible Arctic highlights are near shorelines you will spend the day travelling on boats including snacks and hot drinks with chances to get out at planned features and lunchtimes. Explore the coastline by boat and take in the exceptional beauty of Baffin Island's glacier-capped mountains range, granite lined fiords, and the world-famous Auyuittuq National Park.

An exclusive opportunity, excellent for a family-friendly holiday, birthdays, adventurers, and photographers who appreciate rare wildlife sightings – found only in the Arctic wilderness!
Price


Inquire for pricing details
Based on 8-Day/7-Night Itinerary

Location
Qikiqtarjuaq, Nunavut
Air Package
Flights from Ottawa, ON (YOW) to Qikiqtarjuaq, NU (YVM) available
Tentative Dates


August 1 - 8, 2024
August 9 - 15, 2024
August 16 - 22, 2024

*Additional dates available upon request

International Gateway


Ottawa, ON (YOW)

Group Size


12

Transportation
Local small boats
Average Temperature
+5°C to +22°C (+40°F to +72°F)
Daylight
18-22 hours
Trip Itinerary
The following is the itinerary for 2023. Other years may differ.

This safari takes you through the rarely visited, spectacular landscapes of eastern Baffin Island. Glacier-capped coastlines, majestic mountain peaks, and dazzling icebergs create the perfect backdrop, while the midnight sun casts a magical glow both day and night.

This family-friendly expedition provides opportunities to spot polar bears and bowhead whales, taste fresh Arctic char, kayak in Baffin Island's glacier-fed lakes, walk-in Auyuittuq National Park, and pick wild Arctic blueberries.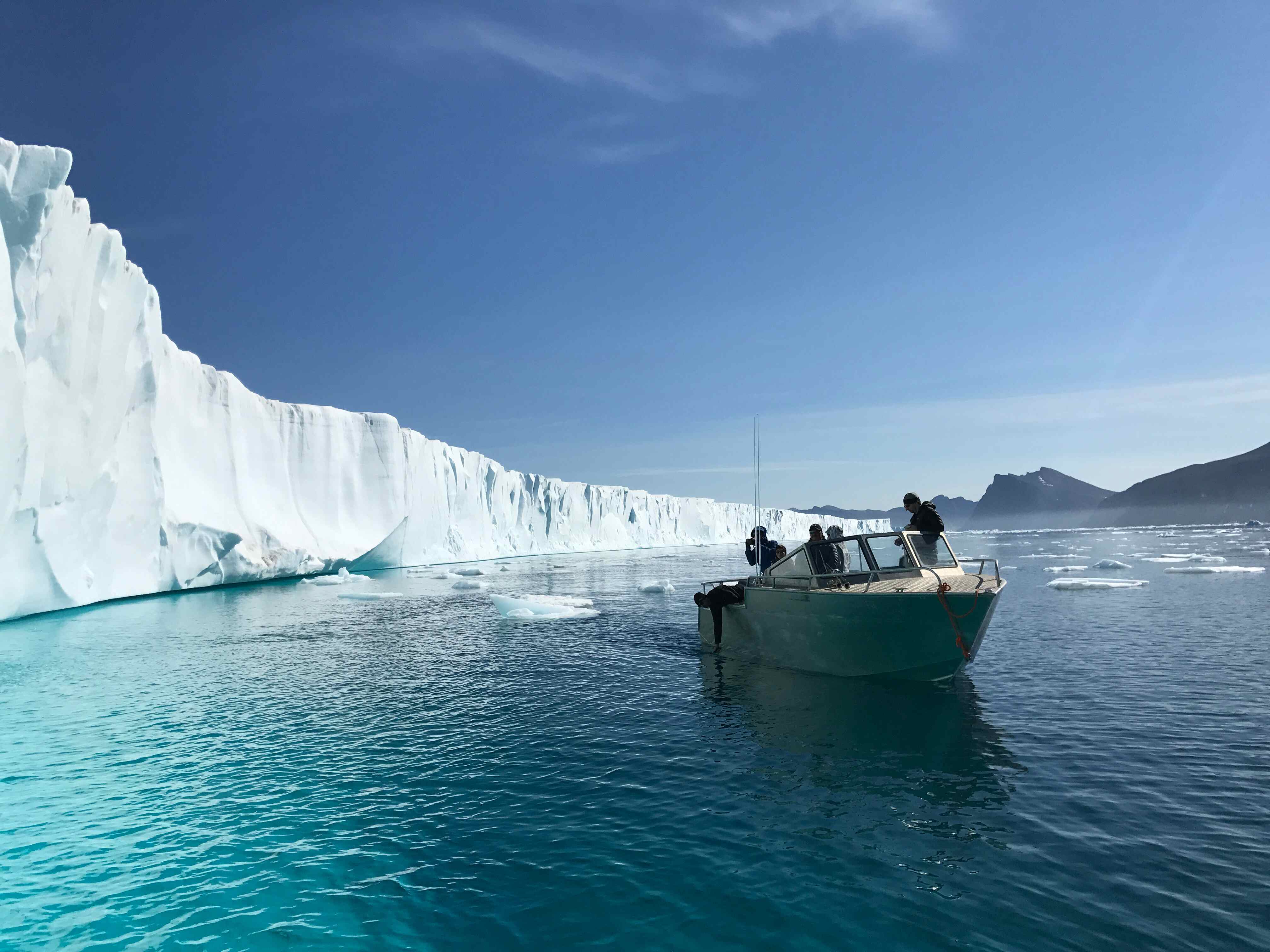 Day 1

This safari begins in Qikiqtarjuaq, Nunavut. Depart Ottawa for Iqaluit, the capital of Nunavut, and connect to your flight to Qikiqtarjuaq.

On the way to Qikiqtarjuaq, you will fly over Auyuittuq National Park. Keep an eye out for Mount Asgard and Mount Thor, and the world's tallest uninterrupted vertical cliff – more than 1524 meters (5,000 feet) of sheer rock.

Upon arrival in Qikiqtarjuaq, meet your Arctic Kingdom expedition leader and group members, and participate in a briefing at Parks Canada. Transfer to a waiting boat for a 45-minute boat ride to our Premium Safari Camp, treading past many islands and floating icebergs. Settle into camp and enjoy a delicious meal while watching the sun dip on the horizon.
Day 2-6

Take in the highlights of the area from the base camp, located in a sheltered bay.

Enjoy day trips by boat to Auyuittuq National Park, where you may hike at the base of the Coronation Fiord, as well as a trip to the Penny Ice Cap glacier around Baffin Island. Sampling fresh Arctic char, gathering fresh blueberries and blackberries nearby, and kayaking are also popular pastimes.

Bowhead whales are known to frequent an area just 30 minutes to 1 hour from camp, while polar bears can often be spotted on islands throughout the area.

In some cases, more than 20 Baffin Island polar bears can be seen on this safari! Get the chance to observe wildlife including bowhead whales and polar bears, and visit a newly discovered bowhead whale molting site.
Day 7

After breakfast, head back to Qikiqtarjuaq by boat. Transfer to the airport for your flight home.
Accommodations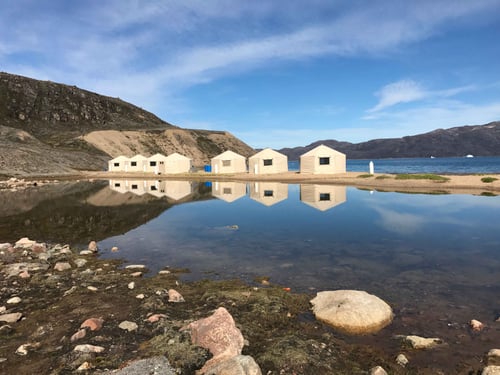 Premium Safari Camp on Land
Inspired to bring comfort to off-the-grid iconic wildlife locations, our Premium Safari Camp brings elegance and gourmet meals to the Arctic. Spacious and warm, the modern, specially designed Arctic yurt-style safari camp structures provide an inviting home-away-from-home in one of the world's most remote and breathtaking places.

Sleep quarters are spacious and warm, 4.8m (16') in diameter, with over 3m (10') cathedral ceilings. They have double walls with insulation and are entered via a lockable door. Configurations with either two twin beds or one king size bed are available. Each bed is complete with mattress, duvets, pillow, and a warm comforter. No detail has been overlooked – from large windows, to coat hooks and heaters for those that would like it a little toastier.
Features:
3 m (10') cathedral ceilings, with a diameter of 4.8m (16')
Double walls with insulation, large windows, and a lockable door
Large and spacious dining/lounge area with 24-hour snack and drinks buffet
Shared washroom with hot water sinks and showers. Note: these are eco-style, as you will be located in the wilderness.
Included
Meals: 7 breakfasts, 6 lunches and snacks, 7 dinners

Accommodations:

7 nights in Premium Safari Camp on land

Services of Arctic Kingdom Expedition Leaders and Inuit guides

Daily boat tours to wildlife viewing locations and Arctic highlights

Arctic Highlights such as:

Short but breathtaking hiking opportunities

Kayaking on the Arctic Ocean

Fishing opportunities with panoramic views

Return transfers in Qikiqtarjuaq

Round-trip flight to Qikiqtarjuaq from Ottawa (Ask about our special rates!)
Not Included
Accommodation in Ottawa

Tips, gratuities, personal expenses

Travel, medical and evacuation insurance

Additional costs associated with weather and/or layovers in Qikiqtarjuaq, Iqaluit or Ottawa

Day One's breakfast before your flight and Day Eight's dinner.
Trip Overview
1:08
These memories could be yours.
Next in Queue/Recommendations
Trip Overview
1:08
These memories could be yours.


With over 20 years of Arctic and expedition experience, we at Arctic Kingdom have been asked all kinds of questions. We understand that many of our guests have never partaken in an experience quite like our safaris nor have visited the Arctic before. We want to take this opportunity to make each of our guests feel comfortable and well prepared for their upcoming safari.
Book Now or Talk to a Travel Advisor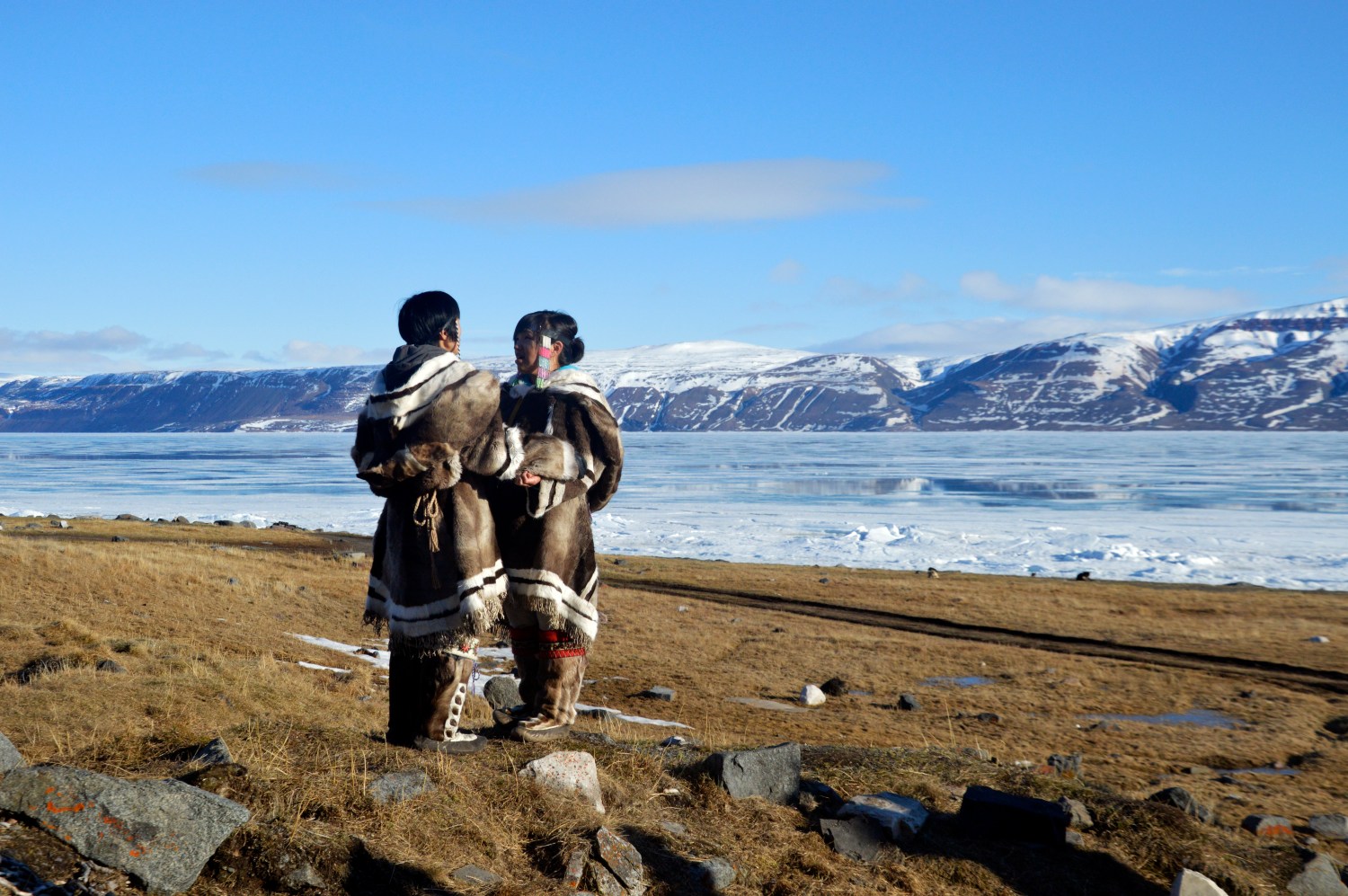 My expectations have been wildly surpassed. This is the most amazing adventure I have ever had in my life.
Carlos G, Mexico