December 20, 2017
By: Liz Carino
As we close out 2017, the Arctic Kingdom team has been busy preparing guests for our upcoming trips, and working closely with local communities and guides to provide exceptional experiences for travellers in 2018.
We're also looking back at what an incredible year we have had in the Canadian Arctic. This year we ran expeditions across one of the largest northern ranges that we ever have: from the bottom of James Bay (53°N) to Axel Heiberg Island (79°N). From welcoming over 50 physicists from the University of Waterloo to Iqaluit for QUANTUM: The Exhibition, to a unique partnership with Crystal Cruises for its journey through the Northwest Passage, 2017 has been an amazing adventure.
The Arctic in 2017 & Beyond
Keep reading to learn about some of the expeditions, partnerships, and more, that made this year in the Arctic special, as well as our thoughts on the future of tourism in the North. You can also click the links below to jump to each section: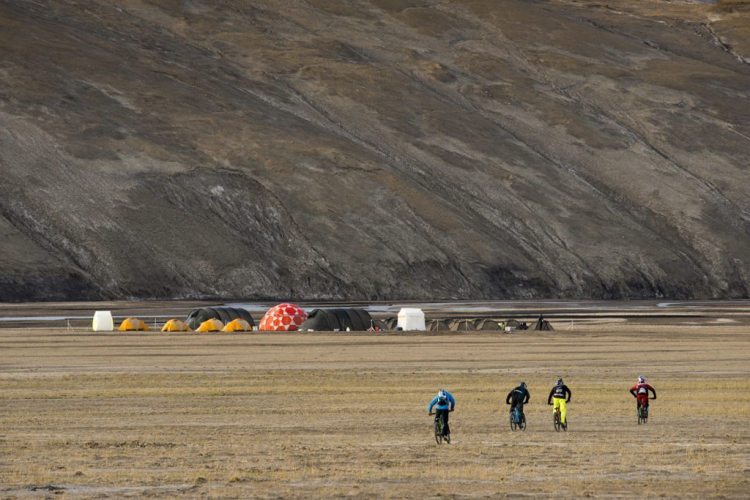 Arctic Kingdom Records in 2017
While we run incredible programs in awe-inspiring locations every year, this year was extra special. It was a record-breaking year of firsts for Arctic Kingdom. Here are a few of the projects that took us to the next level in 2017:
Taking a large film crew higher than ever
One of our biggest projects this year involved taking Red Bull Media House and Freeride Entertainment to one of Canada's most northern islands, Axel Heiberg Island to film North of Nightfall – to be released in spring 2018. Almost kissing the 80th latitude, this expedition was the world's most northern location on land for a large film crew producing a feature-length film. Check out the trailer for North of Nightfall here.
Marine training in multiple regions of the North
This summer, Arctic Kingdom conducted marine training in two different parts of the north. This included every community of Eeyou Istchee Baie-James with the Cree Outfitting and Tourism Association (COTA).
We also ran marine training for all guides aboard the Ernest Shackleton icebreaker as it traversed the Northwest Passage, travelling west from Newfoundland. While many of these participants, including Inuit guides, have been working in tourism, they all earned Small Vessel Operator Proficiency, Marine Emergency Duties, and Radio Operators Certificates.
Arctic Kingdom is proud to help improve the skills, create jobs and grow the economy of people that live in the North.
Making Arctic exploration easier than ever with our new website
In May 2017, we launched our brand new, mobile-friendly website – a total refresh from the previous site, featuring increased functionality and vibrant photography and video from our Expedition Leaders. Our new website inspires and simplifies Arctic travel. You can learn more about the launch of our new website here.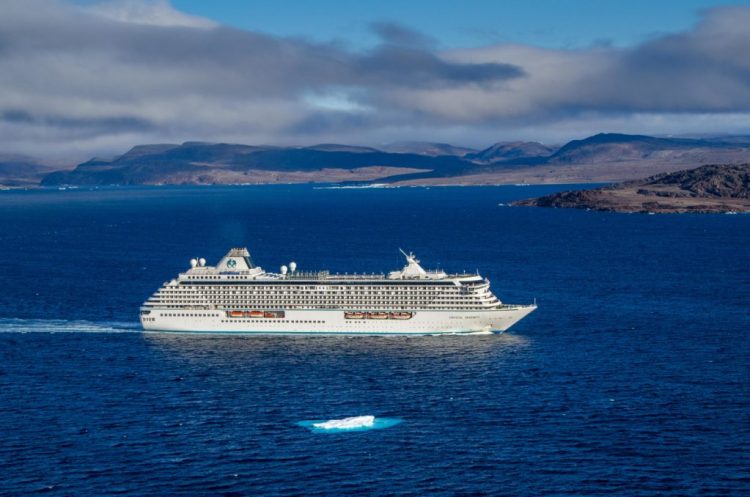 Traversed the Northwest Passage, in both directions, with Crystal Cruises
We are thrilled to have partnered with Crystal Cruises in 2017 for the Crystal Serenity's 32-day voyage through the Northwest Passage, from Anchorage (Seward), Alaska to New York City. The Arctic Kingdom team joined both the Crystal Serenity travelling west to east through the Northwest Passage, as well as the Ernest Shackleton icebreaker, travelling east to west to meet the Crystal Serenity. Seeking experts in Arctic culture, wildlife, and geography, Crystal Cruises brought our team aboard to manage the education and enrichment lecture series, hiring for all guides, and all land-based excursions and landings. You can learn more about our partnership here.
First remote fly-in trips from cruise ships in the Arctic
During the journey with Crystal Cruises, we also provided remote fly-in trips to northern communities from the ship, for the first time ever. This allowed guests to visit communities that were not visited by the Crystal Serenity, including Gjoa Haven, as well as Igloolik for a private performance by Artcirq, the only Inuit circus troupe in the world.

Travellers to the Arctic
In 2017 we welcomed more than 300 guests to Nunavut on our Arctic Safaris, Getaways, and Private Journeys. We also shared the Arctic with more than 800 guests and 650 crew aboard the Crystal Serenity this summer.
An evolution in travellers
In an interview with CBC Nunavut, Graham Dickson, Arctic Kingdom President, mentions that over almost two decades of running tourism programs in the Canadian Arctic, we are seeing an evolution in the types of travellers that are choosing to visit the North.
"It used to be very adventurous people who wanted to be "on the edge" … Now we're seeing people still have an adventurous spirit, but there is a more broad audience; maybe a little bit older, and more families coming with children," he says, "The experience and the knowledge and interest in coming to the north is evolving from something that was really more of a specialty and a "hardcore" traveller from twenty years ago, to being something that is really accepted as something that every Canadian should do".
"The other thing that we have seen," he continues, "is that once people understand it, they come back again and again. We call that "breaking the ice". Once [they] know how warm the hospitality is, how amazing the scenery is, that it's accessible …they tend to come back again and again".
You can listen to the full interview here.
Travel goals
Wildlife viewing is the most common goal for travellers joining our trips. The most popular animals guests want to see are polar bears and narwhal. Many are also interested in viewing bowhead whales, and Arctic fox quickly becomes a fan favourite on our autumn trips: Polar Bear Migration Fly-In Photo Safari and the Private Polar Bear Cabin. Another highlight for many guests is learning about Inuit culture and traditional way of life from our Inuit guides.

Climate
Since we began leading expeditions in the Arctic almost 20 years ago, we have been able to experience the changes in climate first-hand. This year Graham (Arctic Kingdom President) shared his observations on the impact of changing climates on conditions, wildlife, and local culture, with WaterToday.ca. Read the article here.
Our field team seconds those observations. Senior Expedition Leader Dave Briggs notes that "climate change is often associated with warming, but what we're seeing is variability in the seasons, so all conditions are less predictable."
"This has a direct impact on our trips, affecting the migratory and behavioural patterns of animals, presence of icebergs, and sea ice thickness", he adds.
Graham also notes a change in precipitation in recent years, with drier, sunnier conditions in the summer months and an increase in precipitation in the winter and autumn. "The Arctic is usually a desert, with less precipitation," he says. "This year, temperatures have been warmer and we have seen huge amounts of snow and blizzards."
Documenting ice conditions
The impact of climate change in the Arctic is becoming a growing concern. This May, we welcomed Royal Canadian Geographical Society explorer Jill Heinerth to our Baffin Island Dive Safari to document the changing sea ice conditions for her Arctic on the Edge project. You can learn more about this project here and read her article in DIVER Magazine here.
Sustainable travel
Keeping sustainability top of mind for all our expeditions, Arctic Kingdom is committed to preserving the Arctic. Our focus on responsible travel, with small, land-based trips, minimizes our footprint, so that the Arctic can be experienced for years to come. You can learn more about our sustainability and values here.

Wildlife
Our guests had some incredible wildlife encounters in 2017.
Narwhal
Our floe edge trips in May and June was a great season for narwhal sightings. On Great Migrations of the Northwest Passage, guests were able to see narwhal on every departure – even up-close to the floe edge. Narwhal & Polar Bear Safari also had some amazing viewing opportunities with one departure even seeing a pod of more than 50 narwhal in one sighting!
Polar bears
We also had some great up-close polar bear encounters, especially on Polar Bear Migration Fly-In Photo Safari, where polar bears (including cubs!) came right up to the fence on almost all departures. Check out a video from this year here.

Tourism & Indigenous Partnerships
Tourism in Nunavut can have significant economic benefits for communities throughout the territory. All of our programs are built and run in collaboration with local Inuit guides and community members. These indigenous partnerships are fundamental to all of our expeditions throughout Nunavut, and we continue to work on strengthening those relationships.
International Aboriginal Tourism Conference
Arctic Kingdom had the honour of participating in the International Aboriginal Tourism Conference in October 2017. Graham (Arctic Kingdom President) joined Moses Amagoalik, a long-time Arctic Kingdom guide from Pond Inlet, to speak on the "Creative Partnerships to Grow Indigenous Tourism" panel. They discussed the potential for tourism to grow in a meaningful way, to benefit indigenous communities and showcase their culture.
With the increase in cruise travel in the North, there is growing potential for indigenous employment throughout the duration of the season. Jobs such as driving boats, polar bear safety, interpretation, guiding, and lecturing on board are some examples of opportunities – not to mention opportunities within communities during landings. During the Crystal Cruises voyage, for example, we employed more than 20 indigenous staff on board, as well as more than 90 performers and dignitaries from communities including Ulukhaktok, Cambridge Bay, and Pond Inlet. This trip provided approximately 500 days of work to indigenous people over a two week period, and had a significant impact to communities throughout the North.
Community case study: Ulukhaktok
A great case study is Ulukhaktok. This community had 83 people employed during the Crystal Serenity visit, plus 40 Drum Dance performers aboard the ship, 15 local artists selling their work at the Local Craft Fair, and dozens of volunteers. With a total population of just 396, this one voyage made an impact on an immense percentage of the community members. Art sales were over $40,000 providing a substantial increase in income that would not have happened if not for the ship's visit.

The Future of Tourism in Nunavut
The possibilities for showcasing the raw beauty, incredible geography, icebergs, wildlife, and culture across the Canadian Arctic are almost endless. The future of tourism in Nunavut is bright, and we are thrilled to be a partner in its growth. We continue to share the opportunities to adventure and easy accessibility of the Arctic – you can reach most regions in Nunavut within a day from gateway locations including Ottawa, Winnipeg, Calgary and Edmonton. We look forward to sharing the Arctic, and all its wonders, with travellers in 2018 and beyond.
Want to experience the Arctic in 2018?
Explore our Arctic Safaris, Getaways and Private Journeys or contact us to speak to an Arctic Travel Advisor.