March 04, 2022
Are you wondering what is the best way to see polar bears in person? Have you dreamed of seeing them in their natural habitat?
Our Spring Polar Bear & Icebergs of Baffin Safari is one of the most exciting ways to explore the Arctic and maybe even see a polar bear cub!
Join us as we explore what makes this trip a once-in-a-lifetime adventure.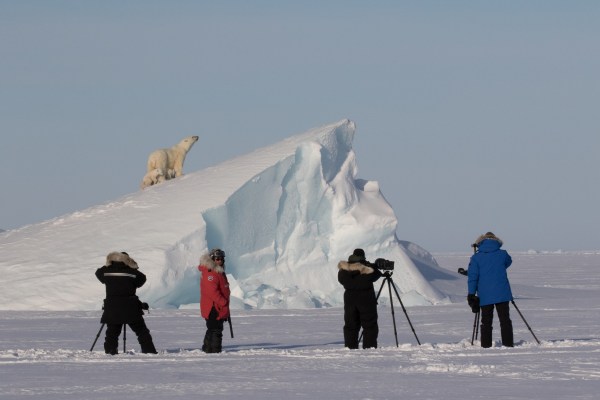 Polar Bears In The Spring
This is an extraordinary time of the year to visit the Arctic. The polar bears are still quite active and still able to travel on the sea-ice. The return of the sun means that they take mid-day naps next to towering icebergs and sometimes on top.
As spring emerges the polar bears around Baffin Island begin to stick closer to the shoreline as the ice gets thinner. This makes polar bear sightings more frequent since they are not roaming their vast winter domain.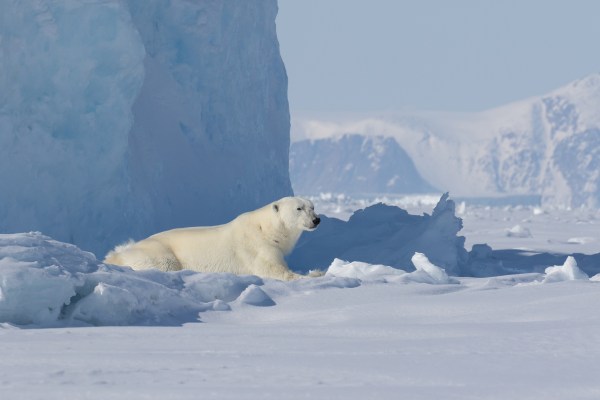 The start of spring has another exciting element, polar bears cubs!
This is the time of year when mothers and their cubs are trudging through the snow together and exploring the hillsides and valleys. Their winter maternity dens are on hillsides near the coast so they remain close to land.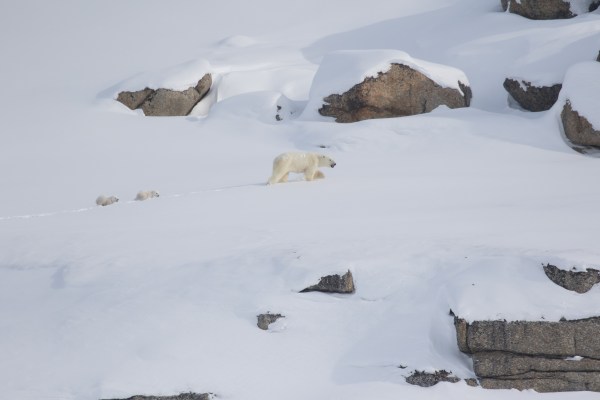 The cubs are learning valuable tricks to surviving in the Arctic, but they are also playing and want their mother's attention.
This is an incredible chance to witness and photograph some of these truly intimate moments between mother and cubs.
Exploring The Landscape
What better way to visit Baffin Island than on a polar bear safari? Inspired by those in Africa, the Canadian Arctic is home to some of the most impressive and captivating animals, so we wanted to bring you to their natural habitat.
Discover the breathtaking scenery of the Arctic on a trip that provides expert guides, a trained camp staff, and gourmet chefs that specialize in Arctic comfort with traditional ingredients.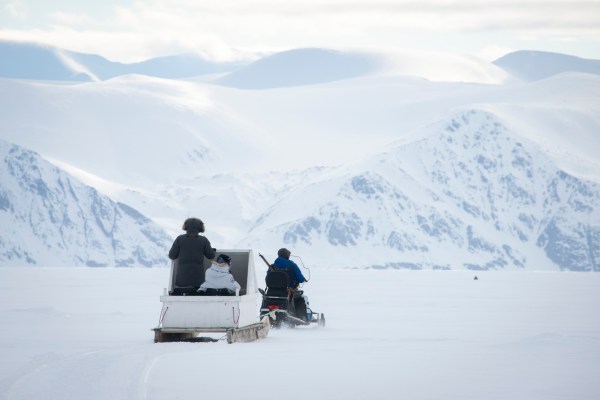 Wake up in a heated and comfortable Arctic tent to the sight of gigantic icebergs and snow-capped mountains.
Spend the day visiting deep fiords lined with granite cliffs and ending at an ancient glacier that stretches to the water from a local ice cap.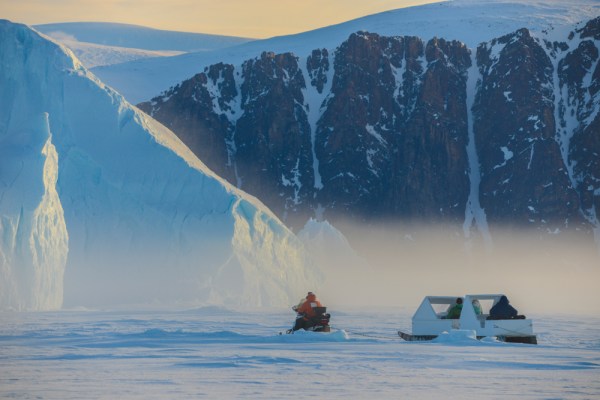 Traverse the rolling hills to find powerful male polar bears roaming their domain or spot a mother nursing their cub.
You may find cubs that are a little bigger that are still with their mothers but are a bit more independent.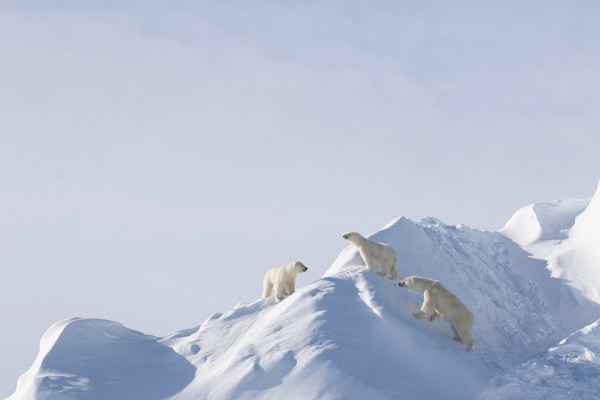 Our Inuit guides use traditional tracking methods based on knowledge of the land and wildlife habits to bring you safely to often up-close viewing opportunities. You can snap amazing photos or just watch and notice the personal characteristics that make polar bears so enchanting.
Guests ride in qamutiiks, which are traditional Inuit sleds that have been modified to be more comfortable when travelling across ice or snow and are pulled by Inuit guides on snowmobiles.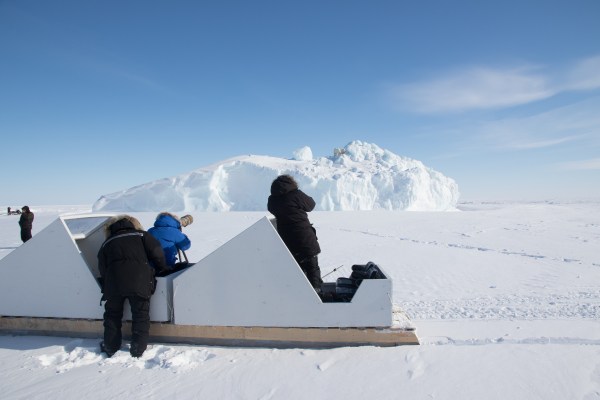 There is one special surprise when you come to the Arctic in the spring… the northern lights. This natural phenomenon is rarely seen by much of the world but is on full display up here. Simply step outside of your tent on a clear night and watch the spectacular colours dance and twist.
Watch as the sky lights up with blues, greens, purples and sometimes reds. You may have come for the polar bears but will never forget this galactic light show.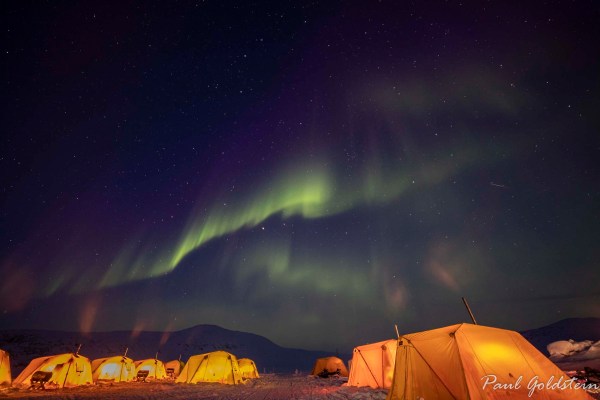 How You Can See Polar Bears
This is truly an incredible adventure where you can sit back and experience one of the greatest adventures on Earth. This is your chance to visit on of the last true frontiers where you will be in the middle of untouched nature and surrounded by beautiful landscapes.
With over 20 years of experience, we provide expert guides, comfortable lodgings, delicious gourmet meals, and dedicated staff ready to make booking and travel simple.
If you are interested in our Spring Polar Bears & Icebergs of Baffin Safari then click here.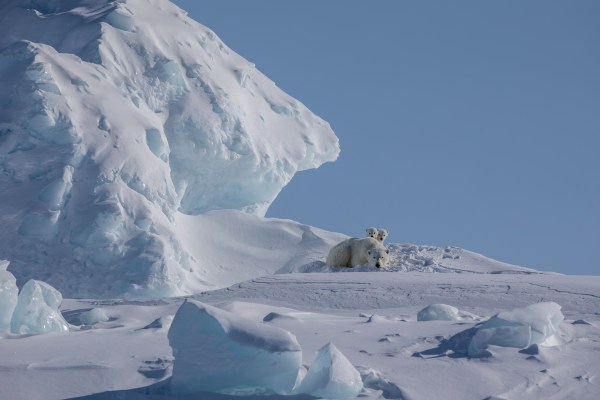 Experience The Arctic On A Safari
Get chances to view elusive Arctic wildlife and experience the majesty of the Arctic on safaris almost year-round. View all Arctic Safaris here.
Ready for adventure? Contact our Arctic Travel Advisors to book.
We now have a Gear Shop where you can browse some of the best outdoor clothing and equipment to buy or gift to friends and family.
Are you still curious about the many wonders of the Arctic or looking for more interesting content then explore more blogs here!
By: Mathew Whitelaw