Polar Bear Migration Fly-in Safari
Highlights
Safely observe the polar bear migration up-close from our Polar Bear Cabins, surrounded by an unobtrusive electric fence

Experience a remote and fascinating tundra environment with some of the world's best polar bear viewing in the Churchill, Manitoba area

Short hikes over frozen tundra with seasoned Inuit guides

Enjoy the magical Northern Lights at night

A 50-minute private charter flight over the tundra – perfect for aerial photography of the polar bear migration

Stay in private guest cabins with en-suite bathrooms and private showers, and enjoy gourmet food prepared by a private chef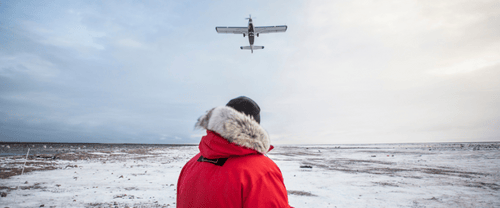 SAFELY SEE POLAR BEARS UP-CLOSE: AN AUTHENTIC ARCTIC TUNDRA EXPERIENCE
This is an exclusive polar bear photography tour and a rare opportunity in the polar bear capital of the world during the annual polar bear migration back to Hudson Bay. This cabin-based polar bear safari is specially designed to get you close to one of the world's most magnificent predators in their natural habitat and will give you some ideal polar bear watching locations.
Fly to the Arctic by private charter along the west coast of Hudson Bay river from Churchill, Manitoba. On this short, 50-minute flight, a lucky few may even get a chance to view and photograph Arctic wildlife from above.
Strategically located in "polar bear alley", our Polar Bear Cabins site is situated directly in the path of polar bears migrating as they search for the first sea ice forming on the bay.
Get the opportunity to safely photograph polar bears at ground level on this safari, behind an unobtrusive electric fence. Polar bears are known to wander right up to the fence!
Escape and unplug at our intimate, remote and rustic private cabin complex for an exclusive and comfortable experience in the North during the annual polar bear migration.
Price


CAD $16,300* (including tax)




*per person, based on double occupancy. *Flight pricing is subject to change

Location

Air Package


Flights from Winnipeg, MB (YWG) to Churchill, (YYQ) available

Dates


October 15 - 22, 2023
October 19 - 26, 2023
October 24 - 31, 2023
October 29 - Nov 05, 2023
(Reserved)
November 03 - 10, 2023
November 07 - 14, 2023
November 12 - 19, 2023

International Gateway

Group Size
8
Transportation

Average Temperature


-20°C to -5°C (-4°F to +23°F)

Daylight
8-10 hours
Price


CAD $19,085* (including tax)




*per person, based on double occupancy. *Flight pricing is subject to change

Location

Air Package


Flights from Winnipeg, MB (YWG) to Churchill, (YYQ) available

Dates


October 15 - 21, 2024
October 18 - 25, 2024
October 22 - 29, 2024
October 26 - Nov 02, 2024
October 30 - Nov 06, 2024
November 03 - 10, 2024

November 07 - 14, 2024 (Reserved)

International Gateway

Group Size
8
Transportation

Average Temperature


-20°C to -5°C (-4°F to +23°F)

Daylight
8-10 hours
Trip Itinerary
Travel north of Churchill, MB to "polar bear alley". Spend five days in our remote and rustic Polar Bear Cabins in the heart of polar bear country. Capture incredible photography of diverse wildlife including polar bears during migration, Willow Ptarmigan, Arctic foxes, martens, Snowy Owls, and Gryfalcons.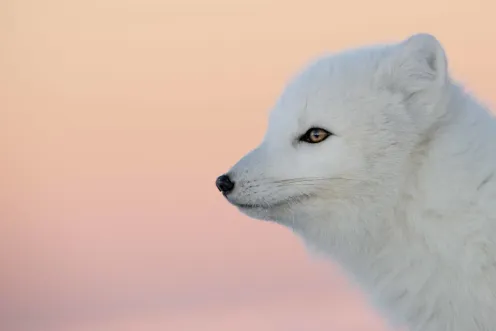 Day 1

Arrive at the Winnipeg International Airport. Spend the night in a 4-star boutique hotel attached to the airport.
Day 2

Travel to the southern polar bear capital of Churchill, Manitoba. Soon you'll be flying in a private charter aircraft over an area known as "polar bear alley." This region gets its name for the concentration of polar bears migrating north through the autumn. Get your first photos of the Arctic tundra, if you're lucky you may be able to capture photos of wildlife below.

Arrive at our Polar Bear Cabins and begin your wildlife photography safari. Enjoy a camp tour and settle into your cabin. Before you fall asleep, take a look for the northern lights above!
Day 3-5

The thing that makes this trip so special is that the wildlife comes to you. Strategically located next to the beach, polar bears will be travelling past the camp. Gentle smaller critters like Arctic fox and Arctic hare may show up, sometimes wander into camp.

On slower days, you may enjoy activities like small hikes on the tundra around the camp and along the shoreline of Hudson Bay. This is a photographers dream with expansive landscapes and unique features. Keep an eye to the sky for stunning snowy owls and gyrfalcons.

At night, weather permitted, step outside of your cabin and marvel at the northern lights dancing overhead. Set up your tripod and get breathtaking photographs and film of this galactic show
Day 6

Capture a few last photos in the morning before flying back to Churchill, where an Arctic Kingdom representative will help you transfer to the hotel to check-in. From there, join a private Polar Bear Safari around the Churchill area. On this half-day safari, taken in the safety and comfort of 4X4 vehicles you will be tracking these majestic animals. Your local guide will regale you with tales of polar bears and the people of Churchill. Here you will learn about the Canadian Inuit dogs, called qimmiq or qimmit in the local language, and how polar bears interact and use these dogs to their advantage in their search for food. After dinner you will be treated to a Private cultural evening at a private yurt outside of town with a chance to see the Northern lights if the conditions are right. Transfer back to the hotel for a goods nights sleep.
Day 7

Enjoy a group breakfast at a local restaurant, then depending upon your departure time, we will do a heritage tour of Churchill and or souvenir shopping if time permits. Your Arctic Kingdom representative will then transfer you to the airport to check into your flight. After you depart Churchill, and arrive in Winnipeg either later afternoon or evening, where you will stay at a local hotel, you will find yourself sitting back reminiscing about stories filled with the beauty of the Arctic.
Day 8

Continue your journey home with a camera full of memories!
Accommodations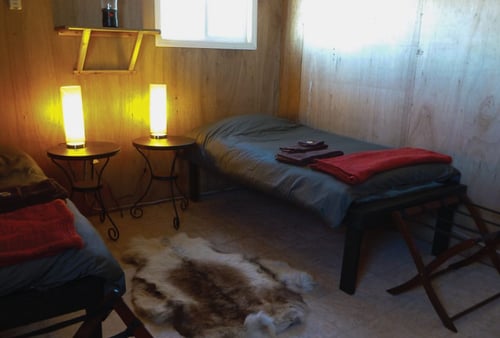 POLAR BEAR CABINS
Rustic, remote and accessible by air, our Polar Bear Cabins & Lodging rest on the shores of Hudson Bay. These simple cabins/lodges are surrounded by an electric fence, offering a comfortable and safe home in the heart of polar bear country. Allowing for a maximum of eight guests, with four guest cabins and a central dining/lounge cabin, the Polar Bear Cabins create a private and intimate polar bear viewing experience.
Features:
Ensuite bathrooms with private, heated showers
Unobtrusive electric fence surrounding the complex
Power provided by onsite generators
Included
Round-trip flight from Winnipeg to Churchill, MB

Meals: 5 breakfasts, 6 lunches and snacks, 5 dinners

Accommodations:

4 nights in the Polar Bear Cabins

1 night in a Churchill hotel

2 night in a Winnipeg hotel

Services of Arctic Kingdom Expedition Leaders and Inuit guides

Private charter aircraft from Churchill, MB to the Polar Bear Cabins
Not Included
Round-trip flights from your home to Winnipeg

Tips, gratuities, personal expenses

Travel, medical and evacuation insurance

Additional costs associated with weather and/or layovers in Winnipeg or Churchill

Meals in Winnipeg

Polar Clothing Rental Package strongly encouraged
With over 20 years of Arctic and expedition experience, we at Arctic Kingdom have been asked all kinds of questions. We understand that many of our guests have never partaken in an experience quite like our safaris nor have visited the Arctic before. We want to take this opportunity to make each of our guests feel comfortable and well prepared for their upcoming safari.
Book Now or Talk to a Travel Advisor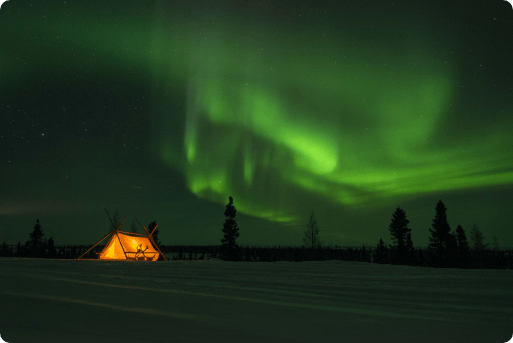 My expectations have been wildly surpassed. This is the most amazing adventure I have ever had in my life.
Carlos G, Mexico