February 05, 2021
There is an island in Canada's north that blooms with life under the Midnight Sun. It's the route to the North Pole and the northernmost populated place in Canada.
Ellesmere Island is a surprisingly rich environment as it reaches across the High Arctic. Few places in the Arctic can support as many types of wildlife and plants as Ellesmere Island due to its size and geographic features.
Join us as we explore the world's tenth-largest island and home to some of the most exciting and iconic Arctic animals. Find out more in our Travel Guide to Ellesmere Island.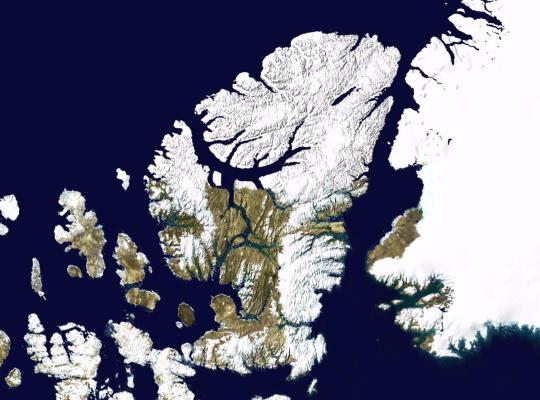 Quttinirpaaq National Park
In Inuktitut, Quttinirpaaq means "top of the world," and it is aptly named considering it is the second most northerly park on Earth.
This park stretches across the northeastern corner of the island and occupies more than one-fifth of the island. This protected land is home to breathtaking landscapes and beautiful animals.
Quttinirpaaq National Park boasts more than the fact that it is Canada's most northern park. It is also Canada's second-largest park. A colossal 37,775 km2 (14,585 mi2) is protected, making it one of the most untouched and dramatic places that you can visit.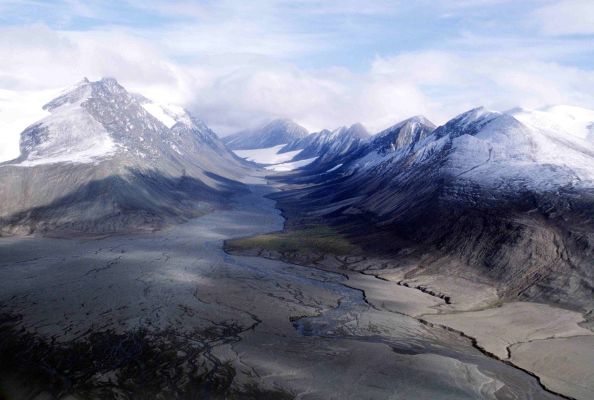 The Wildlife
Ellesmere Island's environment allows a sparse amount of vegetation, limiting the amount of wildlife it can support. Yet, it is striking the diversity of animals that roam the land and waters around this Arctic wonderland.
There are few places where you can see musk ox, and Ellesmere is one of their last natural habitats. These giant creatures are as impressive as they are powerful. Despite weighing up to 700 pounds, they are surprisingly good climbers among the hills as they find places to graze and shelter from the frigid temperatures.
Recently, Ellesmere Island's arctic wolves were made famous in National Geographic's Kingdom of the White Wolf. This documentary follows a pack of wolves in their natural habitat on Ellesmere Island and demonstrates these animals' remarkable lives on this dramatic landscape.
Polar bears are found along the eastern and western coastlines. They will travel great distances across the sea-ice in the winters and come to Ellesmere Island's shores during the summer.
Another notoriously wide-ranging traveller is the arctic fox. These beautiful and sleek animals can roam from Greenland to Canada's mainland, following a route through Ellesmere Island. The expansive tundra and plateau make it an ideal territory for roaming foxes.
One of the smaller animals you may find is the arctic hare. These white hares are surprisingly large and can be found in enormous groups.
Even the rare Peary caribou can be found migrating across Ellesmere Island looking for more vegetation to graze on.
The waterways surrounding the island are equally as exciting. Seasonal migrations of narwhals, belugas, and birds bring all kinds of marine life that come to coexist with some of the permanent residences like walruses and bowhead whales.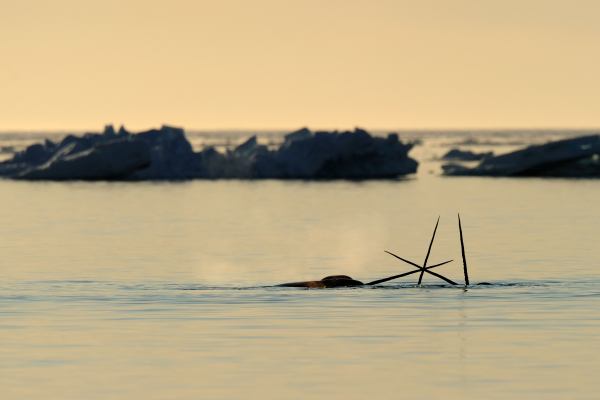 The Geography
From jutting mountain peaks to snow-covered ice fields or deep valleys, the landscape of Ellesmere Island is captivating.
The Hazen Plateau is one of the pillars of Ellesmere Island's biodiversity. This glacial-carved plateau forms a natural haven for all kinds of vegetation like arctic cotton, purple saxifrage, and dwarf willow. This "Arctic oasis" is actually a thermal oasis within a polar desert that is supported by the precipitation and climate created by Lake Hazen. Summer temperatures can reach a comfortable 20oC (68oF).
Lake Hazen is the world's northernmost large lake. There are a few tiny lakes in the area, but none compete with the splendour and size of Lake Hazen. This remarkable lake is fed from nearby glaciers and mountain chains.
Deep in one of the breathtaking mountain ranges is Barbeau Peak, the highest mountain in eastern North America. This peak is part of one of the many mountain ranges that make up the Arctic Cordillera mountain range that stretches from the top of Ellesmere Island down to Labrador.
Something that sets Ellesmere Island apart from most places is the fact that it is home to five ice fields. These ancient ice caps cover a remarkable portion of this island at the top of the world. With each ice field, a number of glaciers slowly slide down into the valleys and plateaus.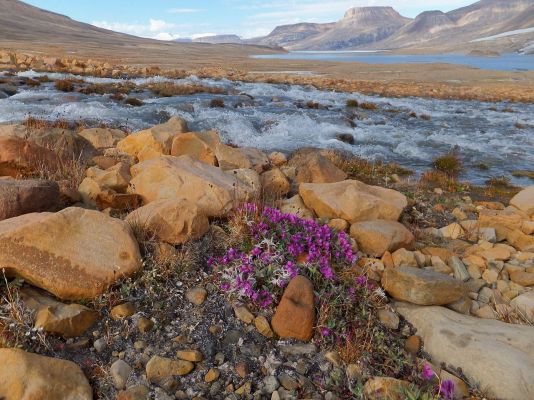 The Communities
Grise Fiord
Did you know that Grise Fiord is Canada's northernmost community with residents? On the southern tip of Ellesmere Island is its only open community. With roughly 129 residents, it's the island's largest community. Its Inuktitut name, Aujuittuq means "place that never thaws," and it is one of the coldest permanently inhabited places on Earth.
Eureka
Around the middle of the island, on the western shoreline, is a small research base and weather station. At the Eureka Station, researchers study local flora and fauna and have come to call the region "The Garden Spot of the Arctic" due to the surprising abundance of life. Weather researchers will even release balloons that track the atmosphere to develop weather modelling.
Alert
Truly the top of the world, Alert is the northernmost inhabited place in the world!
Alert is a Canadian Forces Station and weather station. Alert Airport is at the world's end as it looks out to Cape Sheridan and the Arctic Ocean.
Your Chance To Visit Ellesmere Island
Arctic Kingdom excels at exciting customizable adventures and is the premier wildlife tour company in the Canadian Arctic. After 20 years, we know what it takes to have a once-in-a-lifetime vacation that offers comfort and gourmet meals.
If you are dreaming of visiting Ellesmere Island, have a group of friends or family that would be interested, learn more about our Private Journeys.
Are you interested in finding other incredible Arctic adventures? Look at our list of programmed safaris that offer an exceptional Arctic experience that takes you to some of the best wildlife viewing areas for breathtaking opportunities to see and photograph northern animals like polar bears and narwhals.
Explore our Arctic Tours now!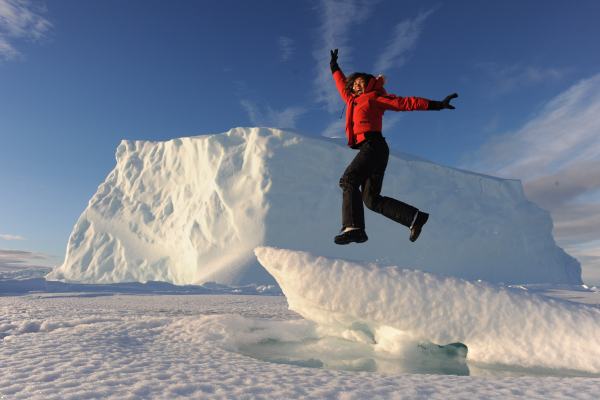 By: Mat Whitelaw