April 22, 2019
Are you wondering where the best place to see polar bears and northern lights? Are you excited to see the annual migration of whales in the spring? Perhaps you want to experience the Arctic in the summer? Which of the awe-inspiring Arctic phenomena is on your bucket list?
Since we offer polar bear tours in every season it can help to know what encounter you most want to experience.
Perhaps these points will help you decide what season and which Arctic Safari is the ideal trip for you.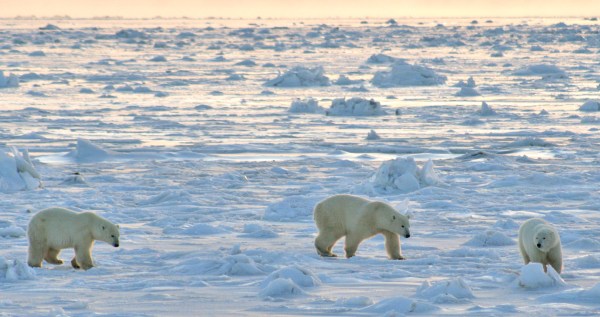 Polar Bear or Whales
Maybe you're inspired by the annual whale migration with thousands of whales travelling through the ocean corridor of Lancaster Sound at the mouth of the Northwest Passage.
If you want to see narwhal it has to be on an Arctic whale watching tour because this particular Arctic whale has never been successfully kept in captivity. So, you can only see them in the wild, and spotting the tusk of a narwhal pop up in front of you is a thrill you won't soon forget.
You'll also find belugas migrating at this same time. Their mouth gives them an appearance of a perpetual smile and their songs may be heard with our underwater listening devices. Bowheads are the largest of the whales also found during this migrations period in May and June.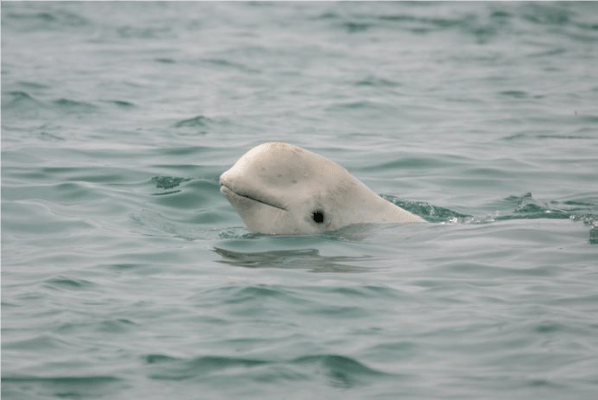 Our summer safaris find these same whales at their summer home in the Canadian Arctic. Whales use the shallows to help them molt by rubbing on the stone seabed. We may also catch the bowhead breaching as they launch their massive bodies into the air.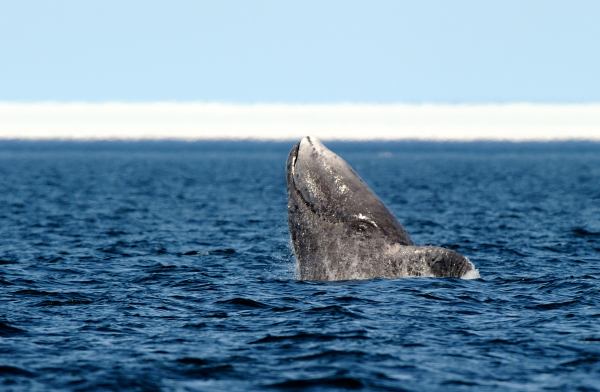 If whales are on your list then our spring migration safari or a summer safari are the trips for you.
How about polar bears? Truthfully, all of our safaris help you see a polar bear, the king of the Arctic. But, choosing what time of year will help you decide which behavior you might see when spotting a polar bear.
Do you want to see young cubs as they begin to explore their Arctic home? Or maybe it's seeing them when they're a bit older as they begin learning hunting tricks from their mother. Summertime is a great time to see polar bears ashore as their white fur is easy to spot against the earth-toned background.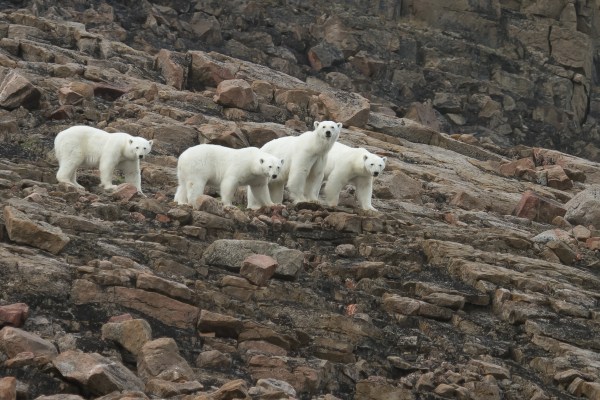 Spring is an amazing time to see polar bears because they are still roaming their Arctic realm, as our early spring safaris experience the last of the arctic winter. You can find mother and cubs playing together or spot an enormous male as he wonders the frozen landscape. Travel by snowmobile and qamutik and get incredible photographs of polar bears resting or even playing on icebergs.
http://https://www.youtube.com/watch?v=zshu4wPssq8
Summer offers a surprising opportunity to find the King of the Arctic, especially if you catch them swimming in water or warming up on rocks along the shoreline. Young polar bears are beginning to learn techniques from their mothers and have developed independent personalities that are so exhilarating to witness.
In the autumn you can watch as these bears migrate the shoreline and the expectantly wait for the ice to form so they can return to their winter realm.
Where To See Whales
Spot Narwhal and Beluga whales on: Narwhal & Polar Bear Safari and Ultimate Floe Edge Explorer.
Find bowhead whales on: Polar Bears & Glaciers of Baffin Island.
Where To See Polar Bears
All of our trips offer polar bears opportunities. But, for early spring encounters with young cubs discover our: Polar Bear & Newborn Cubs, Spring Polar Bears & Icebergs of Baffin.
For late spring: Narwhal & Polar Bear Safari and Ultimate Floe Edge Explorer.
Summertime: Polar Bears & Glaciers of Baffin Island.
Autumn: Polar Bear Migration Fly-In Safari and our Nanuvik Polar Bear Cabin Safari.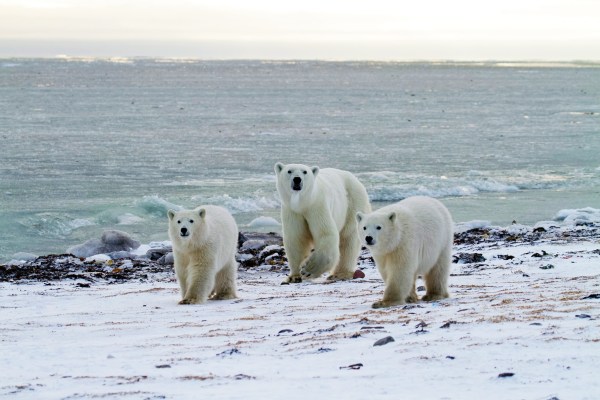 Early Ice Break-Up or Late Ice Break-Up
If you are interested in the migration of whales in the Arctic, it is useful to know a bit about the phases of the ice break-up. Since we operate on the floe edge, which is where the land-anchored ice meets open water, and the ice breaks in stages offering different highlights, here are some notes that may add some insight.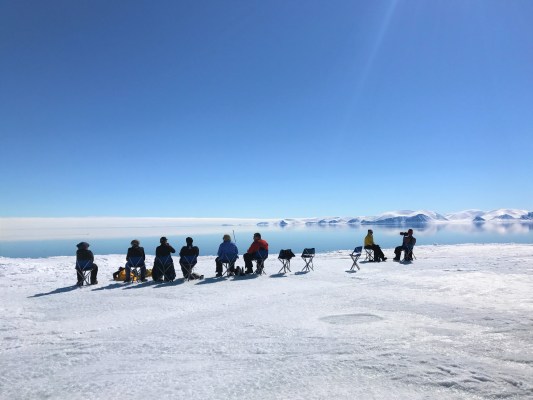 Early break-up begins at the start of spring. The ice is still thick and breaks off in larger sections. This is when you may find 'cracks' or 'leads,' which are little openings in the sea-ice, where migrating whales can use to breathe before submerging under the ice.
What's so exciting about this time is that whales pop up right in front of you. These narrow cracks make it easier to predict where these whales will appear which increase your opportunities for close-up encounters and photos. Finding narwhal and belugas bobbing as they look to navigate through each opening is such a sensational experience.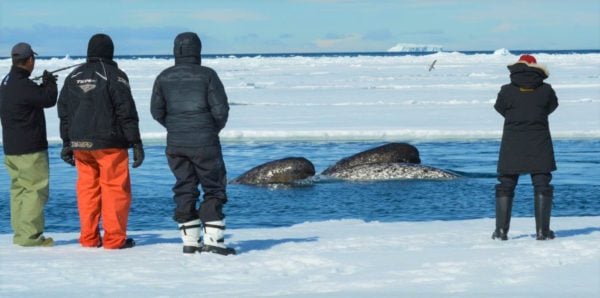 Late break-up occurs further along in the spring as temperatures get warmer and ice breaks off in smaller pieces. This means our trip to the floe edge may be shorter and the actual open edge of the ice is more defined.
For whales, this means that they may not swim as quickly by and often travel in larger pods. Therefore, you are more likely to find larger numbers of whales as they gather and socialize. They are restricted to small places so they may appear a bit further offshore, but they tend to stick around longer because they don't have the same sense of urgency as earlier in spring. Find narwhal gently nestling their tusks together, or belugas whistling and playing as enormous icebergs float by.
Interested in Early Break-Up?
Narwhal & Polar Bear – weather will vary, but typically from mid-May until early June
Interested in Late Break-Up?
Ultimate Floe Edge Explorer – weather will vary, but typically from mid-Jun until early July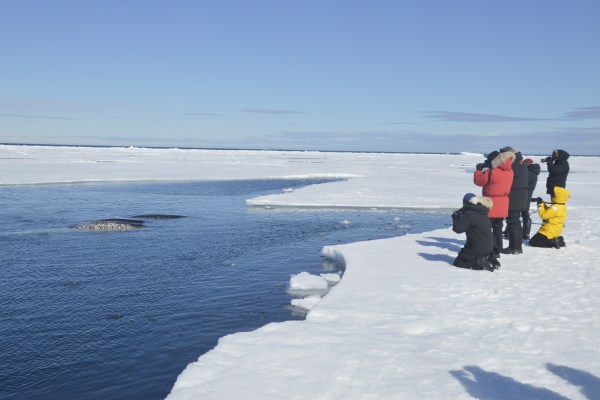 Northern Lights or Midnight Sun
What can be more magical than seeing the Northern Lights dancing above? People often go their whole lives without ever seeing this phenomenon. Simply put, the best place to see the Northern Lights is in the Arctic.
It's one of the most incredible experiences witnessing the world's most incredible light show. And you can witness the Northern Lights on one of our wildlife safaris so you don't have to choose one or the other. Imagine seeing polar bears during the day and then after dinner stepping outside and finding the most spectacular colours lighting up the sky. With our exclusive locations, it can make you feel like the aurora borealis is dancing just for you.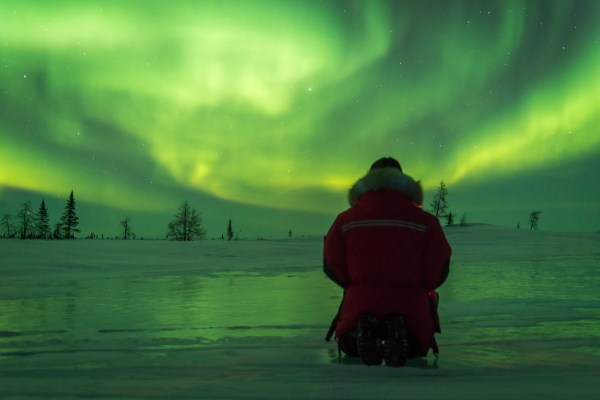 What is the Midnight Sun and why might you be interested in it? The Midnight Sun refers to the 24 hours of sunlight you can experience in the high arctic, from mid-spring until early autumn. This doesn't mean the sun is out the whole time but there is a soft almost pastel colour throughout the night. Depending upon the weather, midnight might seem like a perpetual sunrise or sunset.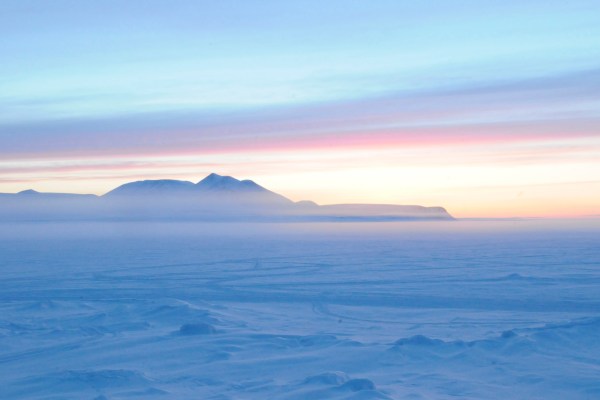 These longer days can also mean more wildlife encounter opportunities! Picture heading out for a time at the floe edge as whales migrate past you or setting off on the land looking for polar bears at just about any time of day. With the Midnight Sun, there is no rush to your day, and you can get well-lit photographs all day and night long.
Interested in the Northern Lights?
Experience the Northern Lights on: Spring Polar Bears & Icebergs of Baffin, Polar Bear Migration Fly-In Safari, and Nanuvik Polar Bear Cabin Safari.
Interested in the Midnight Sun?
Enjoy the Midnight Sun on: Narwhal & Polar Bear Safari, Ultimate Floe Edge Safari, Polar Bears & Glaciers of Baffin Island.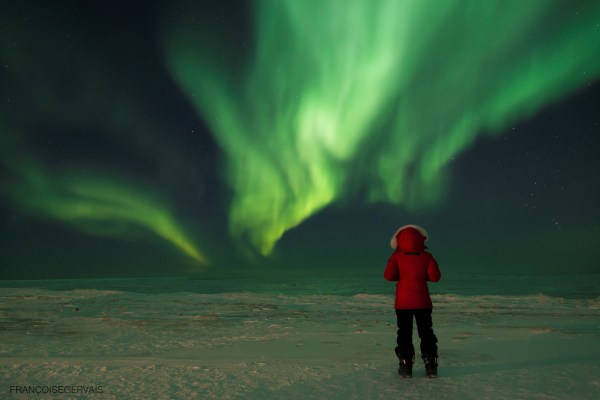 Small Group or Custom Trip
It's nice coming together after a day of adventure and wildlife encounters to exchange highlights. Even our own expedition leaders favourite time is back in camp and hearing all the stories guests relate to one another from their day's adventures.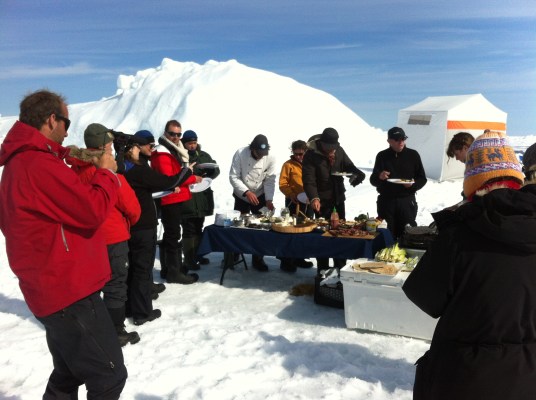 A further discussion with your Inuit guides, whether out on the land or a more detailed discussion back in camp, will add to your Arctic experience in a most thought-provoking way as you gain an insight into people who have called the Arctic home for thousands of years.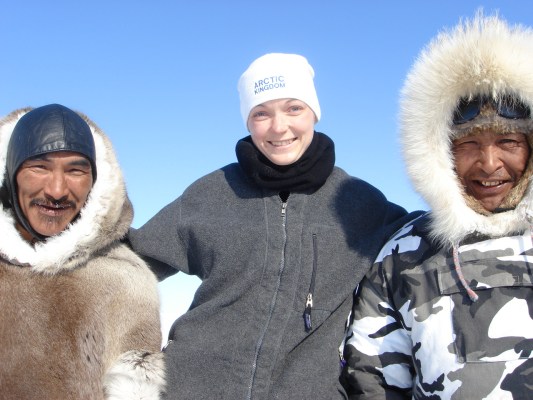 And, meeting guests from all over the world and sharing stories with new friends is as much a part of your safari as experiencing the Arctic, perhaps for the first time.
This unique region of the world is visited by very few people in a land-based safari experience. Exchange photos with other guests, laugh and talk over gourmet meals. People often come in expected to enjoy the wildlife and head home cherishing their time with the group.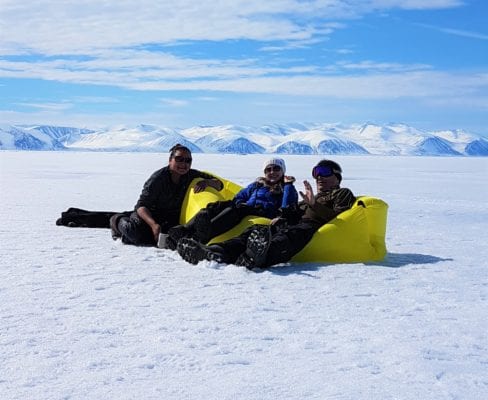 On the other hand, our custom trips can be catered to your particular wish-list experiences. Maybe you want to head out in a helicopter and explore the Arctic from above. Imagine floating above the sea-ice in a hot air balloon.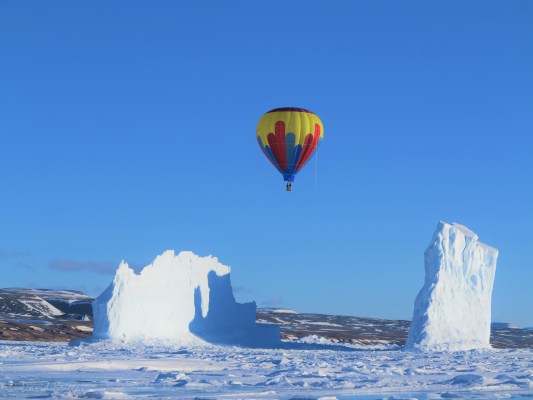 Is there a specific location in the Arctic that our safaris don't go to already that you would like to venture to?
That's okay, we can take you there. We can work with you to travel where you want with the experience you want. Our 20 years of Arctic experience allows us to build your ideal trip.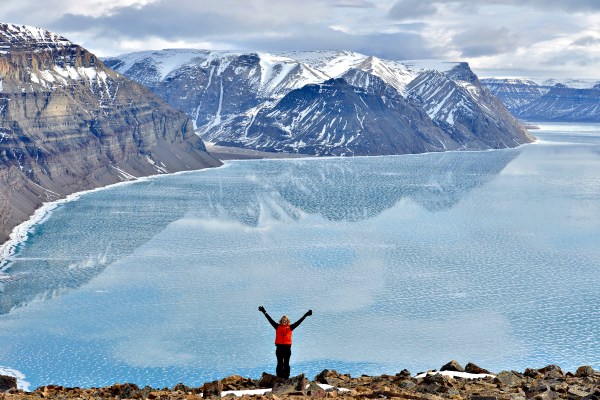 An adventure like this doesn't have to be a day-dream. These unique experiences are within your grasp because we love making Arctic dreams come to life!
Interested in a Group Trip?
Look at our list of safaris to find the one for you: Arctic Safaris.

Interested in a Custom Trip?
Explore here: Private Journeys.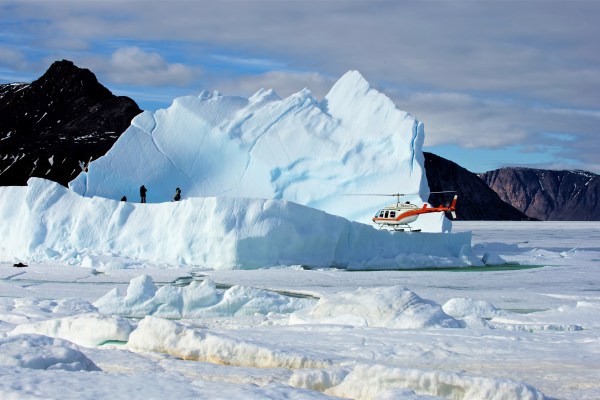 Experience The Arctic On A Safari
Get chances to view elusive Arctic wildlife and experience the majesty of the Arctic on safaris year around. View all Arctic Safaris here.
Ready for adventure? Contact our Arctic Travel Advisors to book.
Are you still curious about the many wonders of the Arctic or looking for more interesting content then explore more blogs here!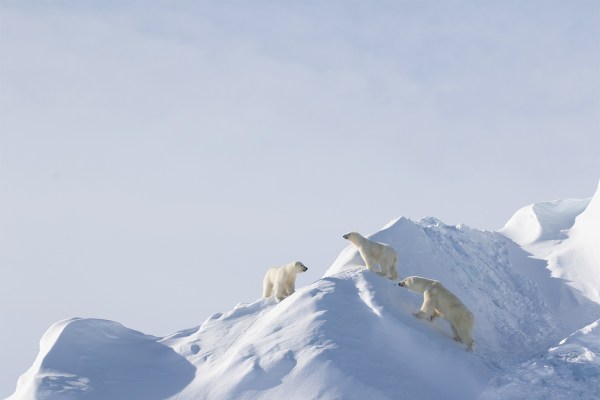 By: Mat Whitelaw