December 11, 2018
Imagine: You wake up in your spacious and warm Arctic tent, swing the door open and look out at the stunning scenery of the High Arctic. You've begun your day on a floe edge safari.
The floe edge is where land-fast ice meets the open ocean. The arrival of spring and 24-hour daylight creates a dynamic ecosystem here bringing all kinds of marine wildlife. It's no wonder the floe edge is also known as the "line of life".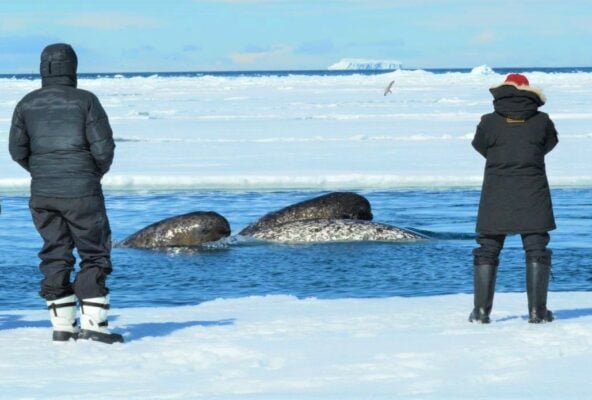 For travellers looking to join our Narwhal & Polar Bear – A Floe Edge Safari, it's not always easy to imagine such a unique experience.
How can you articulate the serenity of the floe edge or the exhilaration of travelling across sea ice by snowmobile and qamutik? These are experiences that can't simply be put into words but leave a lasting impression on your heart.
What we can put into words is what you may see and do. Once you get to our remote safari camp within Eclipse Sound, your days are filled with breathtaking landscapes and unforgettable experiences. And with the longer days of spring, your time in the High Arctic is one continuous adventure.
While daily itineraries vary depending on weather, conditions, and wildlife, here's a look at a typical day on Narwhal & Polar Bear – A Floe Edge Safari.

Waking Up To Spectacular Views
For most guests, the day starts at 7 am. Your tent is strategically placed for the best view, so you start and end your day with beautiful scenery.
The camp is powered by generators that start early so you can make sure your camera is charged and ready for the day. For those that want to shower, hot running water awaits you in the bathroom facilities. Pour yourself a hot coffee or tea in the lounge before breakfast.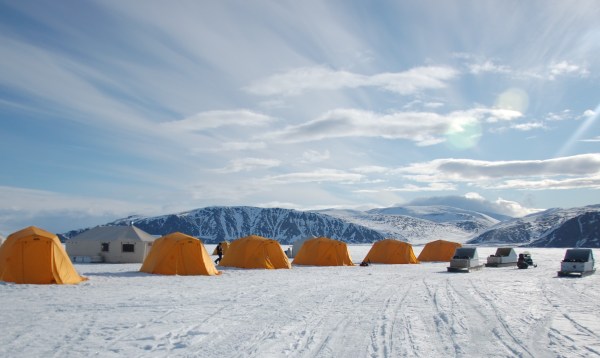 You'll find a spread of bread, cereals, pastries, and fruit all waiting for you before your warm gourmet breakfast is brought out. You may enjoy eggs benedict or maybe it's pancakes garnished with berries. The daily menu varies.
During the meal, the trip leader goes over the plan for the day. This includes conditions, weather, or information from scouting parties about where animals might be found. Get ready for an exciting day ahead!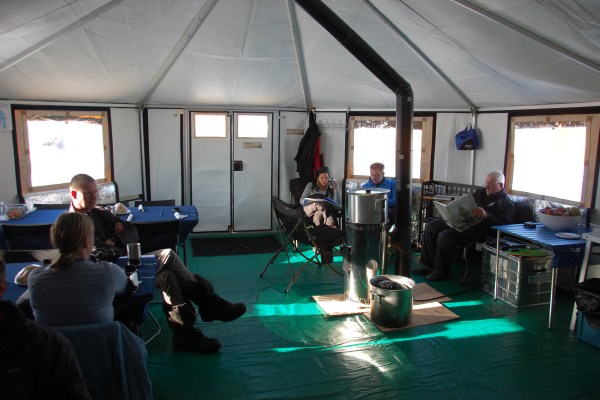 Journey To The Floe Edge
You'll begin your day of adventure around approximately 8:30 a.m. – 9 a.m.
Head outside to meet the qamutik (traditional sled pulled by snowmobile) right outside your front door. Hop in and set off to experience the wonders of the floe edge!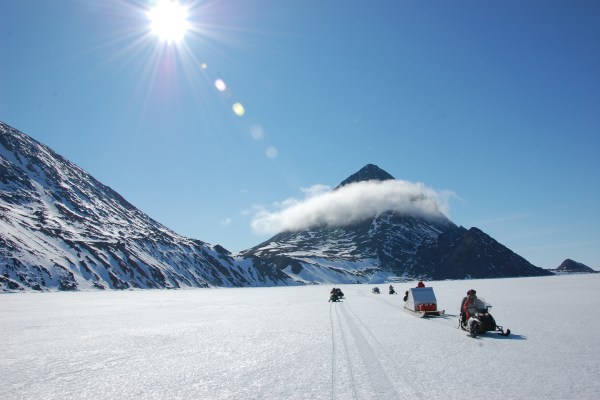 With landscapes filled with icebergs, glaciers and towering mountains, the journey to the floe edge is an adventure in itself.
Upon your floe edge location for the day, we immediately put up a portable bathroom, warming tents, and hot water for tea and coffee. For lunch, the chef prepares a hot meal of gourmet comfort food.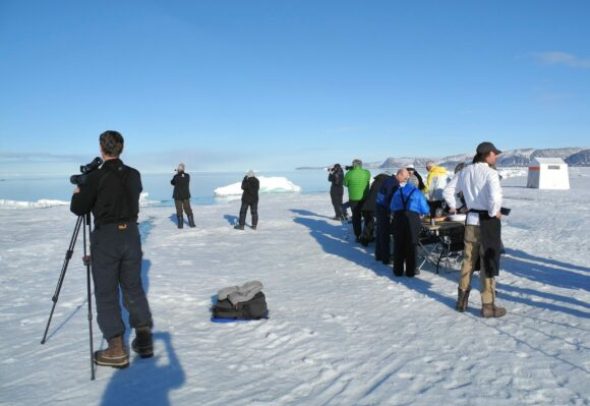 Wildlife, Activities And The Floe Edge
We realize that each traveller will have different ideas of the perfect adventure. Some may want to relax and simply take in the wonder of this special place, and some will appreciate activities and other opportunities for adventure.
You will have the chance for other excursions. This may include scouting for enormous icebergs frozen into the ice, a trip to see thousands of nesting birds at the Sirmilik bird cliffs, and more depending on conditions.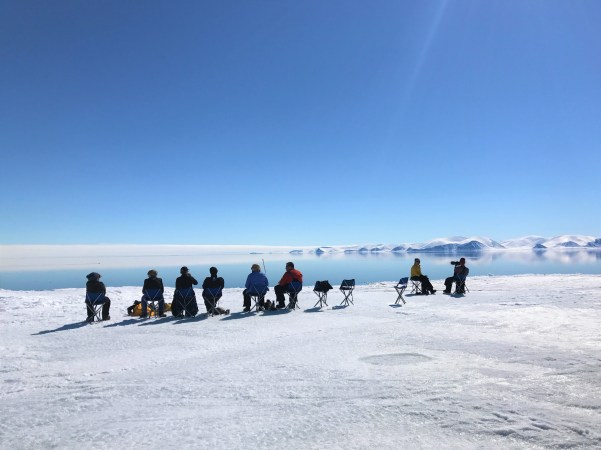 There is no better place to photograph Arctic wildlife than the floe edge. Each year, a giant population of narwhals migrate through this area offering chances to see large pods. This is also a great place to see roaming polar bears who use the opening in the ice to hunt for seals.
For those not taking pictures, relax in chairs set up at the ice's edge. It's impossible to express the calm here, where you can hear a bird flapping its wings a hundred feet above you. A guide may drop a hydrophone into the water so you can hear the whales before you see them, or the ring seals making torpedo-like noises.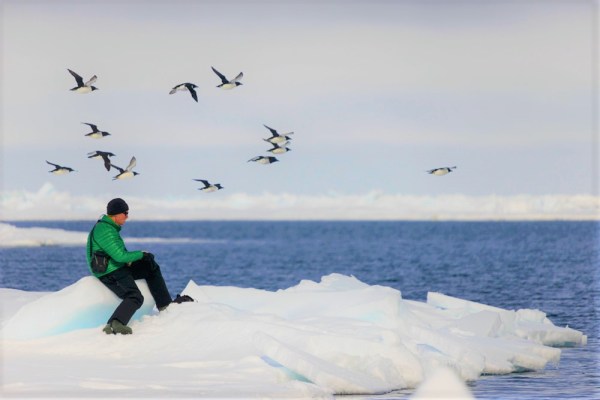 Days at the floe edge are fluid. All daily itineraries are crafted with mobility in mind, so we can offer the best experience. Everything we take with us can quickly be assembled or taken down within minutes. For example, if we find out that whales were spotting a little way up the ice, we can quickly move the group for better viewing.
Heading Back To Camp For A Gourmet Meal
Trips will usually return to the camp around 7:00 pm, but there are times we stay later. When whales are bubbling on the surface, or seals are putting on a show, we may tell the kitchen we're coming back late! The chefs are happy to adjust the dinner schedule to our timeline.
There are snacks throughout the day and there will be a snack waiting for you as soon as you arrive back at camp. A hot, gourmet dinner will be served shortly after.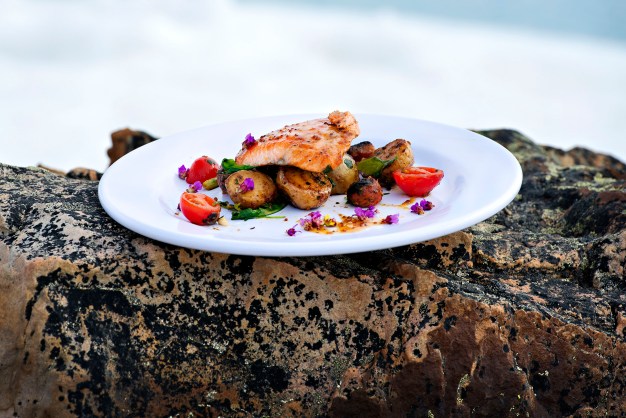 Evenings Under The Midnight Sun
After a day of exploration, you may find yourself wanting to head for bed early. The Midnight Sun is an incredible natural phenomenon that you may also want to take advantage of experiencing. Bring camp chairs outside and watch the sky change colours as the sun lingers above the horizon and turns a pastel hue.
Our own Jason Hillier, VP Product Management, who is no stranger to the Midnight Sun describes the experience. He explains, "the 2 a.m. light is like nothing you've seen, a gorgeous soft light."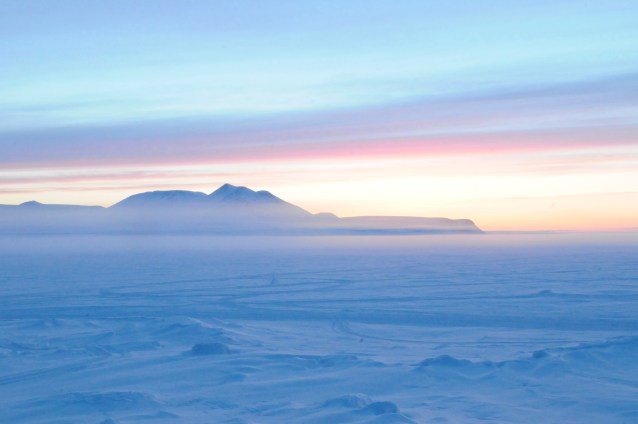 Those are the kinds of moments that people take away. This trip is more than just about being at the floe edge. It's about being in a comfortable camp in such a remote and spectacular location with new friends, eating beautifully prepared meals, sitting back to photograph bucket list wildlife and watch the sun at midnight as the light changes.
Sharing Special Moments With New Friends
Many guests arrive as independent travellers or groups and families, but by the end of the trip they're all good friends. Hugs and emails exchanged, pictures taken and shared.
So many of our guests are worldly travellers and our leaders are often in complete awe of what our guests have done as they share stories. This friendly dynamic makes this experience so special.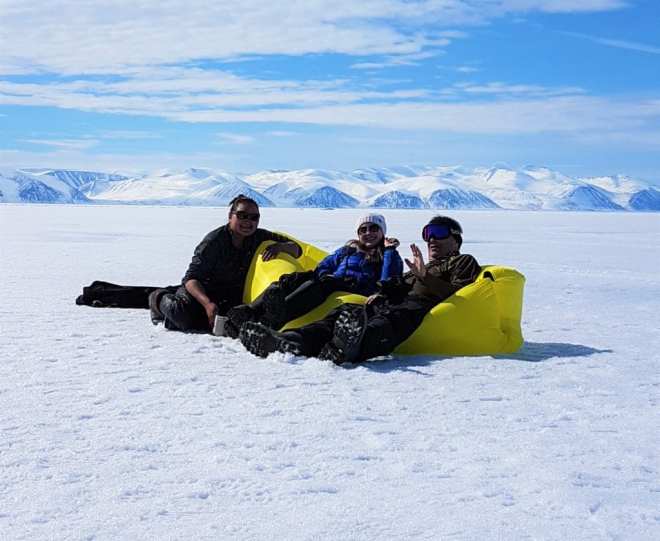 The allure of this tour starts with the wildlife. People travelling in search of an epic narwhal or polar bear shot. Throughout the week, some are surprised at what becomes new highlights.
For some, it's making friends with their Inuit guide and seeing them come out of their shell to tell you about life in the North. For others, it's the moment when the sound of the wind in your ear is the only sound. These special experiences are things you can't express in a brochure but come to life under the Midnight Sun.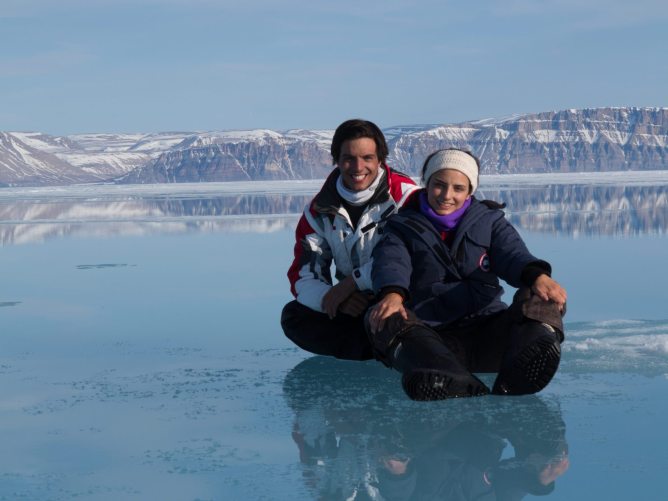 Exclusive Experiences At The Floe Edge
Our floe edge tours are designed to offer small group sizes for uncrowded opportunities, a cultural experience, unparalleled landscapes, and wildlife encounters you can't get any other place in the world.
Eclipse Sound is the most incredible floe edge destination on Earth and we're proud to be sharing it with guests from around the world. At the northern reaches of Baffin Island, is a floe edge adventure waiting for you!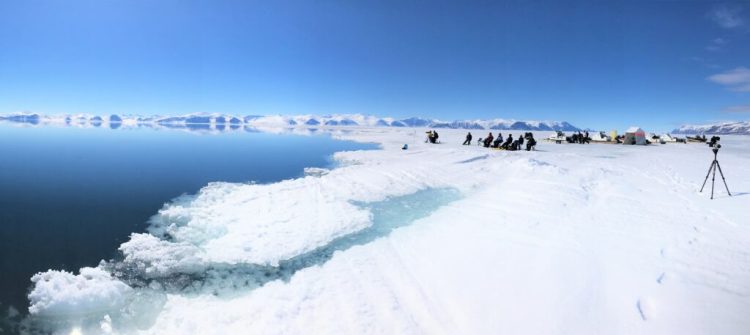 Learn more about the floe edge here and find out the best times to visit the floe edge here.
Experience The Arctic On A Safari
Get chances to view elusive Arctic wildlife and experience the majesty of the Arctic on safaris almost year-round. View all Arctic Safaris here.
Ready for adventure? Contact our Arctic Travel Advisors to book.
Are you still curious about the many wonders of the Arctic or looking for more interesting content then explore more blogs here!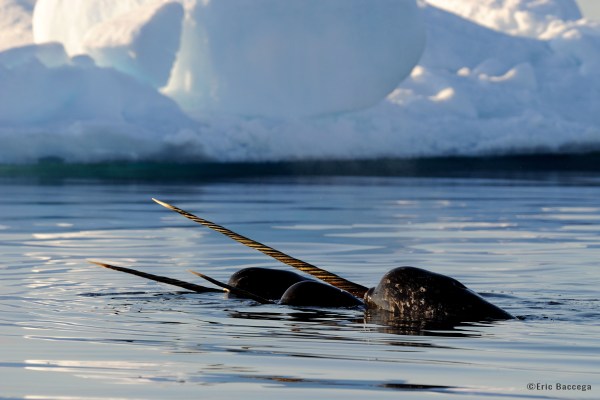 By: Mat Whitelaw