August 22, 2018
Visiting the floe edge, where the land-fast ice meets the open water of the Arctic Ocean, is often regarded as the quintessential Arctic experience. With amazing opportunities to witness the migration of whales including narwhal, beluga and bowhead, as well as polar bear and other Arctic wildlife sightings, it's no wonder so many polar travellers are seeking a floe edge adventure. One of the top questions travellers ask is; "when is the best time to visit the floe edge?"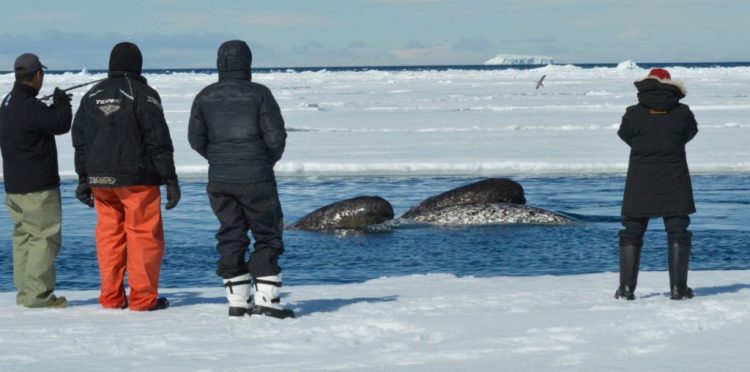 The simple answer is that you can visit the Eclipse Sound floe edge from mid-May to early-July. But, while travellers can have an amazing adventure at the floe edge throughout this time period, the experience will vary depending on the season.
Ice conditions are rapidly changing at this time of year. As daylight becomes perpetual, temperatures get warmer and the ice starts to break up, it is one of the most powerful times of environmental change in the Arctic. The ice breakup has an incredible effect on the landscape, wildlife behaviour, and the experiences travellers can expect. We describe the main seasons from May to July in terms of ice conditions: First Cracks, Early to Accelerating Breakup and Rapid Breakup. We break down the difference below:
First Cracks: Mid to Late-May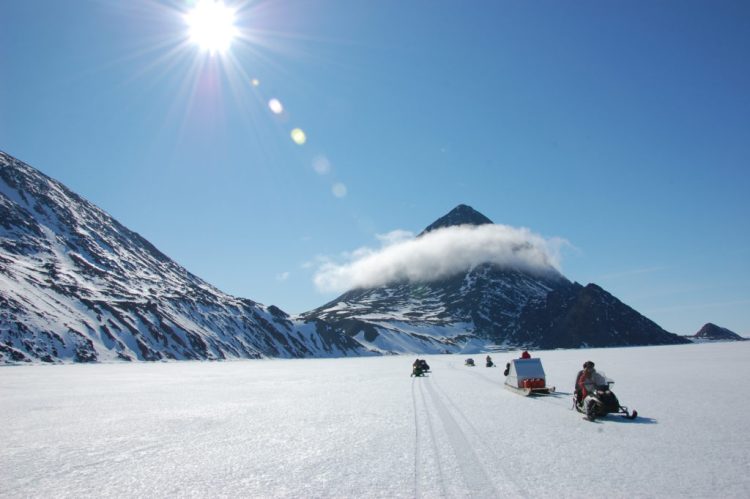 At the northern reaches of Baffin Bay, this early-spring season sees vast expanses of land-fast ice. At this time of year, travellers are welcomed by a spectacular frozen environment of glistening sea ice, soaring icebergs and snow-capped mountains. If you're looking for awe-inspiring landscapes and icescapes, this is the season to visit!
Travel to the floe edge will be via qamutik, a traditional wooden Inuit sled, pulled by snowmobile. While there will be less open water, you may experience large ice floes separated by leads. The floe edge will be furthest from land and the camp location during this season. Guests on our Narwhal & Polar Bear Safari may experience longer travel time to the floe edge. This is all part of the adventure! Many guests consider riding along the ice a highlight of their trip.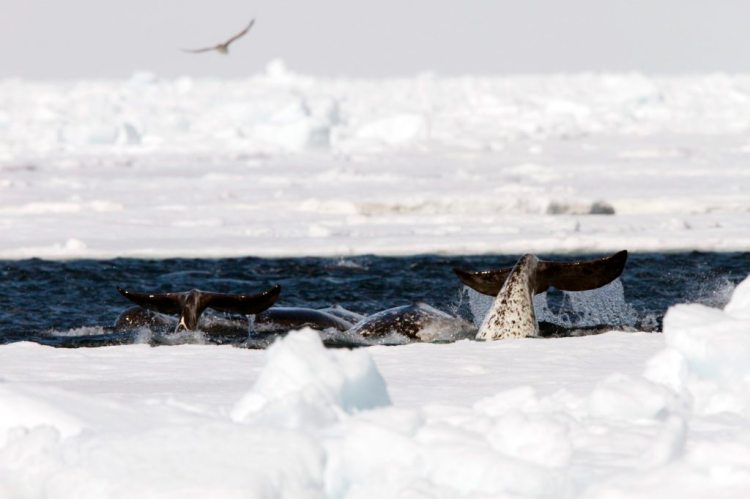 The number of whale sightings at the floe edge will be increasing throughout May and June. With less open water, whale encounters at the floe edge may be less frequent than later in the year, however, this season offers opportunities to view narwhal in higher concentrations as they may swim in the leads and cracks.
There is a possibility to view polar bears roaming the sea ice, and other wildlife including seals and birds as well.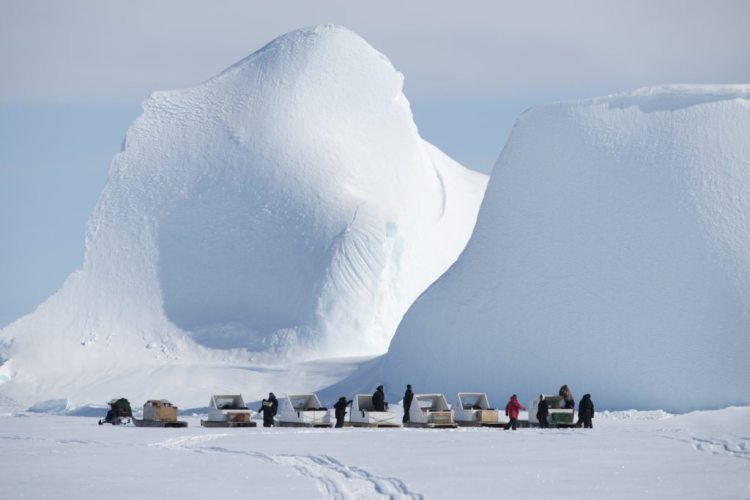 Average temperatures are between -12°C to -4°C (10°F to 24°F) and the sun is shining for 24 hours.
This season is also excellent for polar diving and snorkelling. The cold water and minimal ice break-up make for excellent underwater visibility. Kayaking at the floe edge is also a favourite pastime on this trip at this time of year.
View dates here for visiting the floe edge during First Cracks season on Narwhal & Polar Bear Safari.
Early to Accelerating Breakup: Late-May to Late-June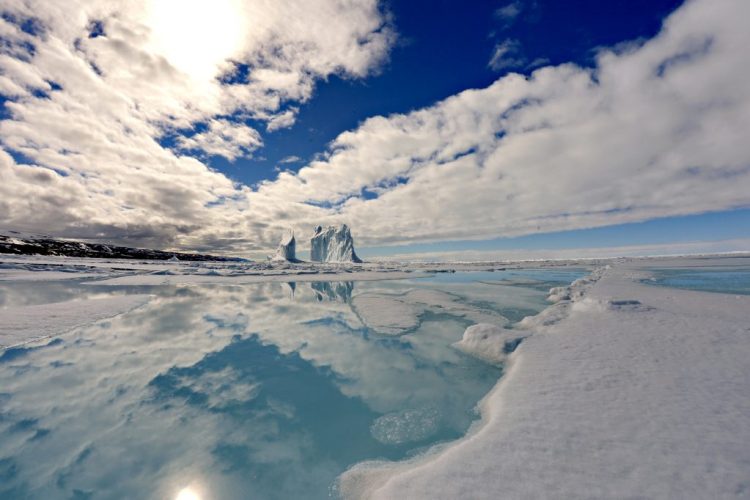 The ice will break up increasingly throughout June, in varying degrees each year. Typically from the last week of May to the first week of June, this area experiences Early Breakup conditions. At this time you can expect mostly solid ice with an open floe edge and great underwater visibility. Mid to late-June typically the second and third week, sees Accelerating Breakup conditions, where the ice begins to break up more regularly.
As the floe edge recedes it becomes more accessible for travellers. Travel to the floe edge will still be via snowmobile and qamutik, however, travel time will be shorter. The floe edge is constantly evolving, it may change completely from day to day. As wind and weather push pack ice to and from the edge it might be completely clean, with plenty of open water.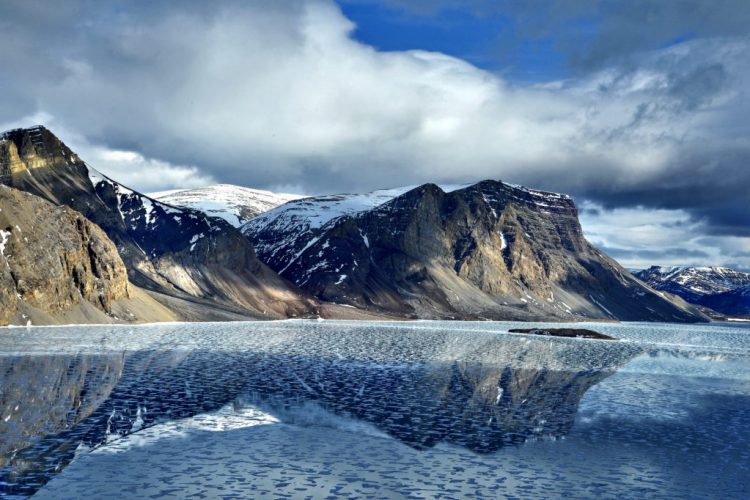 Average temperatures during this season are between 0°C to 6°C (32°F to 42°F), with 24 hours of daylight. The temperatures will gradually get warmer though the month of June.
The warmer temperatures mean melt-water will start to form on the top of sea ice, which may still be as thick as 2 m (7 ft). The smooth melt-water creates incredible reflections of the mountains for stunning views at every turn.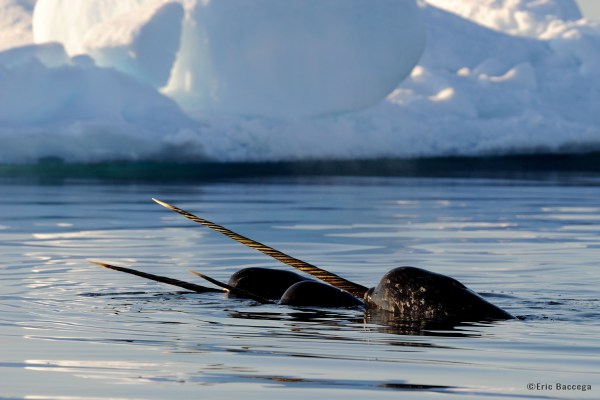 This season is considered "high season" for seeing the migration of narwhal and beluga at the floe edge. While we have seen large pods of whales, you may also see smaller pods or solo animals at the surface. You will also have chances to view polar bears and other iconic Arctic wildlife, including bowhead whales, seals, and thousands of sea birds.
View dates here for visiting the floe edge during Early to Accelerating Breakup season on Narwhal & Polar Bear Safari.
Rapid Breakup: Late-June to Early-July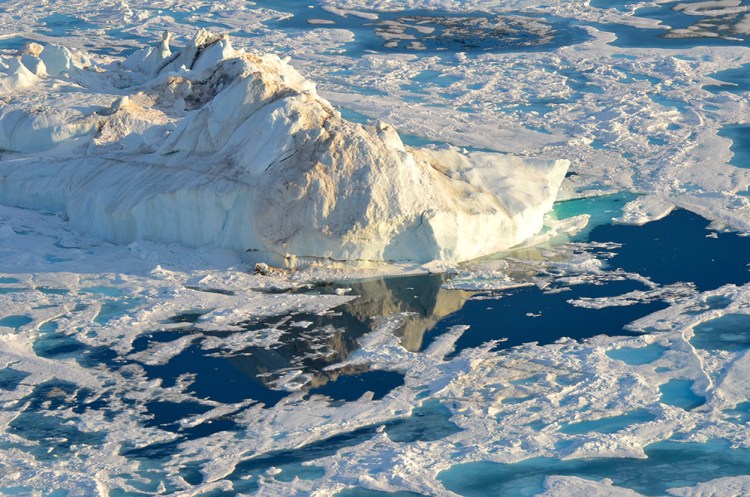 This late-spring, early-summer season can experience rapid ice break up. Ice floes begin to move freely with tides and wind, state of the ice is changing daily. This makes the floe edge less accessible by snowmobile, and travel by air will be ideal.
The use of a helicopter will allow access to different areas of Lancaster Sound, and travellers can take advantage of enhanced wildlife scouting from the air. This is handy as whales are no longer limited to congregating at the floe edge – they begin to move through and between ice floes.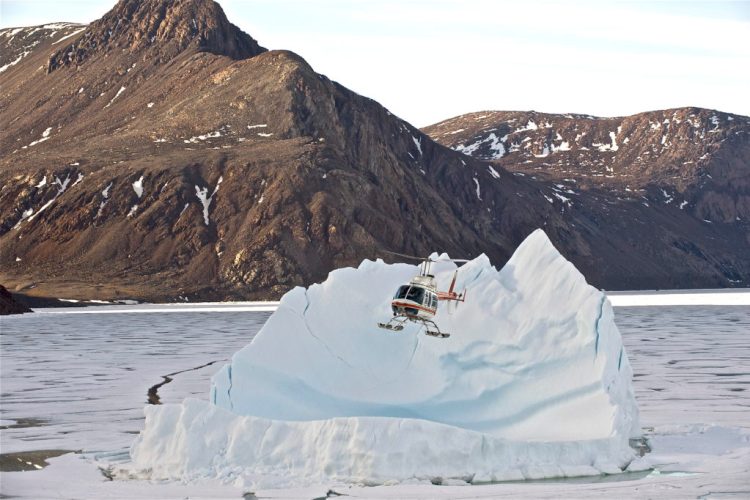 Average temperatures during this season are 3°C to 11°C (37°F to 51°F), and you will enjoy 24 hours of sunshine.
View dates here for visiting the floe edge during Rapid Breakup season on Narwhal & Polar Bear Safari.

Experience the Floe Edge
Whether you're looking for opportunities to view narwhal or other Arctic wildlife, unique and spectacular scenery, or simply the adventure of a lifetime – we have the perfect floe edge tour for you.
Need help deciding on a departure date? Contact us today!