July 14, 2017
The Canadian Arctic offers opportunities for some of the most amazing and unique adventures, unlike any other destination. This includes viewing rare wildlife and natural phenomena among spectacular landscapes. For travellers from around the world, the top bucket list experiences in the Arctic are viewing polar bears and witnessing the Northern Lights.
Polar bear encounters and viewing Northern Lights are both amazing experiences in their own right. Combined they set the stage for incredible memories to last a lifetime. Imagine photographing polar bears up-close during the day and getting a front-row seat to the Northern Lights at night. The Arctic offers possibilities to bring this dream to life.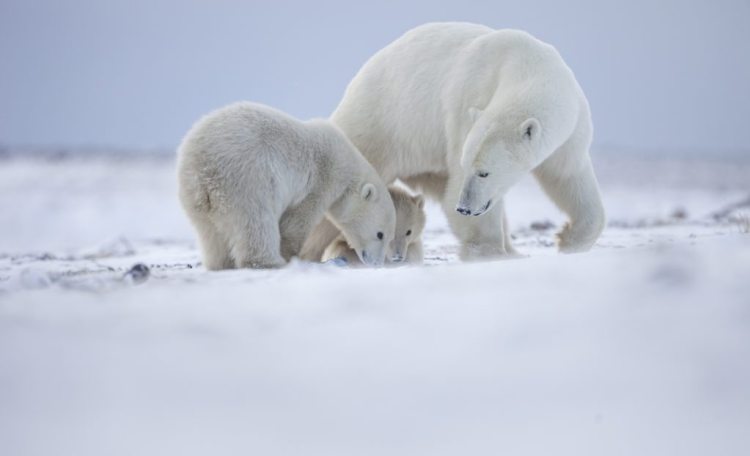 Polar bears
A long-standing icon of the north, polar bears are one of the most beautiful and majestic animals found in the Canadian Arctic. It's no surprise that they are the most popular animal that guests want to see on our trips. Canada is home to approximately 60% of the world's polar bear population. You can get great opportunities to spot them in regions across Nunavut almost all year long.
Learn more about polar bears here.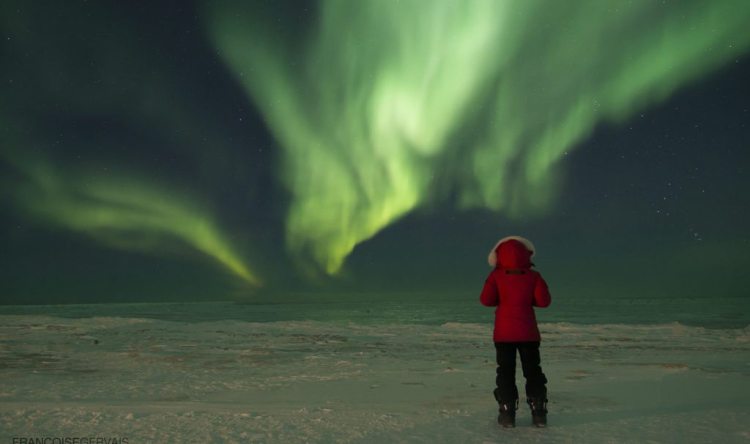 Northern Lights
Legendary and spectacular, the Northern Lights (Aurora Borealis) are one of the most stunning natural phenomena in the world. Travellers and adventures head to the higher latitudes of the northern hemisphere every year hoping to witness them light up the sky.
Visible in the Canadian Arctic from late August to early May, the Northern Lights are most clearly seen at night against a dark sky. Smaller communities and remote locations without light pollution are ideal for watching the aurora displays – making many regions of Nunavut great choices for viewing them.
Learn more about the Northern Lights and what causes them here.
3 ways to see polar bears and Northern Lights in the Canadian Arctic
While we offer polar bear tours almost all year long, and Northern Lights can be viewed in many northern regions, there are specific locations and times of year that present the best opportunities to experience them both.
Here's how you can view polar bears and Northern Lights in the Arctic this year:

An exclusive opportunity to photograph polar bears at a close proximity in October and November. Stay in our rustic and remote Polar Bear Cabins, surrounded by an unobtrusive electric fence, to safely capture close-up polar bear photography from ground level. Polar bears are known to wander right up to the fence! This photo safari also provides an incredible off-the-grid experience to witness the dazzling Northern Lights at night. Learn more about this trip here.

For those looking to travel privately, our Nanuvik Polar Bear Cabin provides the ultimate polar bear viewing experience. Customizable to your dreams in October and November, this experience is available for families or groups of four, or a couple looking for an exclusive getaway. Set on remote tundra, you'll get amazing opportunities for Northern Lights viewing from the comfort of the cabin. Learn more about this trip here.

Journey into the heart of the high Arctic, where travellers and photographers seldom go, in March and April. Photograph dramatic landscapes, and polar bears and possibly cubs, as they venture on to the sea ice and climb majestic icebergs. Set on remote sea ice, far from any light pollution, and with the crisp, clear skies in early spring, this photo safari provides excellent chances to view Northern Lights at night. Learn more about this trip here.
Want to experience polar bears and Northern Lights but not sure which trip is for you?
Click here to get in touch with one of our Travel Advisors – they are happy to help!
Want to create your own adventure?
Contact us to ask about custom trips.
By: Liz Carino