April 12, 2018
Photographing the Aurora Borealis is a remarkable experience, and can produce incredible results – but the Northern Lights are not the easiest wonder of the Arctic to photograph!
Travellers from around the world seek to cross seeing the Northern Lights off their bucket lists, and are thrilled to witness this spectacular natural phenomenon on our Arctic safaris in autumn, winter and early spring. With years of experience photographing the aurora borealis across the Canadian Arctic, our Expedition Leaders are happy to help guests capture magical shots on Polar Bear Migration Fly-In Safari, Polar Bear Mother & Newborn Cubs, and Spring Polar Bears & Icebergs of Baffin.
Our Senior Expedition Leader Dave Briggs knows that some of the best places to see Northern Lights are in remote locations in the aurora oval, away from any light pollution.
"Like most Arctic photography, proper techniques and equipment will get you a better shot, especially when photographing the aurora," says Dave Briggs. "It's better when you're photographing against a dark sky, with clear conditions, in remote areas like some of the destinations we travel to in Nunavut."

Here are our Expedition Leaders' 5 top tips for photographing the aurora borealis:
1. Bring a sturdy tripod
Despite the extra weight, it may bare, a tripod is a must for shooting the Northern Lights. It will provide extra support by keeping your camera sturdy and avoid blurry photos. Most robust tripods will have a hook to allow hanging of a weight for additional stabilization. Arctic weather conditions can cause shakiness from the cold and wind.
2. Try a wide-angle lens
A wide-angle lens provides a broader view than what you can see with your own eyes and increases the depth to every component within the frame. The wider the lens, the more sky you will capture what the Northern Lights and Aurora Borealis are all about! It's a good idea to ensure your lens has a fast aperture as well.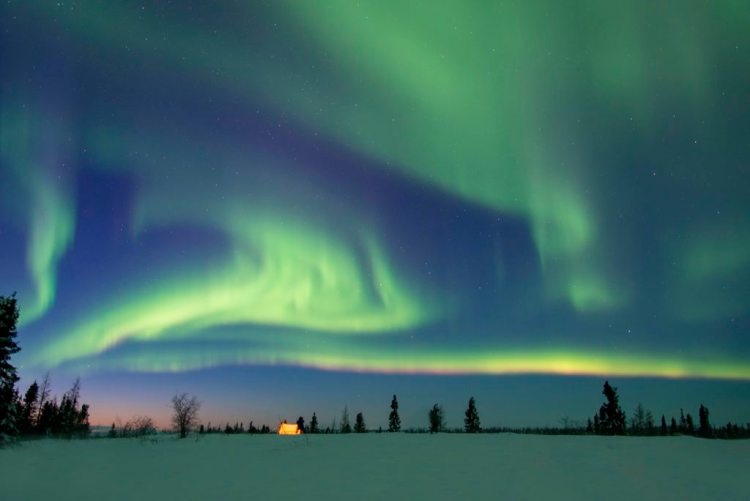 3. Use a camera with manual mode
Use manual mode so you can adjust ISO, aperture and exposure time for best results. Françoise swears by using a high ISO and slow shutter speed.
Dave also suggests manually focus your camera and set the distance to infinity. Turn off motion stabilization and use a shutter release cable. If this setting is not available, set your camera for a timed delay (2-second countdown) to reduce the likelihood of camera movement when releasing the shutter.

4. Bring a red flashlight
"Red lights are less intense and less disturbing," says Françoise. "It's important to remember to respect other photographers, too."
Consider avoiding man-made lights whenever possible. Minimize the use of white light as your exposure will largely depend on other light around you.
5. Prepare accordingly for the cold weather
Check weather conditions in advance and think about setting up your camera before you head out into the cold and dark. Most lithium batteries can handle the cold, but you'll find they won't last as long. Bring extra batteries and keep them tucked in an inner pocket to keep them warm. Don't forget to dress warmly!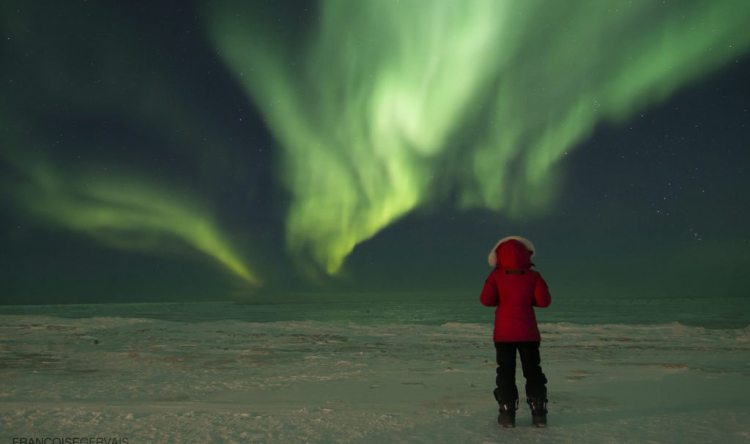 Want to put these tips for photographing the Northern Lights to use?
Here's how you can see the Northern Lights in the Canadian Arctic:
This fly-in safari provides an incredible off-the-grid experience to see the Northern Lights in October and November. This eight-day trip offers exclusive opportunities to view polar bears up-close during the day and dazzling Northern Lights at night, in the comfort of our remote Polar Bear Cabins, located 110 km south of Arviat, Nunavut, on the coast of Hudson Bay. View the itinerary and trip details here.
This safari takes you into the heart of the High Arctic, where travellers seldom go, in March and April. See the Northern Lights at night after spending days capturing amazing photos of polar bears and possibly cubs close-up, as they venture on to the sea ice and climb majestic icebergs on this nine-day trip. View the itinerary and trip details here.
This lodge-based expedition provides the opportunity to witness the Northern Lights at night after days viewing newborn polar bear cubs and their mothers at a close proximity. Located in the world's largest polar bear denning area in Wapusk National Park, Manitoba, travellers can experience this 10-day trip in March. View the itinerary and trip details here.
Get a front-row seat to watch the magical Northern Lights at this remote and rustic lodge, located deep in the Canadian wilderness of Yellowknife, Northwest Territories. This trip has options of four to nine-night packages, from December to April. View the itinerary and trip details here.
For travellers short on time, our Arctic Weekend Getaway and Taste of the Arctic Spring provide opportunities to see the Northern Lights from October to April on three or four-day trips.
Contact us today to plan your Aurora Borealis photography and bucket list experience!
Want to create your own Northern Lights adventure?
Contact us to plan a custom itinerary.
By: Elise Zerafa