Written by
Mat Whitelaw - September 05, 2023
The Inuit contribution to literature looms large over the arts. Some novels tell stories about the world, and some novels teach a lesson.
Finding Inuit representation on the bookshelves and in media can be hard. That is why it is important to hear their stories in their voices.
We have a couple of books from Inuit authors that are worth exploring. What makes these books so enjoyable is their honesty and the fortitude of the characters. Through these stories, we can learn more about each other and the places we call home.
Join us as we look at three novels that take you into a world of folklore.
Tainna: The Unseen Ones
By: Norma Dunning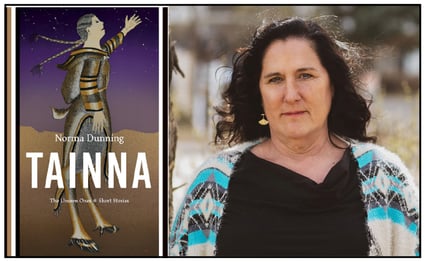 Written by Inuk Canadian writer Norma Dunning while working on her PhD at the University of Victoria. The book is a series of short stories examining the life experiences of modern-day Inuit.
The theme is contrast and worlds colliding. Dunning's characters feature a vast separation in their situation – some are rich, and some are poor, or a living priest sits with a dead man – but they share an alienation and grapple with loneliness.
Dunning is a master storyteller with candid characters and a sincerity that connects with the reader. Tainna: The Unseen Ones received the Governor General's Award for English-language fiction in 2021.
The Origin of Day and Night
By: Paula Ikuutaq Rumbolt
This story has been passed on for generations from one storyteller to another. It is a traditional origin story that follows a fox and a hare that long for light and darkness in a world before such things.
This beautifully illustrated book allows young and old readers to experience Inuit mythology. This traditional story's lesson can now be passed on to a new generation.
Paula Ikuutaq Rumbolt was born in Baker Lake, Nunavut and studies at Concordia University in Montreal. While studying at Nunavut Sivuniksavut – a post-secondary program designed to empower Inuit youth – she became inspired by Inuit culture and history. This led to growing her connection with this community and passing on the lessons she's learned to us.
The Giant Bear: An Inuit Folktale
By: Jose Angutinngurniq
A great legend has at least a little truth behind it, and the tale of a giant polar bear, one that stands out from all the others, could be true. At Arctic Kingdom, we have heard the story ourselves from Inuit guides and community members from this area.
This book tells the story of a giant polar bear called, Nanarluit that wanders the far north. An Inuit hunter must try and protect his family from this monstrous beast. It is an epic battle between brains and brawl when the Inuk hunter realizes he can't overpower the bear, so he must outthink it.
Angutinngurniq is a respected Inuit elder from Kugaaruk, Nunavut. He first heard the tale of a giant polar bear from his grandfather when he was a small child.
Learn More About the Arctic
Explore our blogs and book club ideas if you want to learn more about the Arctic and hear more of their stories.
To see more of our stories, click here.
Also, visit our earlier book club selections by clicking here.
By: Mathew Whitelaw