Written by
Mat Whitelaw - June 19, 2023
Mitiarjuk Nappaaluk wrote one of the first novels in Inuktitut. She lived through one of the most significant and titanic periods in Inuit history as Canadians with European ancestry worked to assimilate the Inuit into their culture.
Her craft of writing was aimed at ensuring Inuit traditions would survive into the next generation and finding a form of harmony with White and Inuit Canadians.
Sanaaq
Nappaaluk grew up in the Inuit community of Kangiqsujuaq, Quebec, within Nunavik, northern Quebec's Inuit region.
She learned to write in Inuktitut syllabics in return for teaching missionaries from her community how to speak the Inuit language. They wanted her to write down some words in Inuktitut so they could begin to learn the language, so they introduced her to the letters.
She began writing her novel, Sanaaq, in the 1950s, but it wouldn't be published until 1984. It is considered the first novel written in Inuktitut, but a book by Markoosie Patsauq was published before Sanaaq.
The book follows a series of stories and episodes following an Inuk woman, Sanaaq, through the 1920s to the 1950s. It captures traditional life before contact and transitioning from a semi-nomadic lifestyle to a sedentary one. She is introduced to currency, tuberculosis, and permanent homes.
Nappaaluk's goal for the novel was to preserve the traditional knowledge she learned from her father to live off the land. By weaving these stories around Sanaaq, she teaches the next generation of Inuit these methods of hunting, fishing and finding resources in the Eastern Arctic.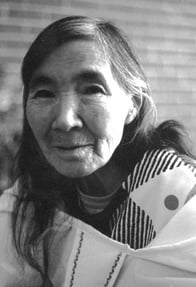 The Legacy She Left Behind
Nappaaluk passed away in the community she spent her whole life in but left a legacy that reminds all Inuit people of their heritage and the knowledge of their ancestors.
By 1999 she had written canon of Inuit traditional knowledge with 22 books and received the National Aboriginal Achievement Award (Indspire Award). Her writings have been used as encyclopedias of knowledge in schools across Nunavik.
In 2000, McGill University gave her an honorary Doctorate of Law. Then, in 2004 she received the Order of Canada for preserving Inuit culture and language.
As an elder, she sat on school boards and was commissioned to work on Kativik School Commissions to contribute to what was included in curriculums and develop Inuktitut language curriculums. Her passion for education was never held back, considering she never spent a day in a school as a student. She spent her life as an educator and focused her energy towards encouraging future generations to hold onto Inuit culture and the Inuktitut language. Reinforcing that knowledge of the land is vital to an Inuk and their ancestors' traditional methods can still help today's people.
Nappaaluk passes on honest and reasonable advice for the Inuit of today:
"You will not be sorry if you keep your language. You will be sad if you forget those ways. Make sure you remember your traditional ways."
https://www.youtube.com/watch?v=PmjNuZQRaQY
We encourage everyone to continue to learn the stories and legacies of more First Peoples. Their contribution to their community and our country is worth learning.
Another fascinating story is John Shiwak, one of the best snipers in World War 1.