February 14, 2020
It's Valentine's Day and that means we've all been thinking hard on the best gifts or moments to share and we're here to tell you there is no better Valentine's gift than an Arctic vacation!
What could be better than spotting polar bears together as you sled across the snowy canopy of the north or imagine the joy as your partner sees their first narwhal?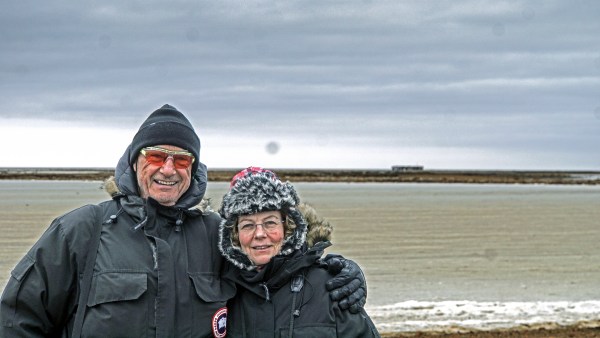 Why It's Great For Couples
Often the best dates or vacations we go on with our partners are when we share in an adventure and build memories together that last a lifetime. The fun of going through your photos together and laughing about that funny moment or realizing you're both still in awe at the size of a polar bear when you see them in person.
Our goal is to provide the comforts and luxuries that make us feel comfortable and relaxed in a location that is exciting and full of once-in-a-lifetime experiences. Holding hands tightly as you prepare for a polar dip into the Arctic Ocean or seeing the Northern Lights, these are bucket list moments you'll want to share with a loved one.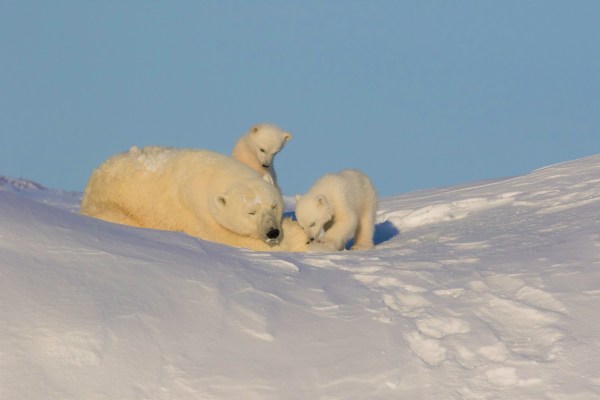 You'll be able to pair up the entire trip! Whether it's riding in the sled to viewing locations or in your accommodations, our trips are designed for pairs.
Travelling to locations often means riding in a qamutik, a traditional Inuit sled that's pulled by a snowmobile, and these have a riding cabin that guests will be pulled in. The sleds are designed with two seats so you will be able to sit next to your partner as you take in the breathtaking landscape. It's a fantastic way to snap photos of dramatic cliffs and giant icebergs.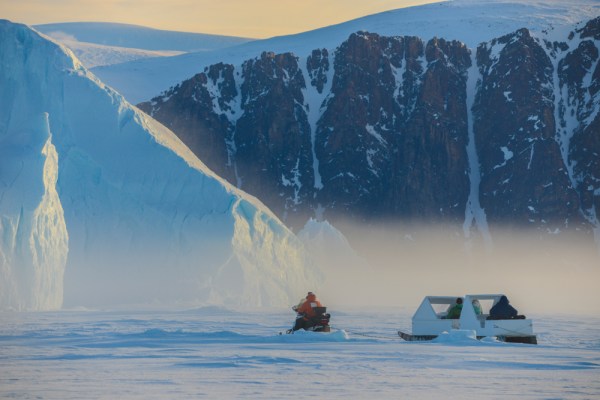 Accommodations vary depending on the season, but they always are designed for two people. This means that you and your partner can enjoy some privacy to hang out and sleep. Whether it's tents, yurts or cabins, we always have spacious and heated accommodations that will make you feel comfortable.
There is lots of space for charging all your electronics, and even the tents reach over 6 feet, so your tent, yurt, or cabin quickly becomes a nice home-away-from-home. This makes our accommodations ideal for those who are worried about the comfort of the accommodations on this kind of adventure.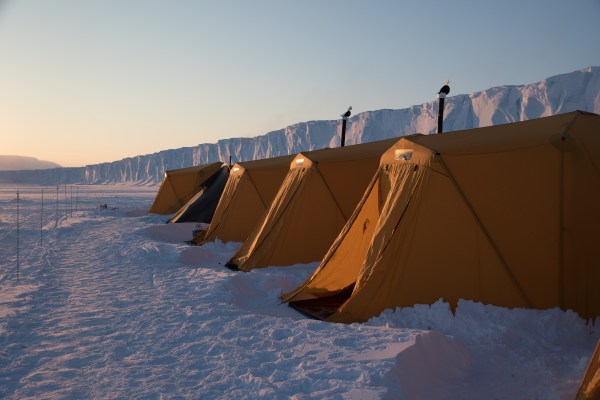 Let's not forget the most important part of any Valentine's date, the food! All of our trips feature a gourmet chef and a culinary team that will create exquisite and seriously delicious meals all day. What can be better than coming home from a memorable day on the land and then coming back to a spectacular meal featuring elements of the Arctic garnished into the meal?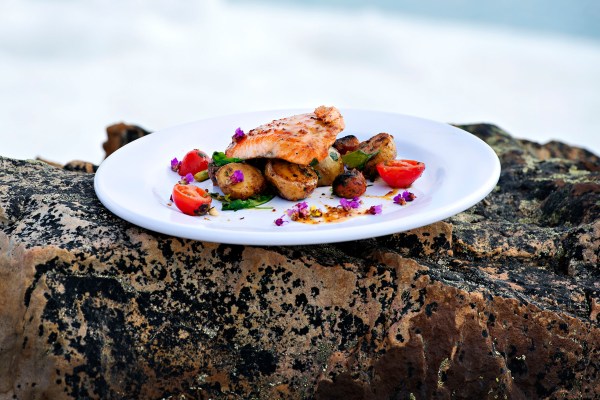 So many couples love trying new foods together and some couples just like sharing a delicious meal, this is your chance to try new treats and some of the proven favourites. How excited would your foodie-partner get about trying a green curry with Arctic char caught that day? Or do you two enjoy a simple favourite like eggs benedict?
Every one of our trips makes a perfect couples vacation but let's dive into what each trip offers to make it the perfect date!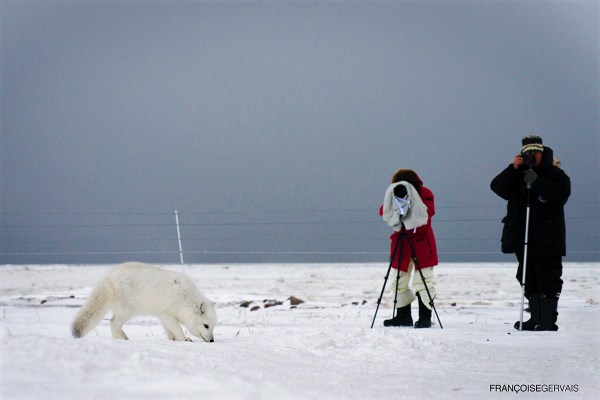 Spring Polar Bears & Icebergs of Baffin Safari
Imagine, your partner tugs on your shoulder and points to a snowy figure and you realize that they have just spotted the first polar bears of the trip! There's something very surreal about seeing a polar bear in person, but having someone to share this experience with is incredible. It helps to share these life-changing moments with someone because people back home won't quite understand the feeling.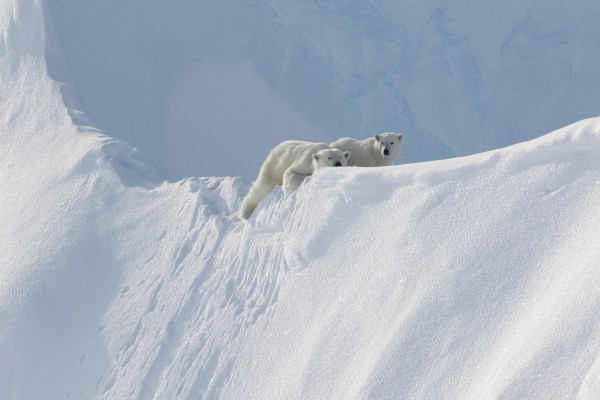 You and your partner may be awe-struck and just watch silently before you can ask if that really just happened. When you get home you'll be able to look over all your photos and joke who got better photos.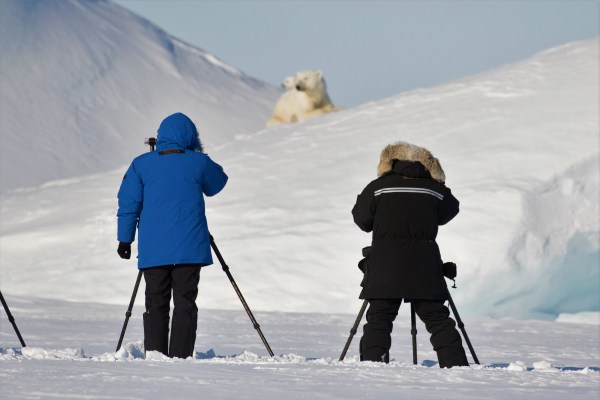 What's really special about our Spring trip is that this is the time of year that polar bear cubs are first emerging from their birthing dens.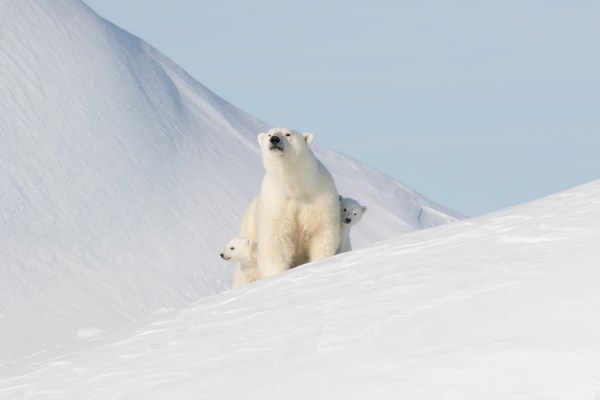 No matter who your partner may be, everyone gets excited when they see a baby polar bear playing in the snow or distracting their mom. It's amazing how affectionate the cubs are and you can see the care the mother pays to her cubs. It's truly a moment worth sharing with a loved one!
Another great part of the Spring is that the Northern Lights are dancing and twisting above. People travel from all over the world to witness the sparkling lights above and there are few things more romantic than staring up at this galactic show with a loved one. It's so rare to see you'll be glad to share the moment.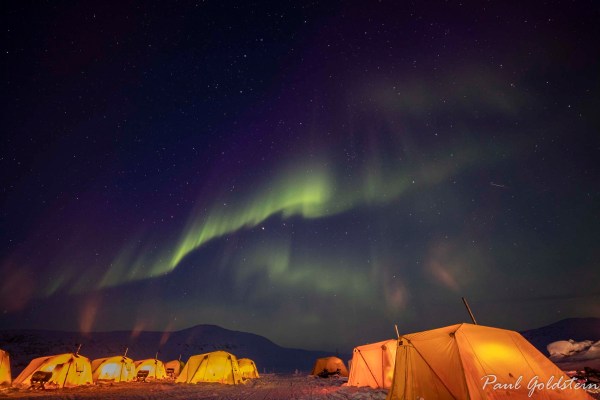 The accommodations for this trip are comfortable and spacious with our Arctic Oven tents. These are over 6 feet tall and more than enough space for two beds, a cubby for clothes and space for charging your gear. On a good night, you can open the door of your tent and see the Northern Lights above.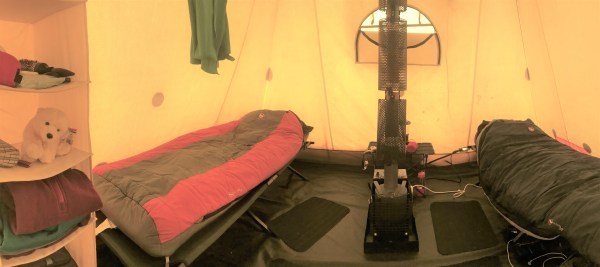 -Learn more about Spring Polar Bears & Icebergs of Baffin Safari here.
Narwhal & Polar Bear, A Floe Edge Safari
The narwhal is one of those animals that some people have trouble believing actually exists, so if your looking for a truly special vacation to surprise your partner, then seeing a pod of these beautiful Arctic whales swim by is unforgettable!
The gift and excitement of seeing a near-mythical animal should top any bucket list. So many of us have fallen in love with the footage of rare animals in shows like Planet Earth but this is your chance to have that moment in person.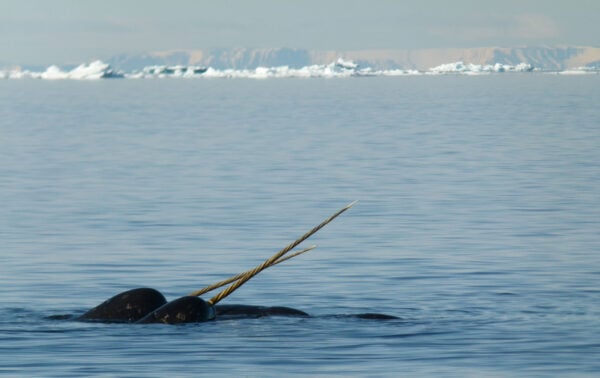 Seeing something so novel is a remarkable moment no matter who you're with, but I think it's safe to say getting to share a moment like this with someone you love will make it even more special.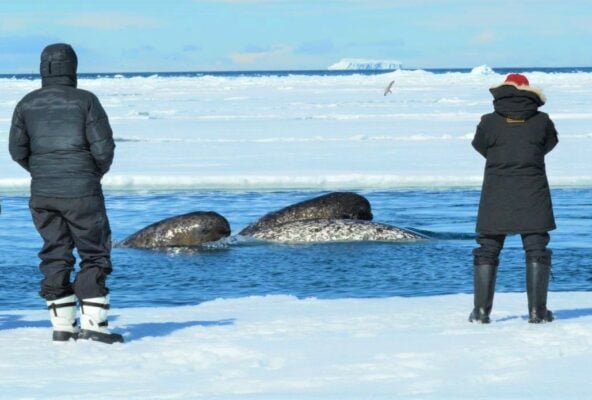 When the narwhal breaks above the water surface, it's tusk bursting into the air; it's hard to describe to loved one back home so why not bring them?
You're now in the season of the Midnight Sun meaning the daylight lasts nearly 24 hours of the day. The days are getting a little warmer as it turns into late spring and the longer days give you more time to explore or stay at locations. This may make it a little harder to see the Northern Lights, but there are these extended sunsets as a pastel hue lights up the sky even after the sunsets. Making it a beautiful walk back to your tent after dinner as you take in all the purples and reds filling the Arctic landscape all around.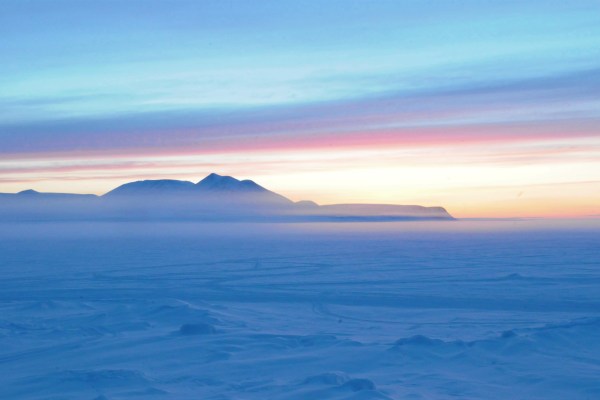 The accommodations are our heated Arctic Oven tents surrounded by the beauty of Eclipse Sound. Located safely on top of the ice, this camp has all the comfort you'll need but still highlighting the incredible panoramic views that make up the camp's backdrop.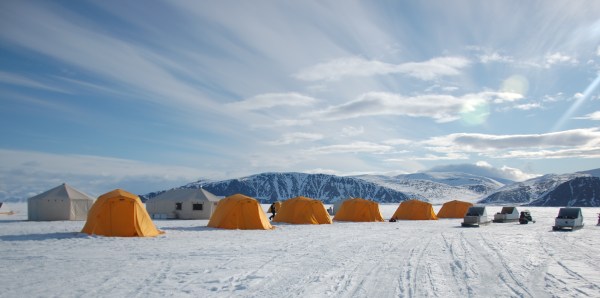 -Learn more about Polar Bears & Narwhal, A Floe Edge Safari here.
Polar Bears & Glaciers of Baffin Safari
Our summer safari is perfect for couples that want it to be a little warmer and the comfort of our yurt accommodations along a beautiful Arctic beach. Days are longer, warmer and then at night, the sky is filled with the colours of the Midnight Sun.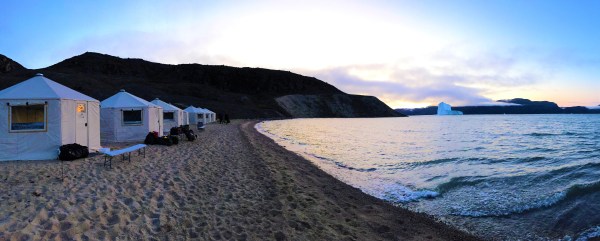 The location is absolutely stunning. At the foot of a dramatic Arctic hillside, along a sandy beach, and on the edge of the Arctic ocean is our summer camp. Take in picturesque views of fiords, icebergs and granite peaks. Much of the landscape looks like Yosemite but it has none of the crowds and few people have had the chance to experience this place.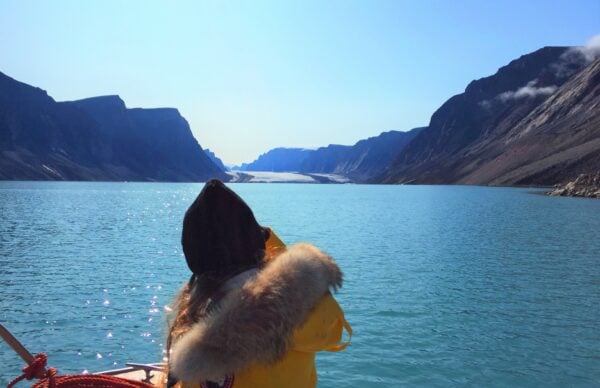 Explore the coastline of Baffin Island by boat as you look for polar bears sleeping and resting on rocky coves or swimming to distant peninsulas. The mountainous landscape tends to keep polar bears near the shoreline creating ideal photography and viewing opportunities.
The area is also a renowned hub for bowhead whales, one of the largest Arctic whales. It's a fun game seeing who can spot the whale first as you look for that subtle spray of water that means a whale is surfacing nearby.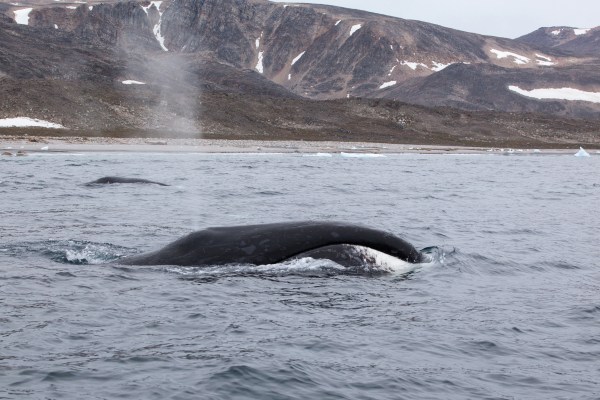 Enjoy activities that may be on your partner and your bucket list like the chance to kayak near icebergs or a very swift dip into the Arctic Ocean, which stays cold even during the long sunny days of summer.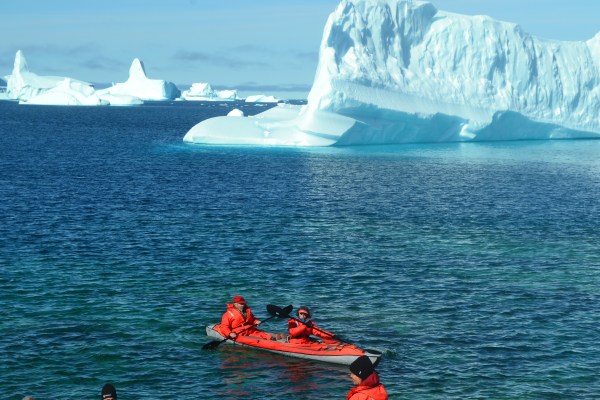 -Learn more about Polar Bears & Glaciers of Baffin Safari here.
Polar Bear Migration Fly-In
This trip marks the beginning of autumn, an exciting time for polar bears and this trip gets you to an intimate location where you and your partner may see bears walk right past you.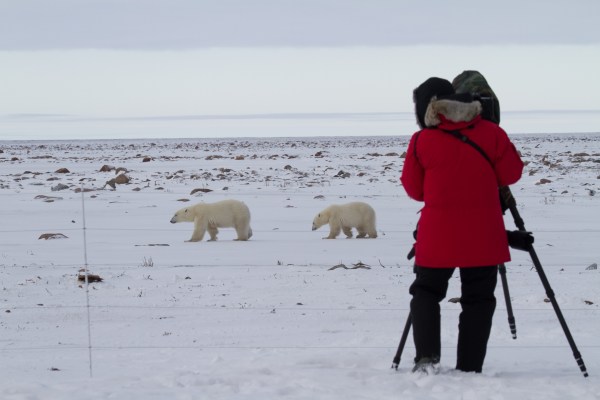 Our camp is located next to the shoreline that polar bears migration past each year as they look for ice strong enough to walk on. This means that bears may walk only feet away from you. But don't worry, our protective electric fence keeps you safe and our Inuit guides are trained in wildlife deterrent to keep the animals safe.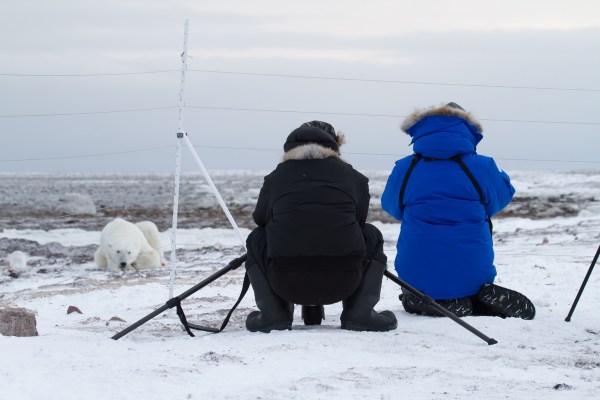 The personal propeller plane makes you and your partner feel like a VIP as you fly to the remote cabin location on the tundra. Enjoy the expansive views of the Arctic as you land right next to the camp.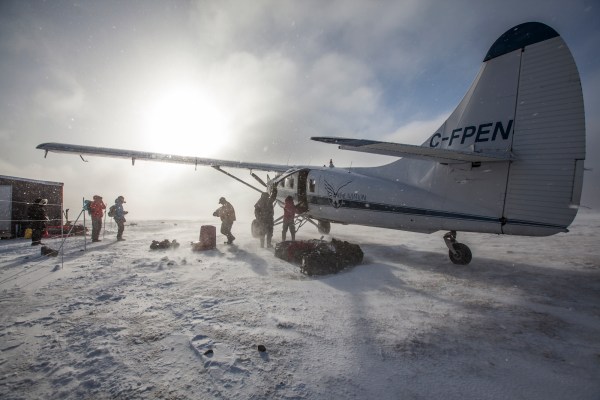 The accommodations are comfortable and warm cabins with a communal lounge and dining area where the group can gather and tell stories but there's also a nice private room to retreat to for some time to relax.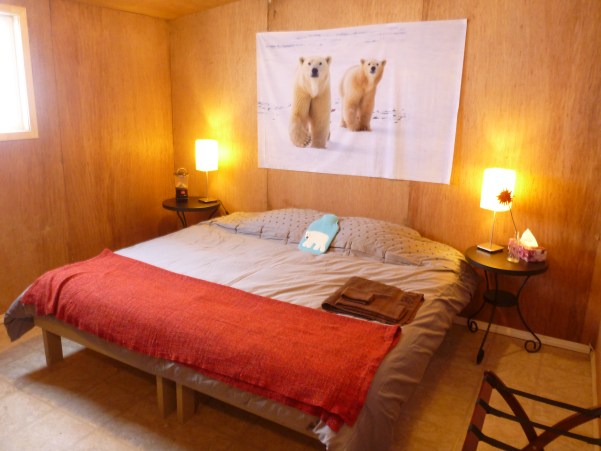 Since this trip takes place in the autumn, that means the Northern Lights are more visible again! Step out from your cabin and you're standing beneath the greatest natural show on Earth. It's best to bring a tripod to capture the dancing aurora.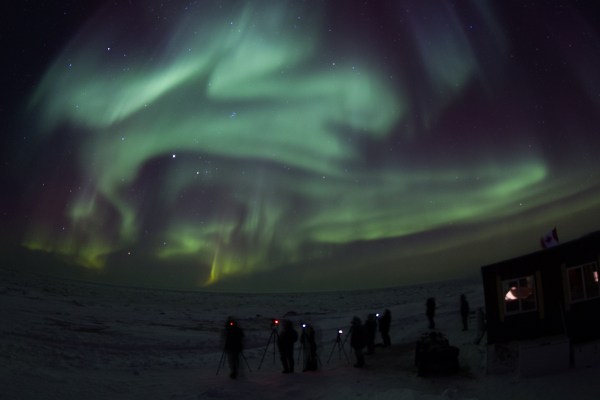 One of the top highlights of this trip is the Arctic fox! They've been known to wander right into camp and can be quite comfortable with people coming right up to their feet.
Now, there are no promises when it comes to wild animals, they show up when they want. But you're in an incredible location for wildlife and it's truly incredible when they do!
-Learn more about Polar Bear Migration Fly-In Safari here.
Iqaluit Getaways: Summer & Winter
Have you and your partner ever wondered what Iqaluit is like and wanted a guided 4 days/ 3 nights in this beautiful maritime city? The cultural highlights, historic destinations, art galleries, museums, and fantastic northern craft shops make Iqaluit the perfect place to explore with your partner.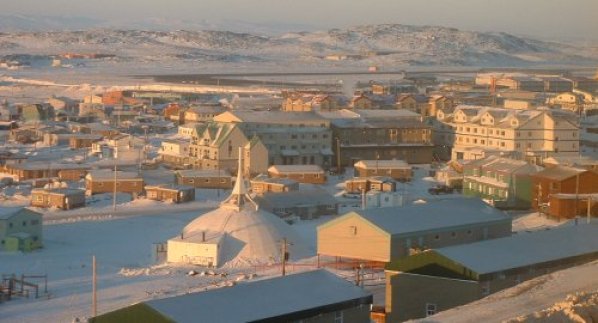 Our Taste of the Arctic Summer is an amazing time for you and your partner to experience Canada's northernmost capital. It's a perfect time for you and your partner to enjoy this friendly and historic city. Enjoy walking tours of cultural and historic sites and time to explore local craft shops and leisure time to explore at your own pace.
Get the chance to try outdoor activities like hiking through the beautiful Sylvia Grinnell Territorial Park and kayaking on the Arctic Ocean with the chance of icebergs still floating past.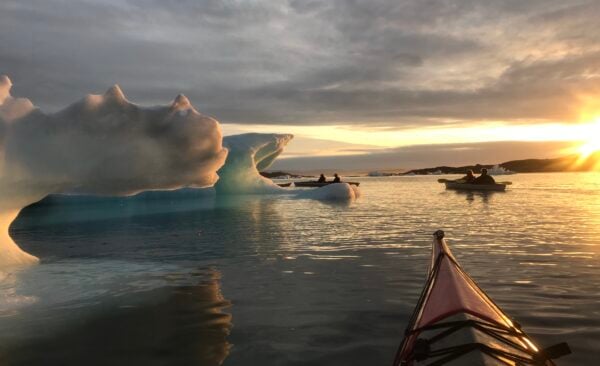 Try traditional foods and delicacies like muktuk and Arctic char and at night travel just outside of town beyond the city lights to our ideal Northern Lights viewing spot. When the conditions are good you can see the Northern Lights dance above.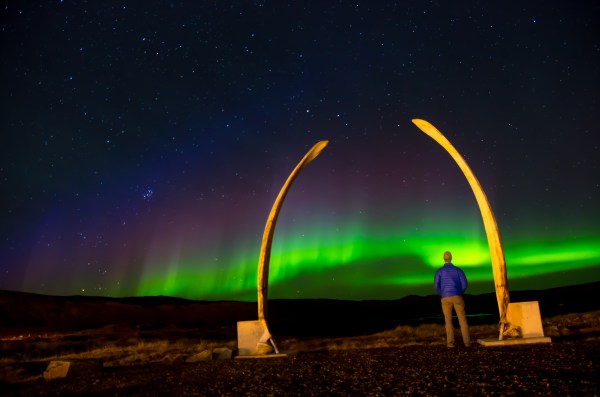 -Learn more about Taste of the Arctic Summer here.
The winter version of this getaway is a fully Guided Northern Lights Getaway. This trip is perfect for a winter trip to the north. Iqaluit truly comes alive in the winter with snowmobiles replacing cars on the roads and local activities around sports and hobbies.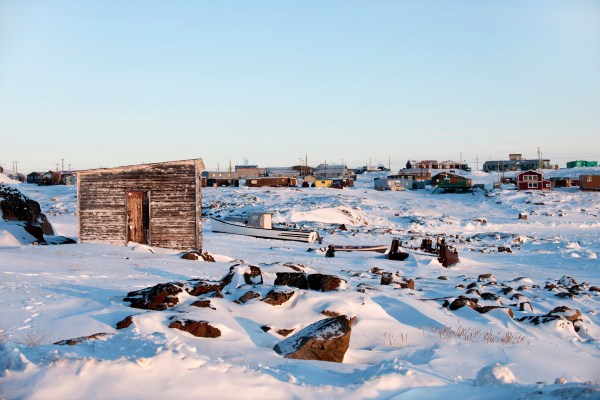 The unparalleled highlight of this trip is the guided Northern Lights experience. Our Arctic Kingdom guide takes you to our ideal Northern Lights locations each night to get you right underneath this galactic show that may blow your mind as the colours shift and twirl above.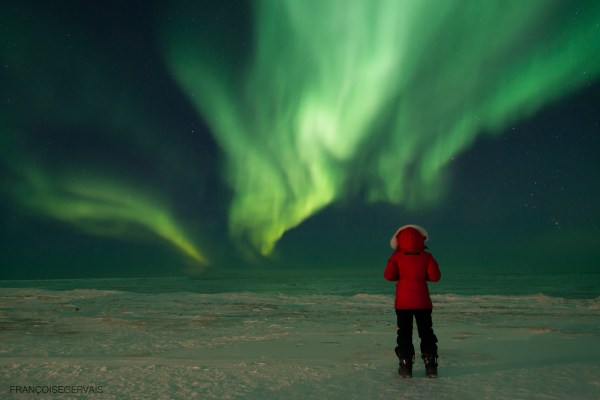 On the first night, you will have a photography workshop on location to help you take breathtaking photos of the Northern Lights that you will never forget. Learn from our expert how to capture the light best and how to truly show the splendor of this remarkable experience.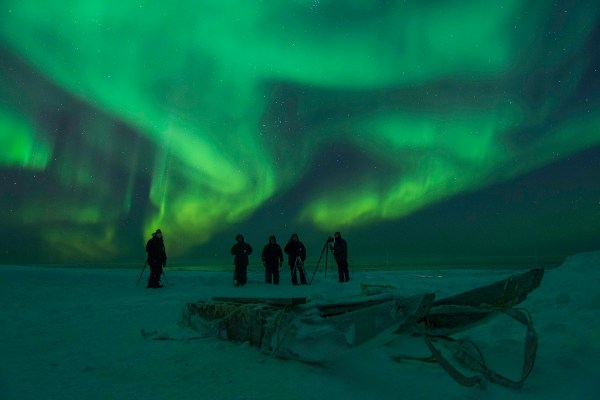 During the days you can enjoy guided tours of the city's cultural and historic destinations like museums, art galleries and local craft shops filled with beautiful northern art made by local artists. Take home a little reminder of the north or buy a gift for your partner that will always remind the two of you of this spectacular trip!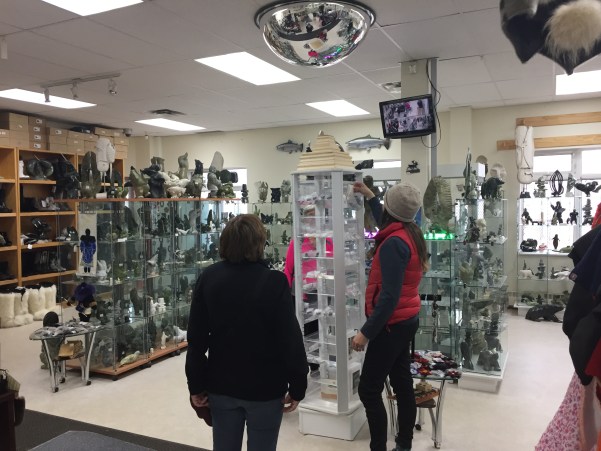 -Learn more about Guided Northern Lights Getaway here.
Experience The Arctic On A Safari
Get chances to view elusive Arctic wildlife and experience the majesty of the Arctic on safaris almost year-round. View all Arctic Safaris here.
Ready for adventure? Contact our Arctic Travel Advisors to book.
Are you still curious about the many wonders of the Arctic or looking for more interesting content then explore more blogs here!
By: Mat Whitelaw