September 27, 2018
At a time when national park visits are on the rise it is becoming harder to experience the majesty of North America's national parks without the crowds. And while parks like Yosemite are often over-crowded, some of the continent's most spectacular national parks are virtually unknown. Good news for nature lovers and outdoor adventurers everywhere, there has never been a better time to explore the national parks of Baffin Island. If you're looking for incredible landscapes that rival (and even upstage) popular national parks, with the exclusivity of unique and seldom-visited destinations, look no further than Baffin Island's Auyuittuq National Park and Sirmilik National Park.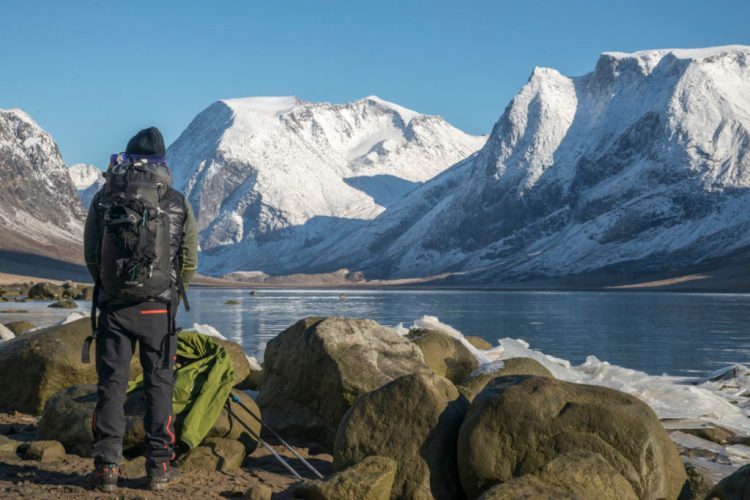 Some of the most iconic parks have become hotbed for weekend warriors hoping for epic scenery without venturing far from their cars. Yosemite's website warns of extended traffic delays, extremely high visitor concentrations, and busy trails. With the Great Smoky Mountain National Park getting 11 million visitors a year and the Grand Canyon National Park hosting 6 million visitors, it's hard for anyone to expect a unique experience.
Luckily, there are places unaffected by traffic delays and obstructed views: the national parks of Baffin Island. Auyuittuq and Sirmilik National Parks boast breath-taking landscapes and wildlife rarely seen by most people. Baffin Island's national parks are some of the most beautiful in the world and offer incredible opportunities for adventure. Imagine answering the call for adventure in a land unchanged by modern excess.
Sirmilik National Park
One of Canada's most spectacular national parks is Sirmilik National Park, spanning the northern reaches of Baffin Island and Bylot Island. The closest community providing access to the park is Pond Inlet. The park was established in 1999 and has an expanse of 22,200 km2 of Arctic wonder.
Place of Glaciers
Sirmilik, meaning "place of glaciers" sure lives up to its name. It is home to expansive ice fields, and deep glacier-filled valleys shaped by eroding glaciers.
The diversity of this park is what makes it such a memorable experience. There are three defining geological regions that characterize the borders of this park. Oliver Sound features a long narrow fiord flanked by towering cliffs and glaciers. Next is Borden Peninsula and Baillarge Bay, which is made up of plateau and river valleys. And then there is Bylot Island, known for its mountains, coastal lowlands, icefields and glaciers.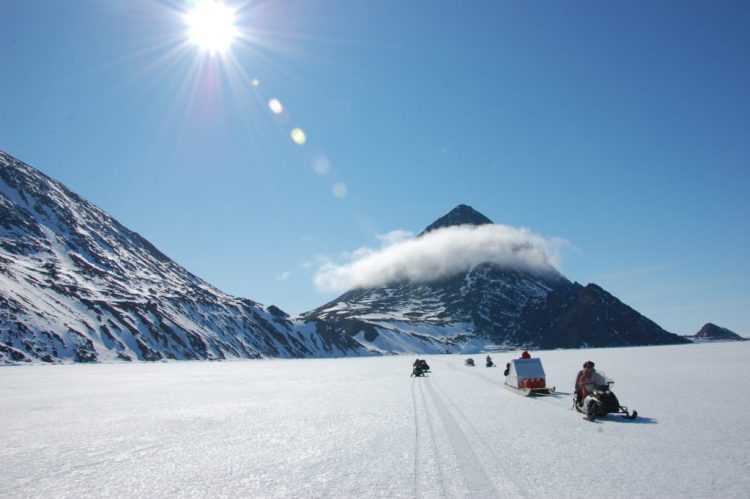 All the wildlife icons of the Arctic: Narwhal, Polar Bears & More
The park is known to be an important bird sanctuary with up to 71 species identified in this Migratory Bird Sanctuary. This includes at least 35 breeding species and six permanent residents. Seabirds make up 37% of the bird species found here while shorebirds, like waterfowl and songbirds, make up the majority. Also, the largest known colony of Great Snow Geese, with 15% of the entire population, can been found on the southwestern lowlands of Bylot Island at the end of summer.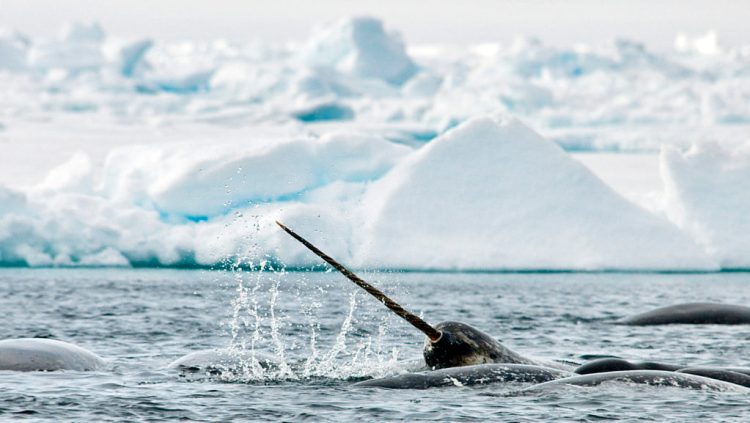 This area is also a vital migratory path for narwhal. Narwhal are one of the few animals that live in the Arctic all year. As the ice begins to melt and crack, and narrow channels form, narwhal travel through these channels as they migrate to their summer feeding grounds. As summer approaches narwhal will travel through Lancaster Sound and between Bylot and Baffin Islands on their way to Eclipse Sound, Admiralty Inlet or Prince Regent Inlet where they will spend the summer months before returning to their winter grounds. That makes the area around Sirmilik National Park an optimal place for spotting and photographing the ever-elusive narwhal.
Visitors of Sirmilik can also hope to see all kinds of wildlife including: beluga whales, seals, walruses, Peary caribou, Arctic foxes, Arctic hares, even wolves, and of course, polar bears. Such wildlife is seen in few places making this park one of the last remaining wildernesses to see wildlife undisturbed.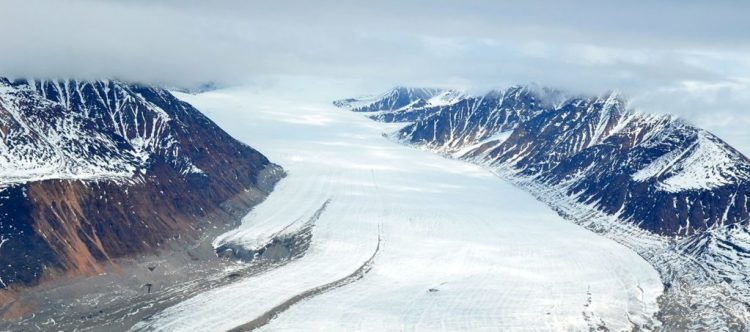 Best Time to Visit Sirmilik National Park
The perfect time to visit this park is in May and June. With Lancaster Sound on the northern corner of the park, this is the ideal location to spot animals traveling along the floe edge. The floe edge of Lancaster Sound is world renowned as one of the most prolific wildlife areas in the Arctic. Known as the "line of life," this is where the land-fast ice meets the open water, providing opportunities to see pods of narwhal or beluga, or even polar bears roaming the sea ice on the hunt for seals.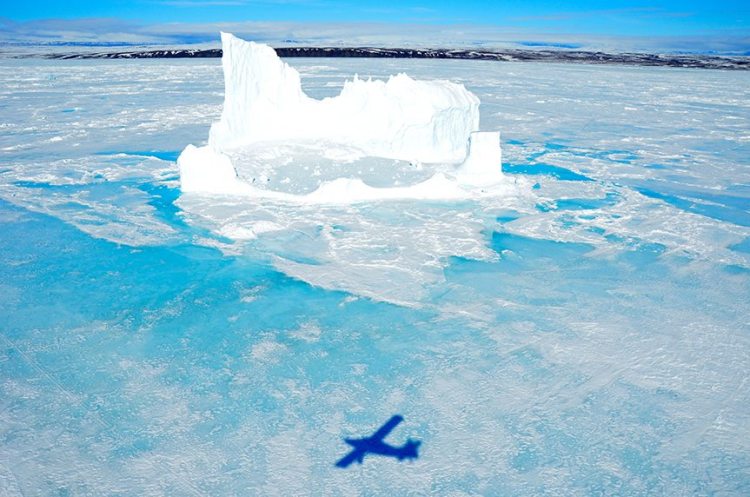 Want to Explore Sirmilik National Park?
Explore a national park that offers so much but has been experienced by few. Have you ever wanted to see the elusive narwhal or gaze up at soaring icebergs from remote sea ice? Imagine the incredible aerial views of dynamic landscapes as you fly over the park via private plane. You can get these experiences on one of our trips to Sirmilik National Park:
Narwhal & Polar Bear Safari – Departures in May & June
Baffin Island Dive Safari – Departures in May & June
Ultimate Floe Edge Explorer – Departures in June & July
Auyuittuq National Park
Baffin Island's other incredible national park is Auyuittuq National Park. Auyuittuq, meaning "land that never melts" in Inuktitut, is a perfect example of the grandeur and beauty of the Arctic. Here you can see three billion year-old pre-Cambrian rock shields and granite mountains shaped by glaciers bursting up into the sky.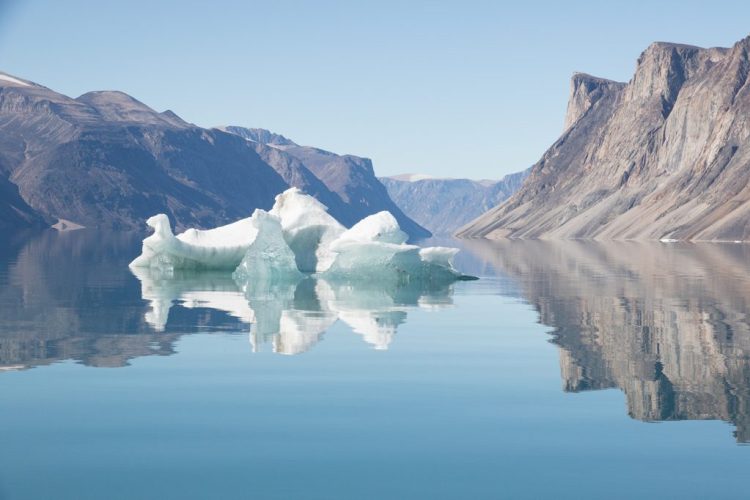 The park is home to Penny Ice Cap, a 6,000 km2 ice cap that forms a 2,000 m high barrier on Cumberland Peninsula of deep fiords and glaciated valleys. The ice cap is Baffin Island's largest and is one of the last remains of North America's most recent ice age. The slow erosion of this glacier has left these ancient mountains with polished faces that attract avid mountain climbers from around the world. Calved from the coast of Greenland are soaring icebergs that make their way past the community of Qikiqtarjuaq.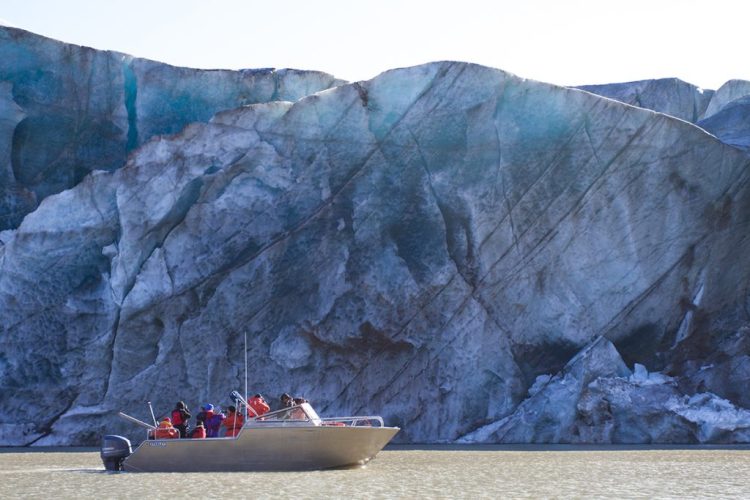 Explore by Land or Boat
Visitors can access the park two ways. One is by boating from Qikiqtarjuaq traveling up a fiord to the beginning of the park. The second is by setting off from the community of Pangnirtung, where you can hike through the Akshayuk Pass.
Akshayuk Pass is an ancient riverbed eroded from glacial melt and forms a travel route to access some of the most awe-inspiring features including Thor Peak and Mount Asgard. The iconic Thor Peak is Earth's greatest vertical drop of 1,250 m, while Mount Asgard has a place in pop culture; it was featured in James Bond's The Spy Who Loved Me.
Polar Bears, Whales & Pristine Scenery
The incredible terrain isn't all you can expect to see. This region is a hub for polar bears and Arctic fox. Marine life, including bowhead whales, can also be seen in the waterways. Here wildlife roam freely around the untouched landscapes. Bowhead molting sites have also been discovered near the park, providing excellent opportunities to view these giant whales.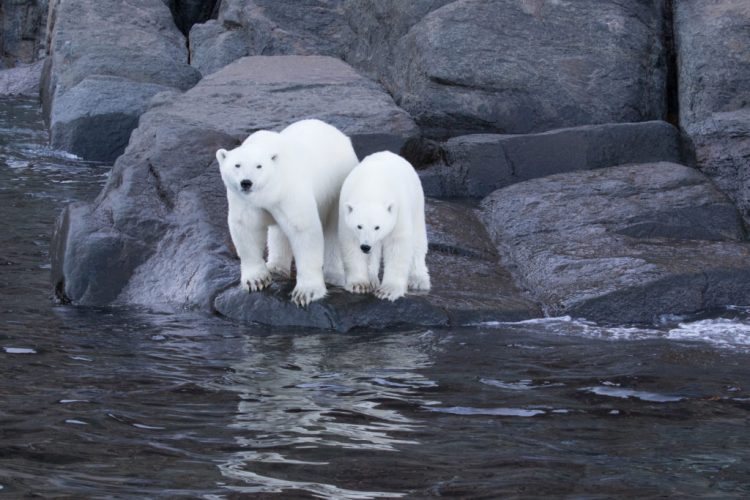 Best Time to Visit Auyuittuq National Park
For those who are hoping to get the full experience the best time to explore Auyuittuq is July to late August. With long days under the Midnight Sun, the summer flora comes out, with extended chances to see unique Arctic wildlife. With summer temperatures reaching as high as 20°C (68°F) in summer, guests can comfortably spend more time exploring the landscapes and watching for animals.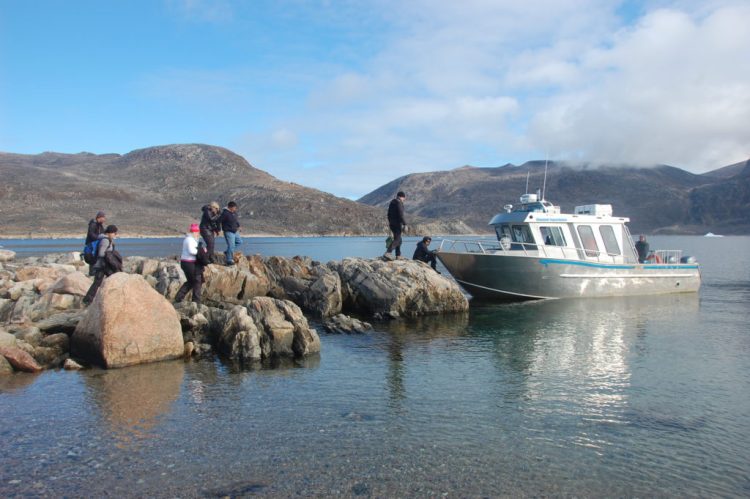 As ice melts, you can get the chance to explore Cumberland Sound from Pangnirtung or head out from the town of Qikiqtarjuaq by boat to view enormous icebergs. Situated between Davis Strait and Baffin Bay to the east and the Baffin Mountains to the west, Qikiqtarjuaq is an incredible destination for Arctic adventure with spectacular views.
Cumberland Sound is an iconic area known for breath-taking landscapes, beautiful kayaking spots and wildlife opportunities. Cumberland Sound has a unique role for whales in the area. It is home to the Cumberland Sound beluga whale, a species known to reside year-round in this area. Also, scientists have recently deciphered a peculiar ritual that bowhead whales take part in each summer in Cumberland Sound, molting. This makes Cumberland Sound great for opportunities to see and photograph whales.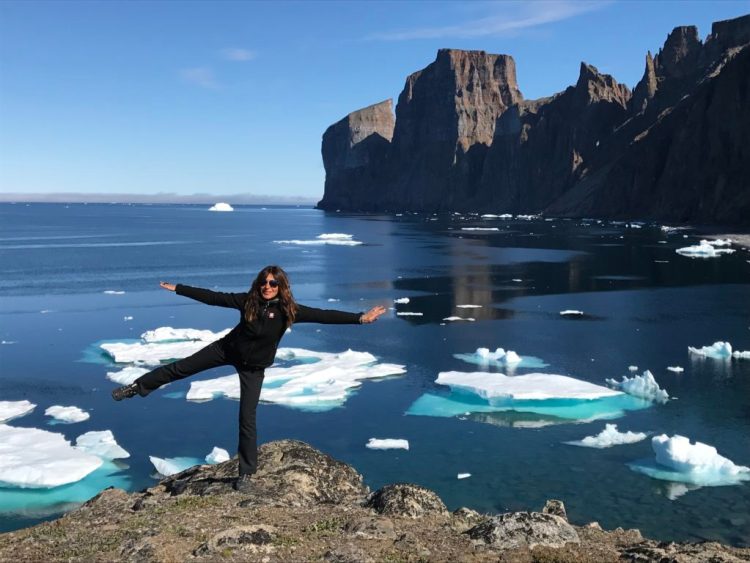 Want to explore Auyuittuq National Park?
Auyuittuq National Park is one of few places on Earth to explore pre-historic landscapes and all the incredible wildlife the Arctic has to offer. This seldom-visited region provides all the majesty of North America's top national parks, and more, with unique wildlife, pristine scenery, and calmness you can only get in the Arctic.
Explore Auyuittuq National Park on these trips:
Polar Bears and Whales of Cumberland Sound – departures in July and August
Polar Bears & Glaciers of Baffin Island – departures in August
Bonus: these trips offer a special opportunity to extend your trip. With aligning departure dates, you can get the chance to double your experience, visit both sides of Auyuittuq National Park and both gateway communities, and get more time to take in the exceptional scenery and wildlife.

Visit Auyuittuq National Park & Sirmilik National Park on Arctic Safaris
For travellers looking for unforgettable and exclusive experiences in pristine wilderness, Baffin Island's national parks are perfect destinations. In spring, take in the vast majesty of the High Arctic as you head into Sirmilik National Park to experience glaciers, icebergs and iconic wildlife at the floe edge. In summer, there's no better way to get into the spirit of adventure than hiking the dramatic landscapes of Auyuittuq National Park or exploring the Arctic by boat.
Not sure which trip is right for you? Contact us today. Our Arctic Travel Advisors are happy to discuss all the possibilities for adventure.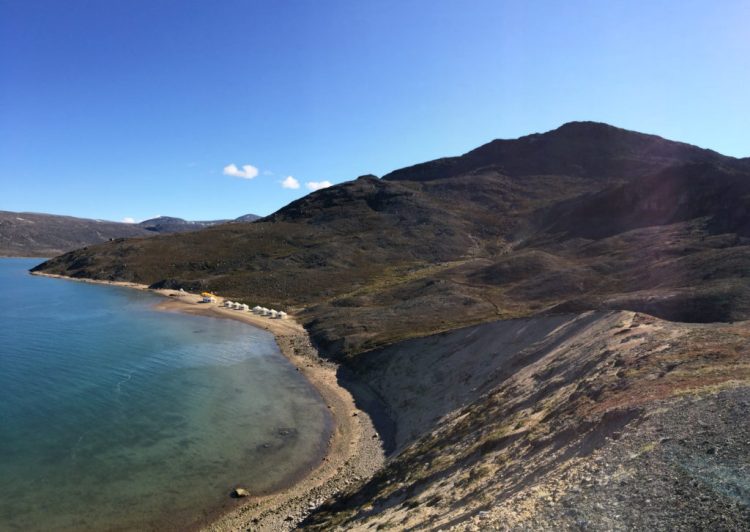 Private Trips to Auyuittuq National Park & Sirmilik National Park
Want to explore Baffin Island's national parks but prefer to travel privately? After 20 years of Arctic adventures, we are uniquely positioned to offer specialized experiences to fit your adventurous spirit. Whether you are looking for boat trips or helicopter tours, or simply a privately guided version of any of our Arctic safaris, we are thrilled to craft the perfect trip for you. Contact us today for a consultation with one of our Arctic Travel Advisers.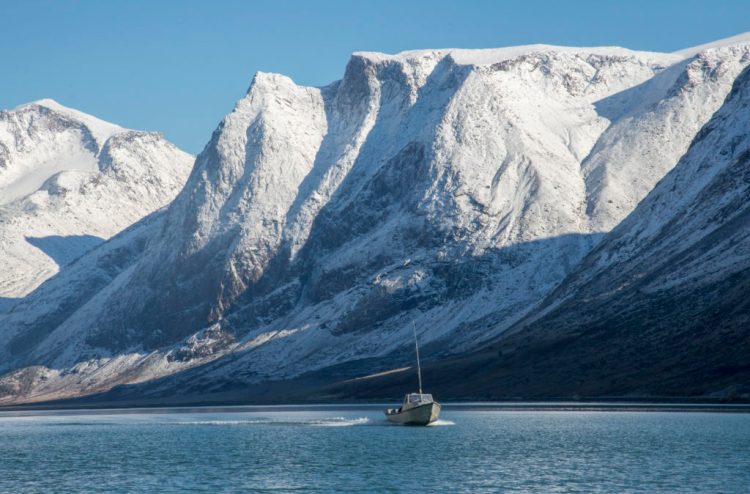 By Mat Whitelaw