June 02, 2022
It is one of the most beautiful and stark landscapes in Canada and has excited adventurers for decades. It was once called, Baffin Island National Park before being renamed Auyuittuq "the land that never melts."
This is a brilliant name for a place that is covered in ice caps and flooded with glaciers.
If you have been looking for a new adventure to quench your wanderlust, then you need to explore Auyuittuq National Park.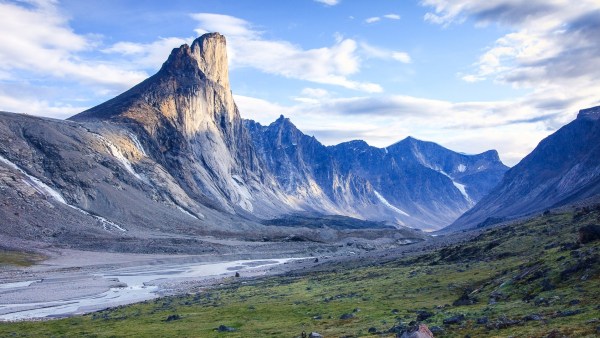 A Land of Giants
Splitting across Cumberland Peninsula, this park is a glacial carved valley that stretches from one side to the other.
With narrow fiords connecting the National Park to the open ocean, the valleys are contrasted with towering peaks.
The two primary geographic features of this park, valleys and mountains, make it jaw-dropping to visit. You will constantly feel the power of the centuries of glacial shifting and erosion that has created such iconic mountain peaks.
An ice cap, Penny Ice Cap, rests on top of Precambrian granite that slowly twists and carves the descending valleys. Some of these glaciers even reach the water where they break off into icebergs, like Coronation Glacier.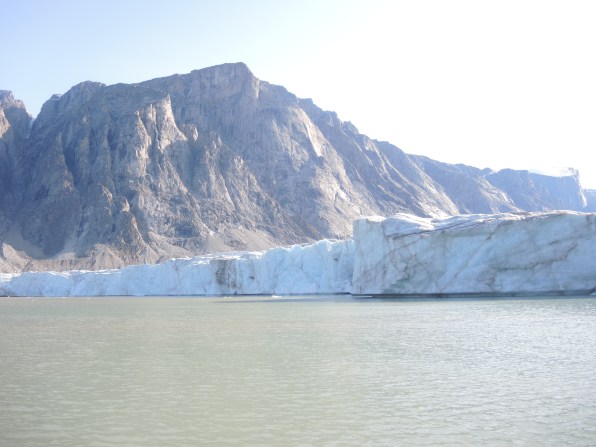 The Place That Never Melts
The park was created in 1972 and was originally a national park reserve. In 1976, Park Canada decided to change the name of the park and gave it an Inuit name that reflected the people and history of the region.
The park is an expanse of 21,470 sq km (8,290 sq mi) and encompasses part of the Penny Highlands the enormous Penny Ice Cap.
It's glaciers are a vital part of the park but it is most well-known for its mountain peaks. Two of its uniquely shaped peaks draw visitors each year to climb, photograph, and paint. These peaks, Mount Thor and Mount Asgard, were captured in the works of Canadian painter, Cory Trepanier in his series Into The Arctic.
There is little vegetation due to the stark environment, visitors can find saxifrage, mountain avens, campion, Papaver, dwarf birch, Arctic willow, and heather. You can find pockets of vegetation as plants grow in clumps, forming their own sheltered "microclimate".
While the lack of vegetation mean there are not large numbers of wildlife, there are some exciting animals that live within and around the park. You can find lemmings, red foxes, Arctic foxes, snowy owls, peregrine falcones, ermines, hawks, Arctic hares, caribou, wolves, and polar bears. You can find migrating beluga whales, narwhals, snow geese, Canadian geese travelling through each year.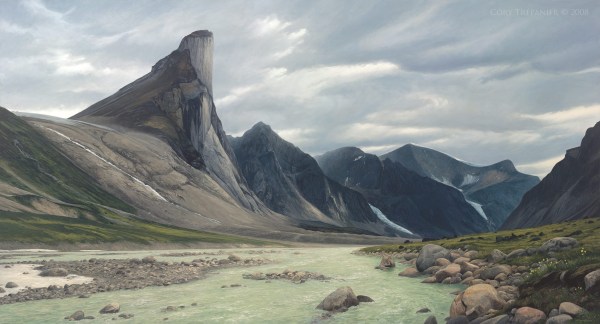 (Painting by: Cory Trepanier)
Walk Among the Beauty
This wonderous park is easier to get to than you might think. With flights directly into the two gateway communities, Pangnirtung and Qikiqtarjuaq, you can explore Auyuittuq by boat or on foot.
Pangnirtung is on the south eastern side of the park and is the main gateway for visitors into the park. It lies within a deep fiord and provides breathtaking views as soon as you step off the plane.
Qikiqtarjuaq is a community on an island at the mouth of the fiords leading into the park. Visitors can gain access to Coronation Glacier and boat right up to it and see other glaciers from Penny Ice Cap.
One of the top activities for visitors is to hike the Akshayuk Pass, that travels through the main glacial-carved valley through the heart of the national park. You will cross the Arctic Circle, marked with an inukshuk and sign, as you cross a treeless landscape that is lined with stunning mountain peaks.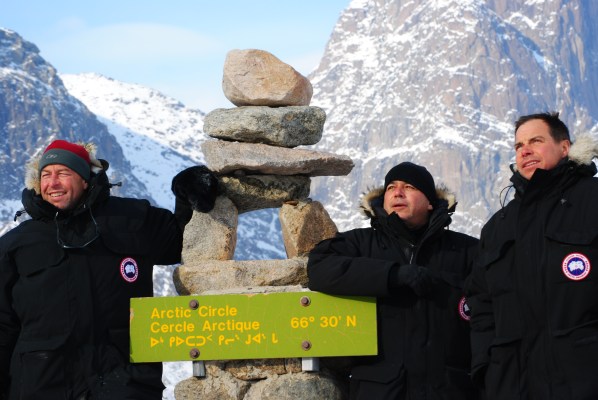 Experience The Arctic On A Safari
Get chances to view elusive Arctic wildlife and experience the majesty of the Arctic on safaris almost year-round. View all Arctic Safaris here.
Ready for adventure? Contact our Arctic Travel Advisors to book.
We now have a Gear Shop where you can browse some of the best outdoor clothing and equipment to buy or gift to friends and family.
Are you still curious about the many wonders of the Arctic or looking for more interesting content then explore more blogs here!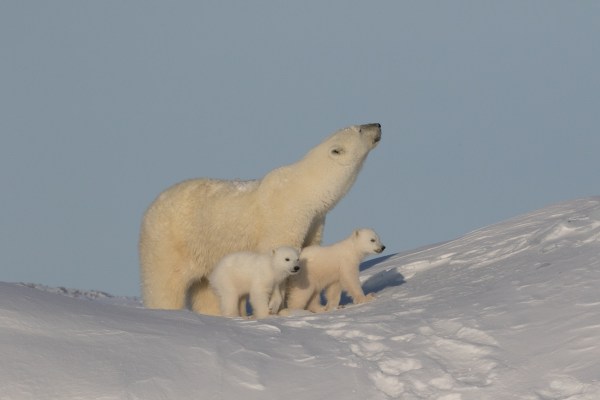 By: Mathew Whitelaw