December 11, 2018
The only thing better than spending a day exploring the Arctic and photographing incredible wildlife is ending that day with a hot, gourmet meal prepared by a master chef.
Many travellers visit the Arctic with hopes to spot iconic wildlife and photograph spectacular landscapes. They're not always thinking about the meals. Once they journey north, they're often surprised about the gourmet food that awaits them at camp.
Here's a taste of the culinary experience on our Arctic Safaris:
Hot And Delicious Meals

After A Day On The Ice
The Arctic is a place of many surprises. One you might not always expect is the food. In a place like the Arctic where you need to maintain energy to explore throughout the day, nourishment is important. While expedition travel is often synonymous with camp food, the professionally-prepared gourmet meals on our Arctic Safaris is a treat for even the most seasoned adventurers.
Can you imagine waking up to a breakfast of eggs benedict with sweet potato hash? Or maybe after a long day at the floe edge you come back to caribou medallions, truffle mash, carrots and broccoli, and a locally picked garnish of mountain sorrel chimichurri?
The culinary program is designed around the importance of hot meals to keep you warm and energized in even the most extreme conditions. Central to the planning and management of all expeditions is Scott Badiuk, Arctic Kingdom's Field Planning Manager.
When it comes to the food program on our Arctic Safaris, Badiuk says, "we design it so that you get a hot meal where ever you are, whether it's in camp or on the land. It's always about getting a hot meal."
But it's not just about the temperature of the food, it's also about the quality of the meal. Our chefs are specially prepared and qualified to make that possible, even in such a remote and limited setting like the Arctic.
Sample Menu
Daily menus vary by trip, departure and dietary requirements of our guests. Breakfasts and dinners will be served at camp, with lunch served out "on the land". Here's an idea of a sample menu for our floe edge tour:
Breakfast – Smoked char benedict with spinach and hollandaise sauce
Lunch – Grilled sandwiches with caramelized onion and bacon, and split pea soup, served at the floe edge
Snack – Vegetable crudités, spinach and artichoke dip, with a cheese and charcuterie board 
Dinner – Caribou pot pie with sweet potato mash topping
Dessert – Peach and blueberry crumble with whipped cream
What It Takes To Serve Gourmet Meals In The Arctic
Most chefs have fully-equipped kitchens with all the resources you can find in a city. When you head to a remote Arctic kitchen, chefs must be inventive and able to roll with whatever challenges may pop up. The chefs that travel north to work on an Arctic safari are a special breed.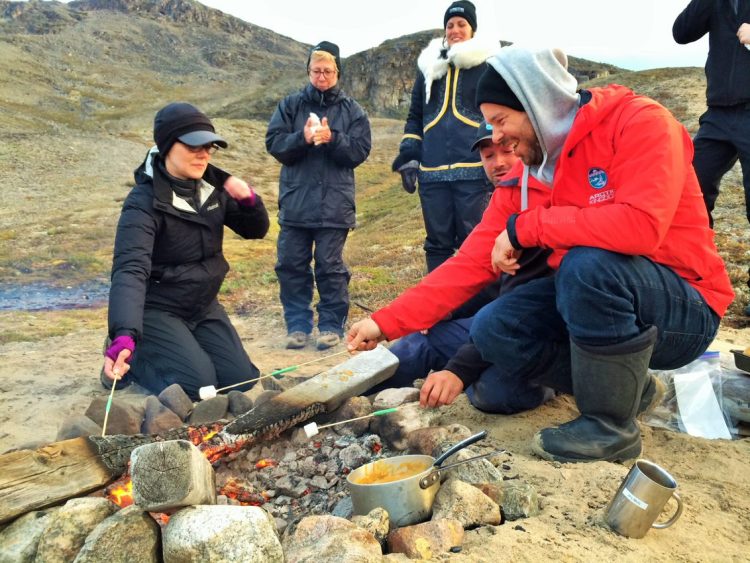 In a region where most food is flown in, it takes creativity to plan a menu and prepare meals that are almost as memorable as the scenery around you. Even with the most careful planning, upon arriving in a remote destination, chefs may discover that they don't have exactly what they need. The trick is finding a solution. It may mean a ride into the nearest community to come up with an alternative meal or substitution, but creativity is a top skill we look for in our chefs.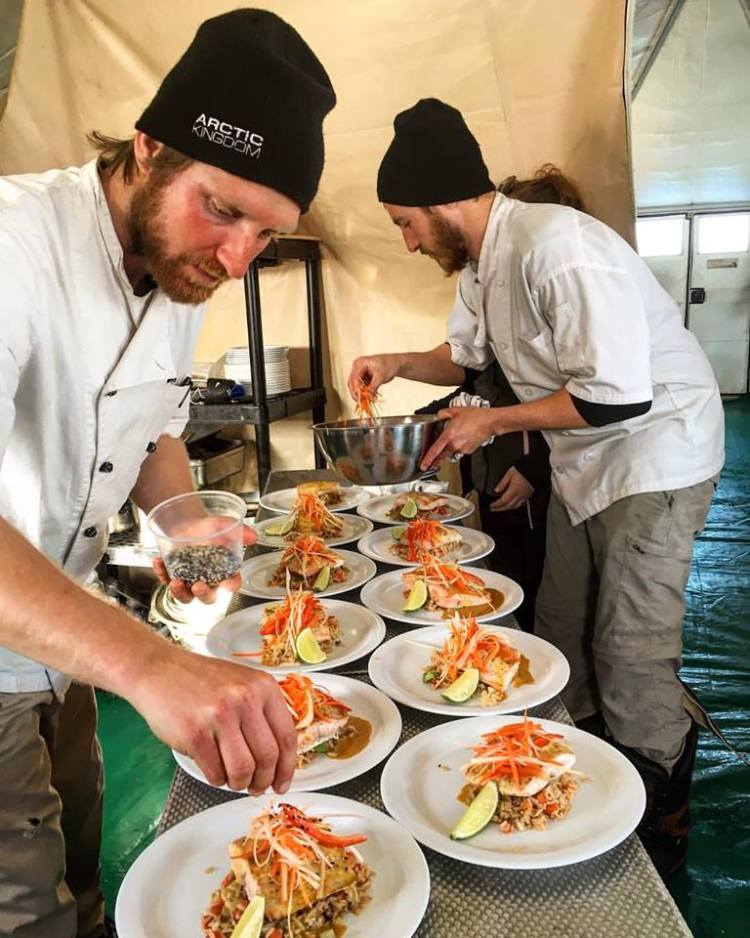 Surprise And Delight Your Taste Buds
Preparing a gourmet meal in the Arctic is about more than creating comfort food, it's about exceeding expectations. That could mean using a local plant as a garnish or certain elements of the Arctic environment in the presentation of a charcuterie board. It also means offering local delicacies that travellers may not have the chance to try anywhere else in the world, including caribou, Arctic char or seal.
Something that often becomes a highlight for our guests is the opportunity to interact with local guides and learn about Inuit culture. Incorporating local or traditional Arctic foods plays a role in that experience.
When it comes to Arctic Kingdom's culinary team, Badiuk says, "it's about having chefs that think outside the box to incorporate nature and Inuit culture into our meals. It's about trying to go above and beyond the normal and what can wow people."
Our Chefs
Our partnership with Culinary Search Group is key to delighting travellers with a high-end culinary experience on our Arctic Safaris.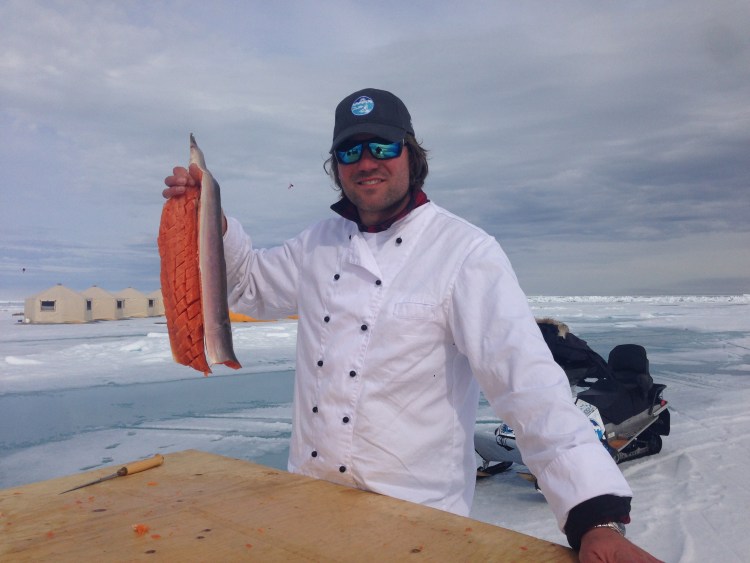 We rely on the experts at Culinary Search Group to find highly-qualified chefs and kitchen staff for each trip. We have even been lucky to have the company's creator, Matt Binkley, personally work on a number of our trips.
For these chefs, this is not a typical cooking job. They're excited about the chance to experience life in the Arctic, and the challenges of cooking here. And that enthusiasm is noticed by our guests.

Taste The Arctic
Ensuring our guests are well fed is important to us. While tasty, hot meals is a major part of that, feeding Arctic explorers is more than just about food. It's about feeding their inspiration and perspective.
With incredible, vast landscapes and soaring icebergs that have a way of impacting your view of the world, and unique wildlife that few people have seen, what better place to feed your dreams?
We aim for our meals to compliment the life-changing experiences guests have when discovering the Arctic. There's nothing more fulfilling than ending a day of awe-inspiring exploration with a delicious meal and scrumptious dessert.
Don't you agree?
Want to experience gourmet food in the Arctic? Explore our Arctic Safaris or contact our Arctic Travel Advisors to start planning your adventure.
By: Mat Whitelaw