July 19, 2019
One of the most asked questions about our wildlife viewing is, will we see a polar bear. The polar bear is so iconic to the Arctic, and Baffin Island has a strong, healthy population. And of course, they are spectacular to see in person, in this Arctic setting. But the Arctic is home to many other marvelous animals!
With safaris almost all year round, there is much to see. Join us as we explore the other amazing animals you may see on our Arctic wildlife tours.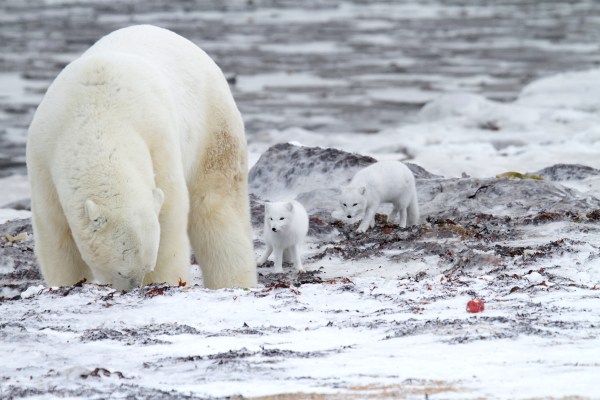 Spring Polar Bears & Icebergs of Baffin Safari
Seeing the Arctic in early spring is magical! It still feels and looks like winter, but the conditions are a bit more consistent and the days are starting to get longer. There is a beautiful canopy of snow on the frozen sea ice and surrounding mountains. Icebergs are frozen into place in the middle of the sea-ice, and best of all, polar bears are roaming their kingdom.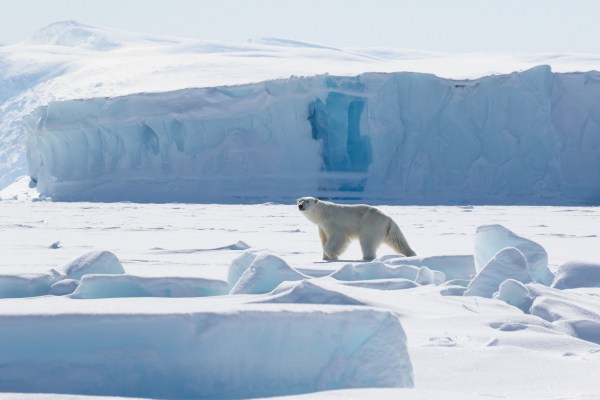 Even little polar bear cubs are emerging from their dens to explore this wintery wonderland. But there is much more also going on in the Arctic at this time.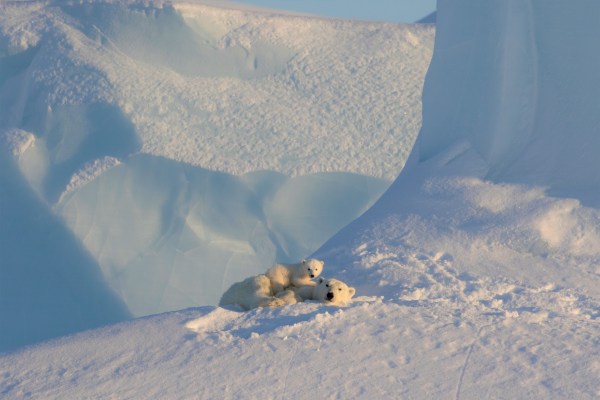 Seals are resting on top of the ice, sometimes with their baby resting next to them. The frozen sea ice acts as a platform for mammals to sleep and breath. On our safaris, we are traveling across the ice in a traditional sled pulled by snowmobiles so this can be a great chance to see more wildlife and you may just come across one of these seal families.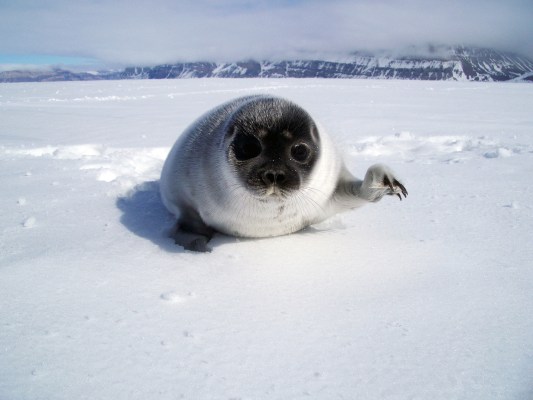 Take in the Arctic landscapes while it is blanketed with beautiful snow when you take wildlife photos. Framing a giant iceberg and animals into a photo can capture the setting perfectly. As it is still early spring, you also have a better chance to see the northern lights dance above you at nighttime.
-Learn more about Spring Polar Bears & Icebergs of Baffin Safari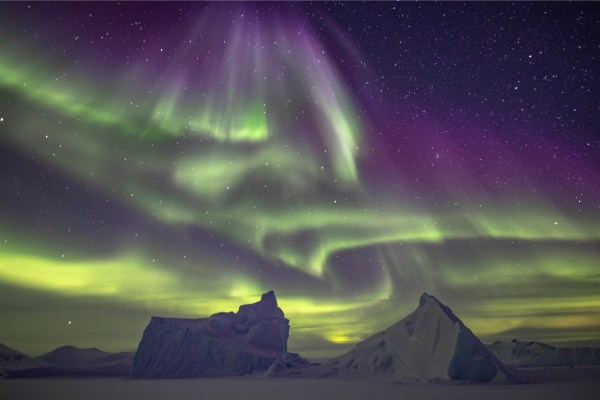 Floe Edge Safari
There are also good chances of seeing polar bears at the floe edge since this is where the frozen sea ice ends, and just beyond and beneath the floe edge is the realm of the whales as they migrate into the Canadian Arctic.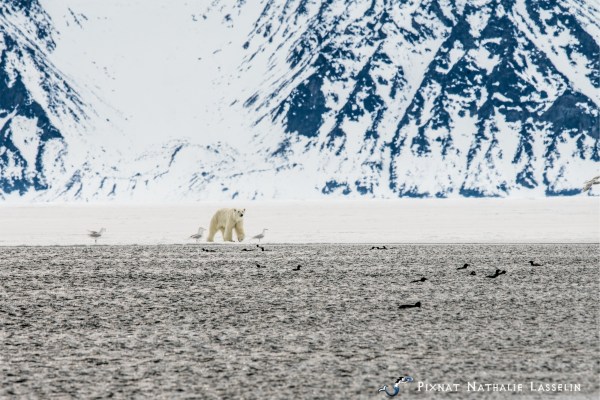 Our floe edge safaris exhibit the Arctic in mid-spring beautifully! Our floe edge program extends throughout the season and can showcase a wide array of animals migrating into the Arctic.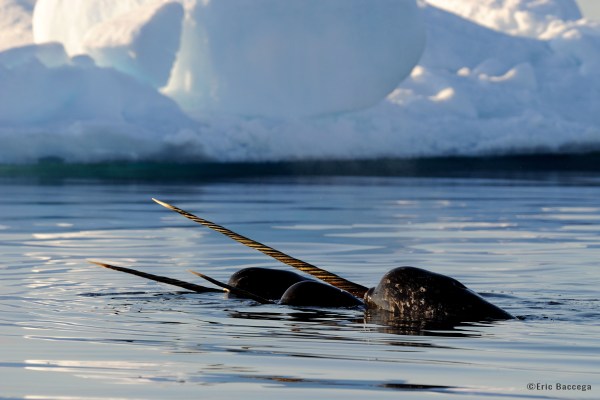 Narwhal and belugas have been waiting for cracks in the ice to allow them to move further into the Canadian Arctic Archipelago and up Baffin Bay and through channels like Lancaster Sound and Eclipse Sound near Pond Inlet.

(https://arcticwwf.org/species/narwhal/tracker/)
They may be swimming near the floe edge or socializing a little further out, but it is a breathtaking experience witnessing these near-mythical whales when conditions allow it.
Migrating birds are also returning to the Arctic at this time of year, by the thousands. Some have bright and beautiful plumes of feathers and colour like the King Eider. While others have travelled incredible distances like the Arctic Tern that migrate from Antarctica. You may also spot the iconic and stunning Snow Goose.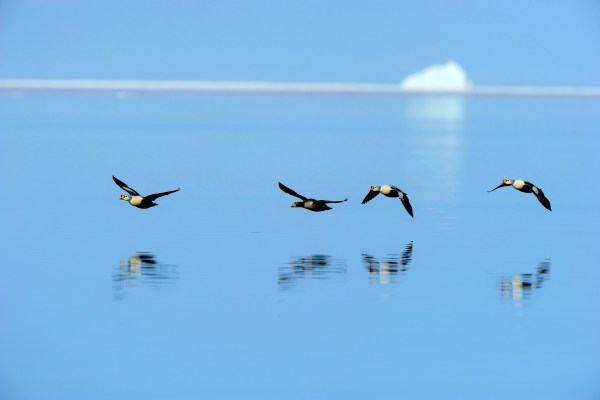 Many of the thousands of birds that arrive throughout May tend to be more social until June. You can find them hovering above you or on the water at the floe edge. By June they will start to build their nests among the cliffs on Bylot Island across from Pond Inlet. It's important to note that it is easier to access Bylot Island earlier in the season before cracks in the frozen sea ice make it hard to reach the island by snowmobile and qamutik.
-Learn more about our Floe Edge Safari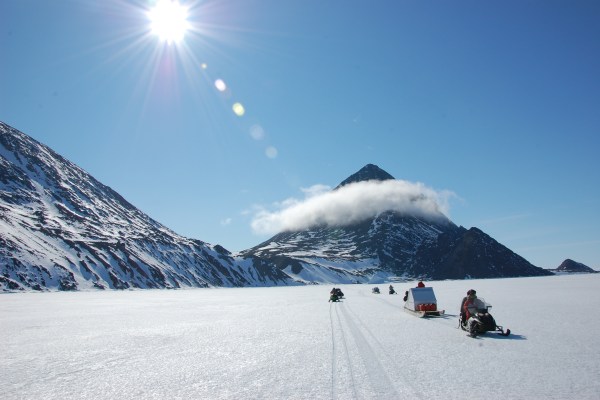 Polar Bears & Glaciers of Baffin Island Safari
Summertime in the Arctic is mesmerizing. You may spot polar bears walking along rocky or sandy beaches. You may even notice a polar bear swimming from an iceberg to shore.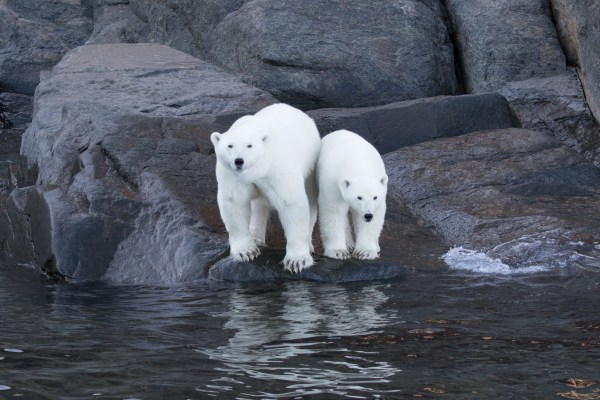 Summer offers so much time for activities and wildlife tours. During the summer bowhead whales, which tend to be solitary whales will come to shallow bays and socialize as they exfoliate, known as molting.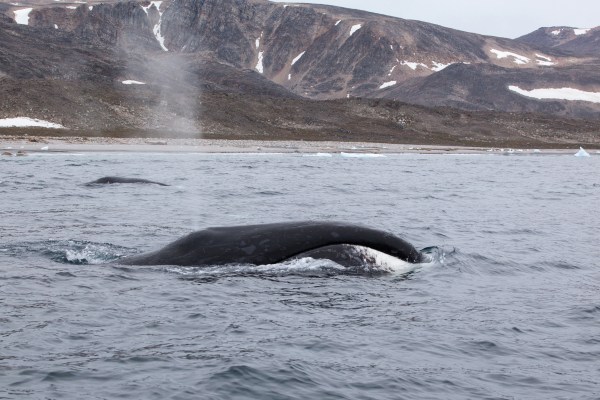 Imagine the joy of seeing an arctic whale and observing this graceful creature breaching or catch a glimpse of its fluke before they dive underwater.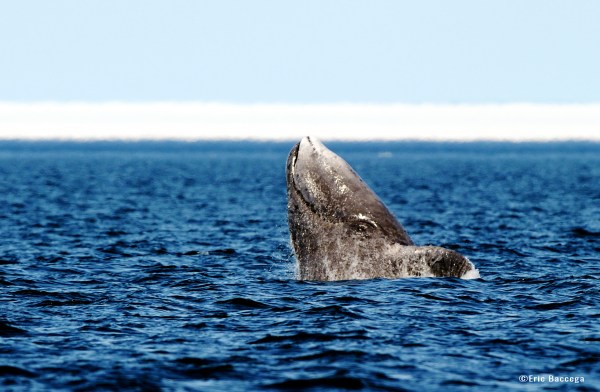 You may spot seals as they swim through the now mostly open water. They no longer rely on small breathing holes in the sea ice and move quite freely through the sea. This makes a boat tour the best way to spot these playful animals when they're nearby.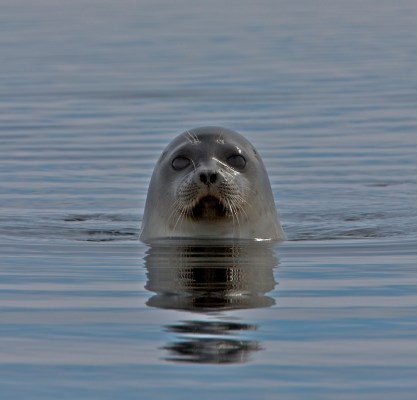 There is so much to do with the longer days. When conditions allow, enjoy the warmer weather as you kayak among icebergs and witness the landscapes from your sea-level perch. You're surrounded by breathtaking mountains and the peace and quiet of this place is truly rejuvenating.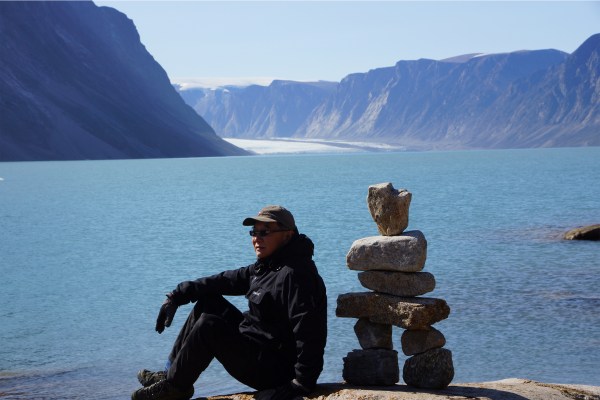 Our safari camp offers stunning views and is in an area known as "iceberg alley" due to the large number of icebergs floating south from glaciers in Greenland and the Canadian High Arctic.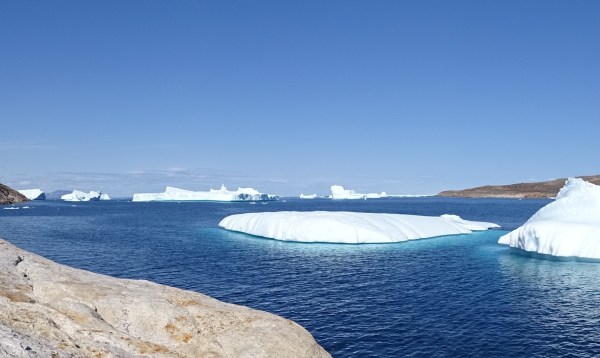 The camp is comfortable and features a tremendously beautiful Arctic setting. You'll feel quite comfortable in your premium yurt along the shoreline as you take in the scenery of one of the last untouched landscapes on our planet.
-Learn more about our Polar Bears & Glaciers of Baffin Island Safari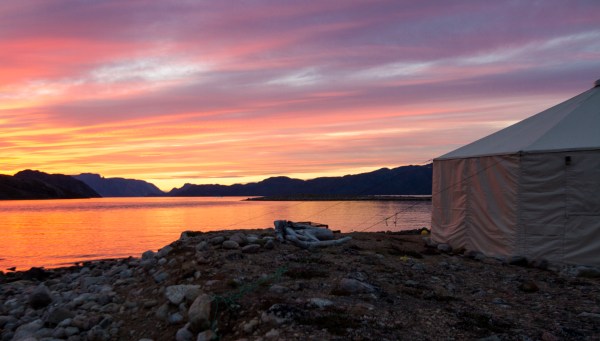 Polar Bear Migration Fly-In Safari
This safari takes place during the fall when polar bears are migrating north along Hudson Bay just as sea ice begins to form. That means that you have fantastic chances to spot and photograph polar bears from our camp's location only meters from the shoreline along the polar bear's migration route.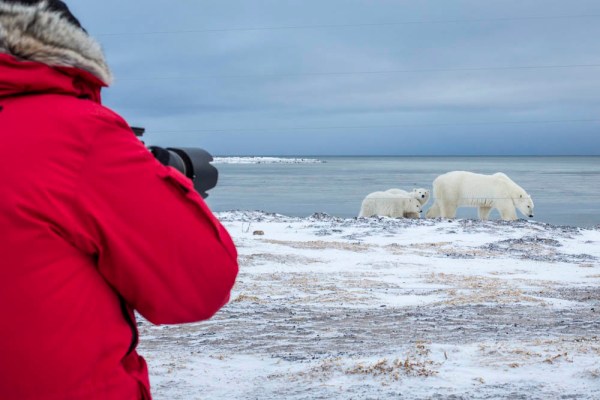 But what might surprise and delight you are the Arctic foxes that often show up! They hunt themselves during the summer but when there is too much snow, they often will follow polar bears and enjoy their leftovers. That means if you see a polar bear there is a very good chance you might also see an Arctic fox nearby.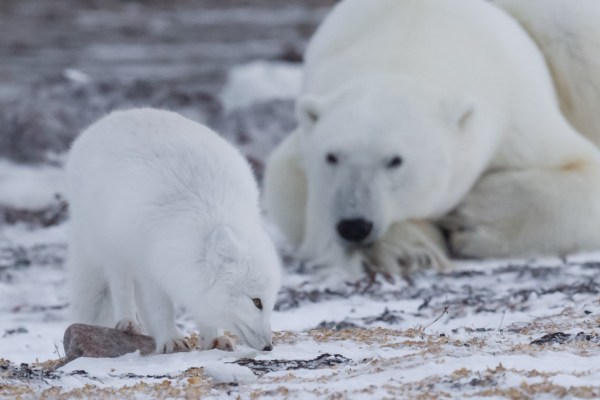 These little critters are more than stunning with their sheer white coats, they can often be quite social and playful. You may find them playing together in a group and you might find them coming towards you, full of curiosity.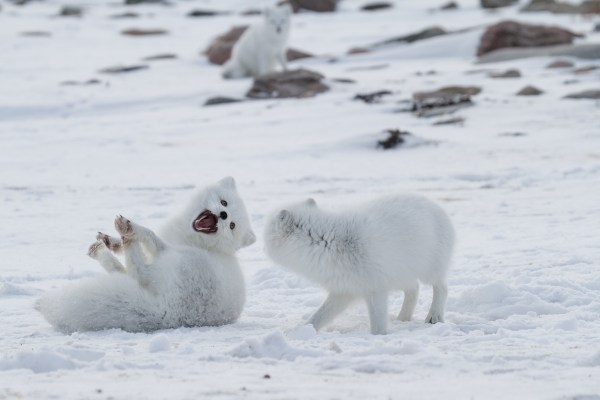 Our own Expedition Leader, Dave Briggs, had a remarkable Arctic fox encounter. An Arctic fox that had been hanging around the camp was so friendly that the guests gave it the name Spot. Watch as Dave lies down to take a photo of the expansive tundra until Spot appears and sniffs at his new friend before taking a nap.
Enjoy comfortable cabins and culinary delights from our executive gourmet chef. Take the opportunity to step outside your cabin at night and you may even witness the Northern Lights stretch across the enormous sky with its miraculous colours of green, blue and even purple.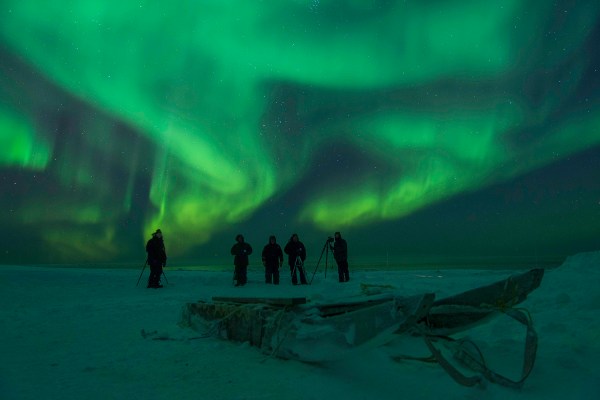 The Northern Lights are a natural phenomenon dependent on conditions, but they are tracked, and certain websites do provide forecasts based on the intensity and predicted locations. We follow these websites in the effort to provide the opportunity to see one of the most unforgettable events our planet offers!
-Learn more about Polar Bear Migration Fly-In Safari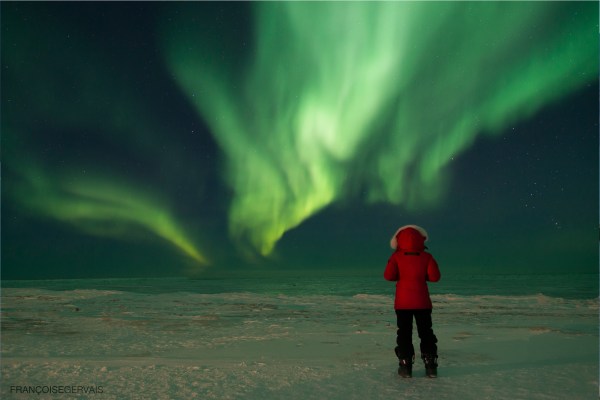 Experience The Arctic On A Safari
Get chances to view elusive Arctic wildlife and experience the majesty of the Arctic on safaris almost year-round. View all Arctic Safaris here.
Ready for adventure? Contact our Arctic Travel Advisors to book.
Are you still curious about the many wonders of the Arctic or looking for more interesting content then explore more blogs here!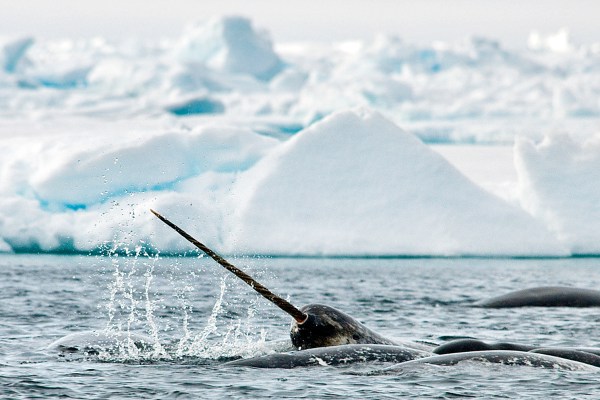 By: Mat Whitelaw