October 25, 2017
By: Liz Carino
For many, a trip to the Arctic is a once-in-a-lifetime experience. It's also a destination unlike anywhere else in the world. Trips to the Arctic are unique and require special preparations. At Arctic Kingdom, we want to ensure all our travellers are prepped and ready to explore this remarkable place on the Earth in comfort and safety.
Our Expedition Leaders and Inuit guides are highly-trained and experienced in polar expeditions, so you can rest assured you'll be taken care of throughout your trip. In order to be fully prepared for an incredible Arctic adventure, there are a few things to keep in mind before you depart.
Here are our top tips for traveling to the Arctic: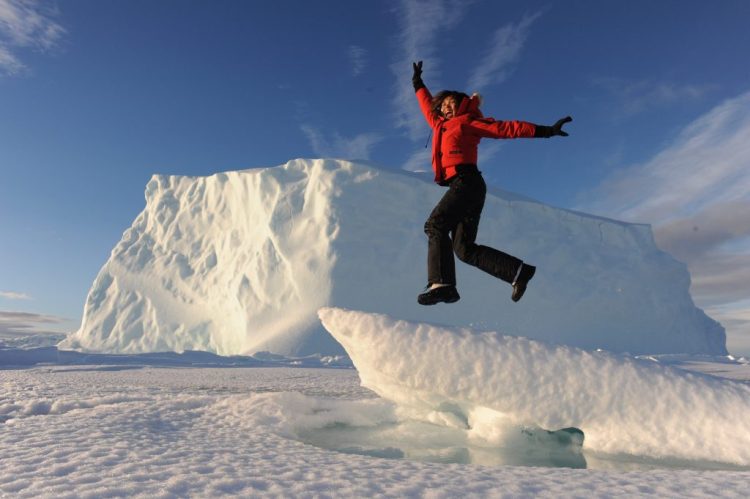 Adopt the spirit of adventure
The Canadian Arctic is a place full of true wonder. With each adventure, there are new experiences and incredible beauty to discover. Arctic Kingdom trips are not intended to have set itineraries or sights to be seen and crossed off in a short period of time. When out in the Arctic wilderness, we believe in taking things as they come, relaxing and enjoying each opportunity – whether it's a sunny or foggy day. Appreciate where you are in the moment and fall into the lifestyle of the local people.

Get ready for a total "off the grid" experience
A trip to the Arctic is unlike any other travel experience. All of our Arctic Safaris, and most of our Private Journeys, take you out into the remote Arctic wilderness, far from the communities. These trips are great opportunities to completely unplug and get in touch with nature. Be prepared to have no access to internet or phone service, unless you are using a satellite communicator.
While our camps have washrooms with dry-flush toilets, and some include showers and running water, these are eco-style. Our safari camps and cabins are premium accommodations in the Arctic and include touches of comfort, however, the real luxury is the access to such remote and incredible locations.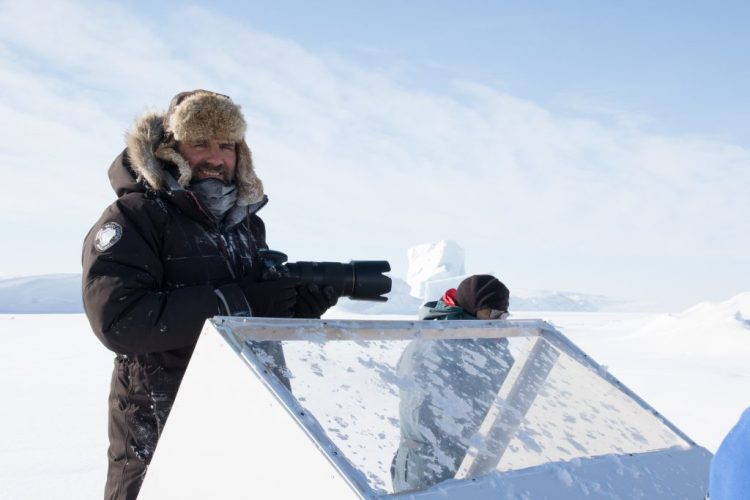 Pack the Right Cold Gear for Arctic Weather
Clothing is key to your comfort in the Arctic. Weather varies depending on season, and even throughout the week or day. We recommend dressing in layers, adding or subtracting the layers according to your needs. For all of our trips, we use a three-layer clothing system:
1. Base Layer
This layer will insulate and keep moisture away from your skin. Look for high-quality long underwear made from synthetic materials or merino wool. Avoid cotton as it draws warmth from your body and can contribute to hypothermia.
2. Insulating Mid-Layer
Think fleece tops, jackets and pants to insulate and keep you dry. It's not uncommon to have multiple mid-layers, depending on conditions. Synthetics, such as fleece, have good insulating properties, dry quickly, and keep you warm even when wet. Wool and down are also well-suited. A packable down jacket is a great option, as it has multiple uses and takes up a minimal amount of space.
3. Outer Layer
This layer protects you from the elements (cold, wind, and snow), should allow air to circulate, and allow excess moisture to escape. Depending on conditions, waterproof and breathable fabrics are desirable, but not always necessary. For dry conditions, a good quality (uncoated) down insulated parka and pants will suffice. The amount of warmth provided by down is a measure of fluffiness. It is expressed as fill-power (or loft power), the number of cubic inches an ounce of down displaces, Higher fill-power articles provide more warmth for the same weight. We suggest a minimum fill-power of 600 to 700. Fill-power of 750 to 850 is ideal for colder weather.
Ski jackets and pants designed for physical activities are not suitable for Arctic experiences, as there may be periods of little movement.
4.Footwear
It's important to have the right footwear for your expedition. For most of our trips, we recommend well-insulated, winter-rated boots and heating packets. We also suggest a removable felt liner. These add insulation and are easy to dry. Don't forget to pack comfortable shoes or booties for walking around camp.
Keeping dry is the key to keeping warm.
Wetness increases the loss of body heat, and is uncomfortable. Hydrophobic clothing wick water away from the body, and will help you remain dry. Look for synthetics such as polypropylene, polyester, capilene, and natural fibers such as wool and silk. Other materials, including cotton and down are absorbent and stay wet. It's important to avoid overdressing as it can cause perspiration and therefore wetness.
Polar Clothing Rental Package
We realize that good quality Arctic-worthy equipment is expensive and may not be necessary for a one-time adventure in the far North. That's why we offer a top-of-the-line Polar Clothing Rental Package. It's the same package our staff have depended on for years so you know you'll be getting the best options available, and don't have to worry about purchasing individual items.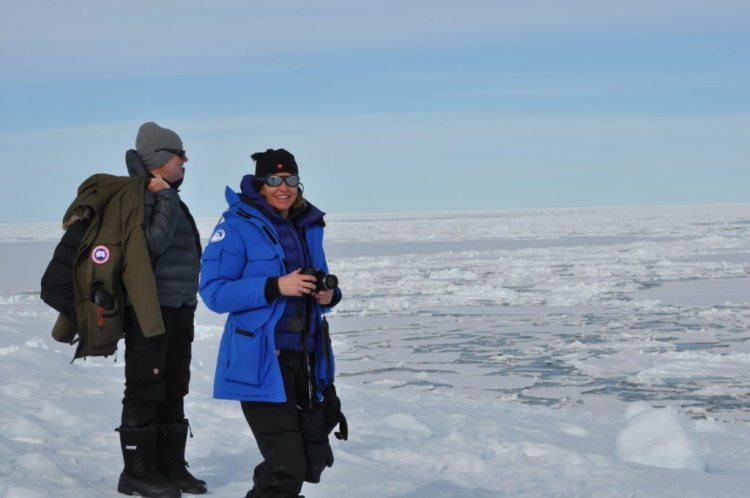 Sun Protection for the Arctic
Protecting your skin and eyes from the sun is important on trips to the Arctic, especially for spring and summer. Even when it's cold, the sun can be strong, and reflects off the snow and ice. Pack good quality sun glasses or goggles with full UV protection, as well as sunscreen and lip protection with a minimum of SPF 30.
During the spring and summer seasons, the Arctic experiences the Midnight Sun, with 24-hours of sunshine. It's a good idea to also pack a sleep mask if you're traveling from May to August.

Photography for the Arctic
Don't forget to pack a camera! Any trip to the Arctic will provide amazing opportunities for unique photography. For serious photographers, with the variety of wildlife and scenery available to shoot, it's a good idea to bring a telephoto lens (minimum of 300mm), a mid-range zoom (70-200mm), a tele-converter (1.4x or 2x), and a wide angle lens (24mm or less). Other guests have success with point-and-shoot cameras. Many photographers also find bringing a full-sized tripod or monopod beneficial.
We recommend becoming familiar with the settings and features of your camera, and abilities of your lenses, before your trip. The weather in the Arctic can be unpredictable, so we also suggest bringing snow or rain covers to protect your gear. It's also a good idea to pack extra batteries, chargers and memory cards.
You can find more tips for photography in the Arctic here.

Be prepared for delays
Weather in the Arctic can be unpredictable, and delays are possible. We recommend having flexible travel arrangements and suggest avoiding having important meetings and events the day after your trip end date. Plan on "buffer time" to account for possible weather delays in getting home from the Arctic.

Travel Insurance for the Arctic
We can't stress enough the importance of travel insurance for any trip to the Arctic. In the case of a medical emergency, most trips would require a private charter aircraft to complete the evacuation, which could be very costly. All Arctic Kingdom participants are required to obtain sufficient emergency evacuation coverage prior to joining a trip. We recommend our partner, Global Rescue. For more information on evacuation insurance, or to enroll, click here.
In light of the extreme environment of the Arctic, we strongly recommend that all travelers also purchase trip cancellation and trip interruption insurance.
Trip cancellation insurance will provide coverage starting the day you purchase your policy up to the day you leave on your trip. If you need to cancel your trip, this insurance can help cover non-refundable expenses.
Trip interruption insurance provides coverage while you are on your trip if you experience unexpected travel interruptions due to a covered risk, such as weather conditions or tour operator cancellation.
Check with your insurance provider to determine what is covered on your policy.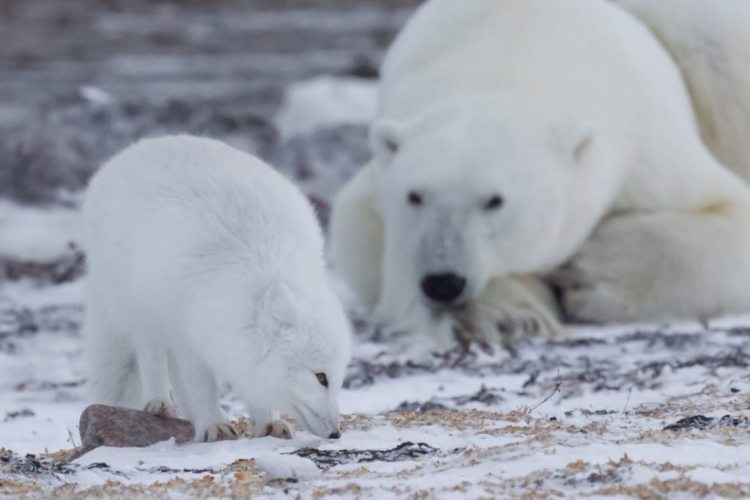 Responsible Travel in the Arctic
At Arctic Kingdom, we have a total approach to responsible tourism, and preserving the Arctic is important to us. Respecting local cultures and leaving wildlife untouched is the only way to be able to provide experiences that showcase the beauty of the Arctic for years to come.
For guests, there are some things to consider when it comes to being a responsible traveler. It is important to be respectful of the people, environment, and cultures we encounter during our trips. Here are a few tips to keep in mind:
Most importantly, follow all instructions given by your Expedition Leader or Inuit Guide.
Leave no lasting signs of your visit. Don't leave any litter behind, and leave the landscape and environment exactly as you found it.
Avoid approaching or disturbing animals and birds, including Arctic dogs found in the local communities.
Never stray from the group and stay calm during polar bear encounters. Expedition Leaders and guides are trained in polar bear safety and deescalation, and will give you a full briefing on polar bear safety.
Respect people's privacy and customs, never barter or import banned substances to a community, and always ask before you photograph.
Remember that you are part of a group, and other participants may have different reasons for taking the same trip. Be respectful of the needs and wishes of others, and expect the same in return.
Want to explore the Arctic?
Check out our Arctic Safaris, Getaways, and Private Journeys, or get our brochure to learn more about our travel experiences.
To stay up to date with all our Arctic travel inspiration, follow us on Instagram and Twitter, like us on Facebook, and sign up for The Arctic Explorer.
Ready to book your adventure?
Contact us today! Our Arctic Travel Advisors are happy to answer any questions and guide you through the reservation process.