March 15, 2019
Interested in travelling to the Arctic but wondering what the accommodations will be like? Are you wondering what "Arctic safari camp" entails?
Are you a traveller looking for something new and exciting for your next adventure. Maybe you're a family wanting something safe but unforgettable. If you're picturing a holiday that is filled with bucket list moments surrounded by stunning landscapes, then perhaps an Arctic Safari is in your future.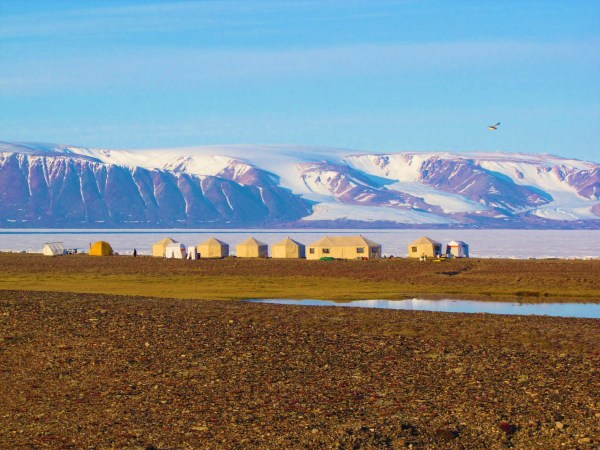 Considering you'll also experience unforgettable wildlife encounters, like polar bear and whales it is important to note that we offer a comfortable and safe camp in a remote and unique destination, that delivers your adventure, right on the land.
Let's dive into what our safari camps look like throughout the year and how an Arctic safari is designed to maximize your experience and comfort.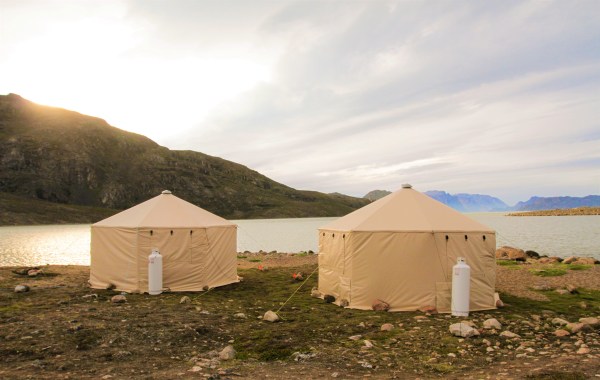 Spring Camp
Imagine opening your tent in the morning and looking out to a pristine Arctic landscape. You notice the stunning mountains and breath in the fresh crisp air. You feel the calm sweep over you as you realize your only task today is seeing rare and iconic wildlife and surrounded by this truly unique region of the world.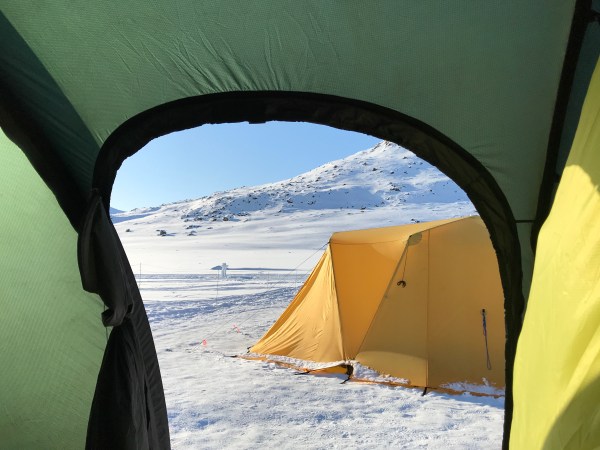 Our spring-time safari camps are organized to offer the most stunning views possible to our guests. First, we place our camp in a location on the ice that provides a real Arctic experience but with the comforts of a fully furnished and established camp. Second, we organize the tents in a line so that every tent has an optimal view of the landscape.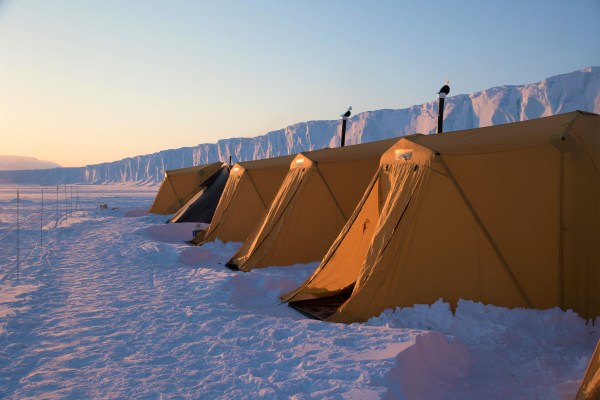 Each tent fits two guests comfortably and is roughly seven feet tall so you can easily stand up with space to move around. There is a diesel heater for each tent to maintain a comfortable temperature. And every tent has electrical plug-ins that let you recharge all of your different batteries after a day of taking photographs!
Guests sleep on a thick inflatable mattress infused with down to keep you warm. The mattress is on an EZ-Bed frame to ensure comfort. Each tent has a light powered by the camp's generator. You're supplied with other battery powered lights and flashlights for later in the evening when the generator has been turned off for the night. There is even a hanging cubie for guests to use for clothing storage and toiletries.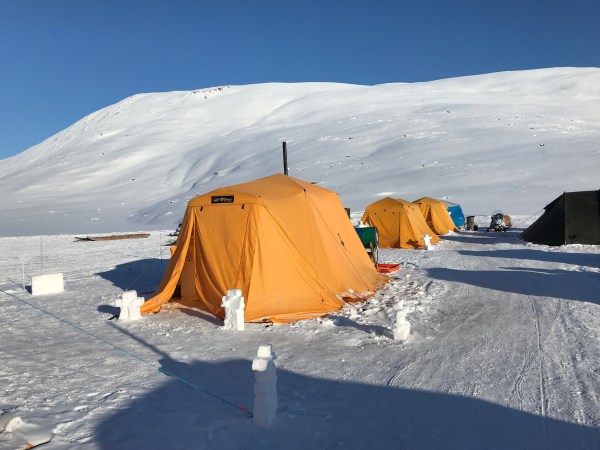 Washrooms are placed behind the tents for easy accessibility. The common space/dining area is in a large tent beside guest-tents and washroom so you can come to socialize, read a book and discuss with others, with our guides, with our Expedition leader about all the incredible highlights from the day and what is in store for tomorrow.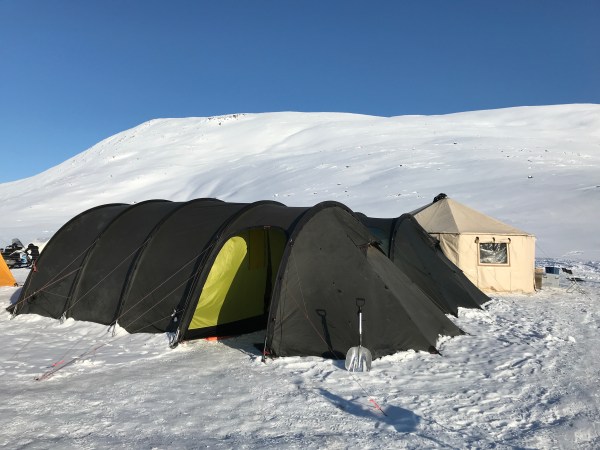 After 20 years of leading expeditions, we apply our knowledge and Arctic experience to choose a safe location for our safari camps that still offers stunning views. Our spring camps have an added electric bear fence that surrounds the camp to further ensure our safety, and our expedition leader's dog is also trained to alert us of any wildlife that may be too close.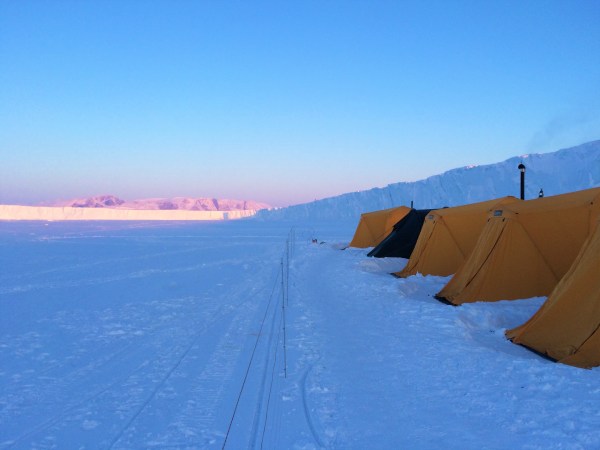 Our camps are also put in a location that is out of the traveling paths of wildlife. That means in our spring safaris we find the wildlife, they don't find us! Part of our 20 years of experience is understanding how to provide memorable wildlife encounters but on our own terms.
Curious about this early spring safari? Explore our Spring Polar Bear & Icebergs of Baffin Safari now.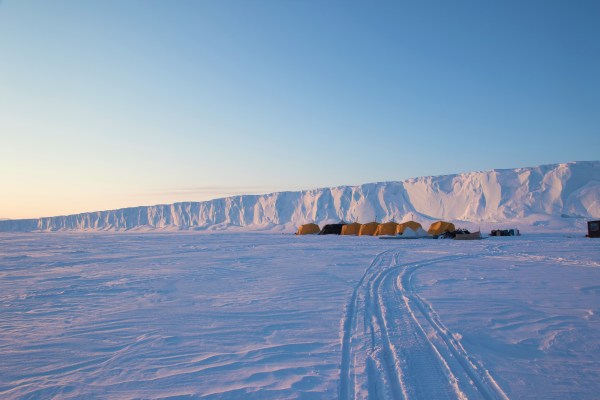 Floe Edge Safaris
Our floe edge safaris, Narwhal & Polar Bear Safari, and Ultimate Floe Edge Explorer are Premium Safari Camps on land. Deciding to put the camp on land is part of our evolving safari experience. This allows us to provide a longer season by placing the camp on the shore instead of the shifting ice of late spring. But they're also a more comfortable experience for guests who won't have to deal with puddles that form on top of the ice from melting snow at this time of year.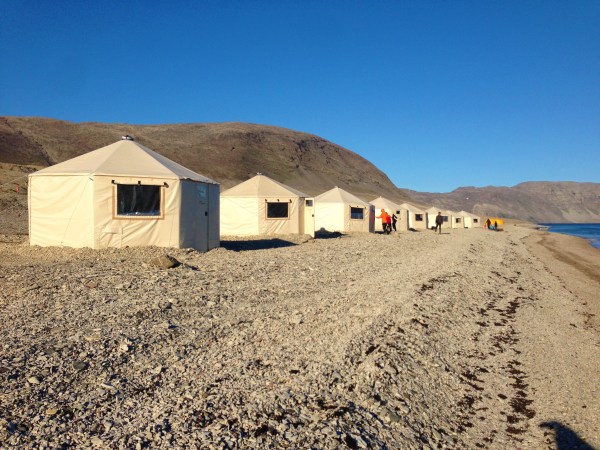 We use yurts for our premium safari camps, which offer a remarkably comfortable experience. They're spacious enough to fit a 6-foot table that guests can use for their laptops or to read. They're well-lit and have electrical plugs for charging electronics. They feature a sturdy metal bed frame and a six-inch mattress fitted with fleece bedding that is soft and comfortable.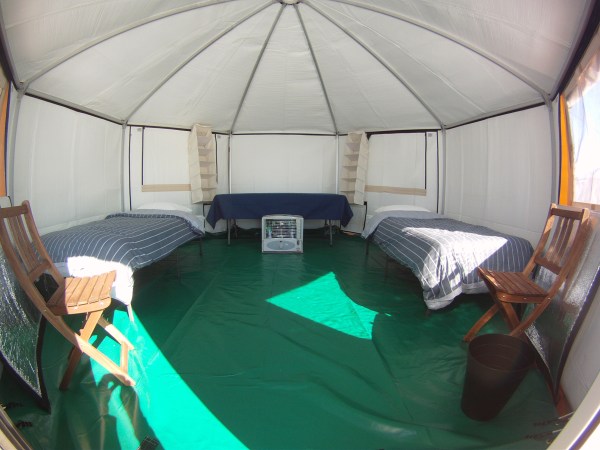 The yurts have a small propane heater to ensure comfort. They have a clothing cubie for storage and there are black-out curtains that allow you to keep out unwanted light considering the 24-hour daylight. Guests can open their windows to let in light and fresh air too. We know how refreshing and pristine the air quality is up here.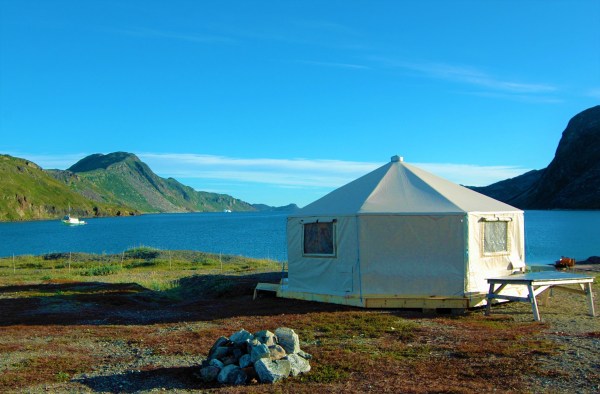 The camp is also organized to optimize the breathtaking scenery all around. Yurts face out to the best view with washrooms, and even hot shower tents, behind our yurts for easy accessibility. This premium safari camp offers a large dining area for guests to enjoy our gourmet meals. We offer a separate spacious lounge where guests can relax, mingle and enjoy our optional nightly talks from naturalists, professional photographers, or local guides.
You can experience the floe edge of our Narwhal & Polar Bear Safari and Ultimate Floe Edge Explorer.

Polar Bear Migration Fly-In
Sure, the location of our cabins is incredible because migrating polar bears will literally walk right up to and past our safari camp, but it's the comfort of these cabins that sets this camp apart.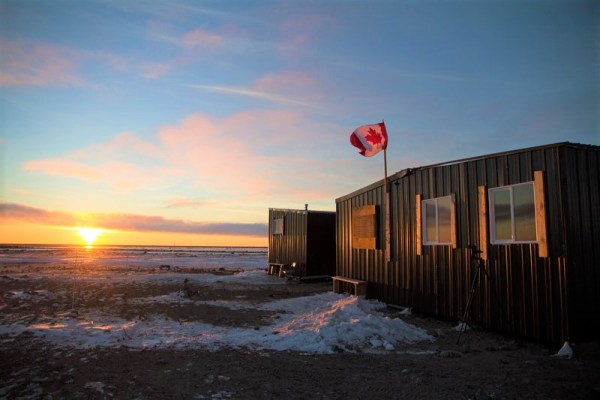 Guest have their own cabin and an executive chef that prepares gourmet meals. Walk into the cabin, there's a private washroom on one side and through the next door is a spacious bedroom with two beds (or one queen bed) and a work table for computers and charging electronics. All the cabins have double doors which prevent cold air from getting into the cabins and keep them nice and warm.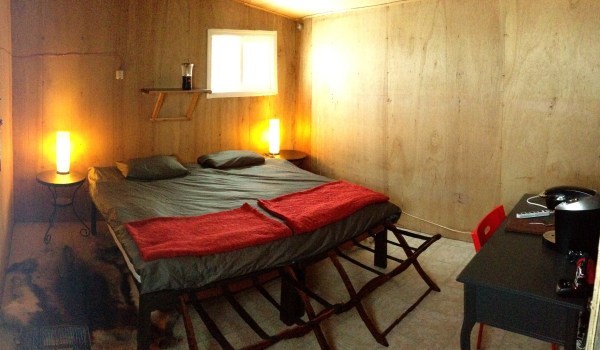 For meals or just relaxing there is a spacious cabin that has a lounge/dining room. Imagine our chef's creations emitting those wonderful aromas as the hot meal is being prepared. It fills the dining room air as you chat with fellow guests, guides and our expedition leader about this fascinating part of the world we are experiencing.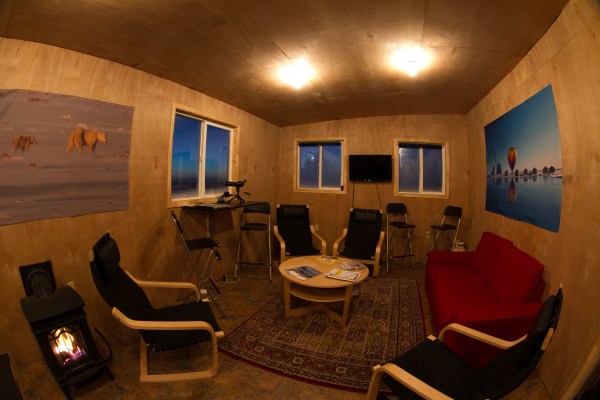 On this trip there is no searching for polar bears, they often come right to you. The cabins are close to the shoreline of Hudson Bay where bear cubs and their mothers, or even the lone male bear, will wonder curiously, up to the edge of our camp. Of course, there is an unobtrusive electrical bear fence that adds to our safety but also helps provide an intimate experience. You'll hardly notice the thin wire fence as you take eye-level photos of bears, especially cubs that may be seeing its first humans.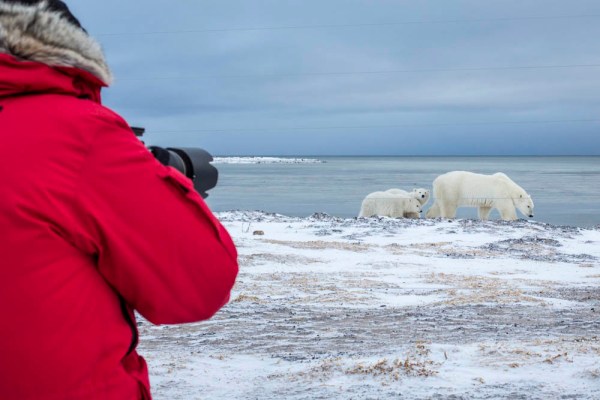 Guests fly into camp from Churchill, which means they arrive quickly and directly into camp. This can provide more time to see and photograph polar bears, Arctic foxes, snowy owls or other wildlife if mother nature is cooperative. A bush plane flight into camp also provides a unique birds-eye view of this vast tundra landscape.
Learn more about our Polar Bear Migration Fly-In Safari and our Nanuvik Polar Bear Cabin Migration Safari now!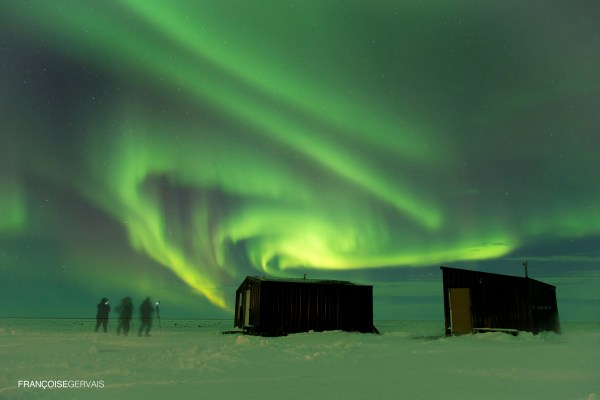 Experience The Arctic On A Safari
Get chances to view elusive Arctic wildlife and experience the majesty of the Arctic on safaris year around. View all Arctic Safaris here.
Ready for adventure? Contact our Arctic Travel Advisors to book.
Are you still curious about the many wonders of the Arctic or looking for more interesting content then explore more blogs here!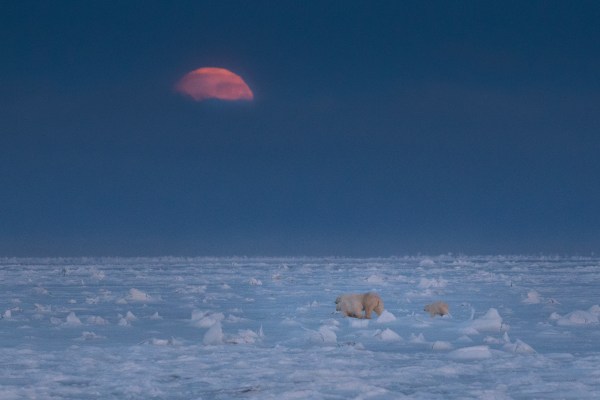 By: Mat Whitelaw