January 07, 2022
As we start the new year we can't help but start to day dream about what we want to accomplish. All the work goals we are preparing for but also our vacation plans. We've realized lately that travel is something we cannot take for granted so when you plan your next trip try to make it unforgettable.
A bucket list are the things we want to do in our lifetime and when you start to think of it there are a lot of things to try. That is why we try and make each of our trips a once-in-a-lifetime experience that lets you achieve as many travel goals as possible.
With over 20 years of experience providing Arctic adventures we want to offer the best that the Arctic has to offer. So, if you're looking for a vacation that will feel like a dream come to life, then come explore some of the exceptional activities and phenomena you can experience on each of our trips.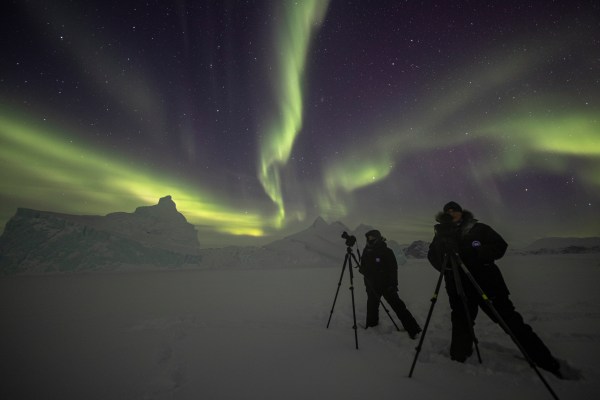 Once-in-a-lifetime Activities
Even though our trips take you to some of the most beautiful places on Earth, we want to fill your days with unforgettable activities that take advantage of those locations.
While there are "add-on" activities you can attach to your trips that are unforgettable like riding in a hot air balloon, we make sure you are enjoying bucket list activities throughout the trip.
That is why we schedule time for things like kayaking among icebergs or snorkeling in the Arctic Ocean. Find out what other once-in-a-lifetime activities you can try on our wildlife safaris.
Kayaking Among Icebergs
When you see an iceberg in person you can help but notice a certain gracefulness to it. The way that it moves in the water can seem like a dance and its smooth glossy reflection. Getting the chance to see an iceberg from a kayak feels very natural and peaceful.
Depending on the size of the iceberg you may paddle up to it and notice the hidden shapes and edges that have been carved by wind and water. It feels so much more intimate than racing by it in a motorboat or cruise ship. You feel like you are one with nature.
Narwhal & Polar Bear, A Floe Edge Safari
This trip takes you to the floe edge, which is the place where land locked ice ends and the open ocean begins. That means that you are in a prime location for spotting narwhal swimming by but it is also a perfect place to bring out the kayaks and look back at your group like you're one of the passing narwhals. There's even a chance that narwhal and belugas might appear while you are paddling.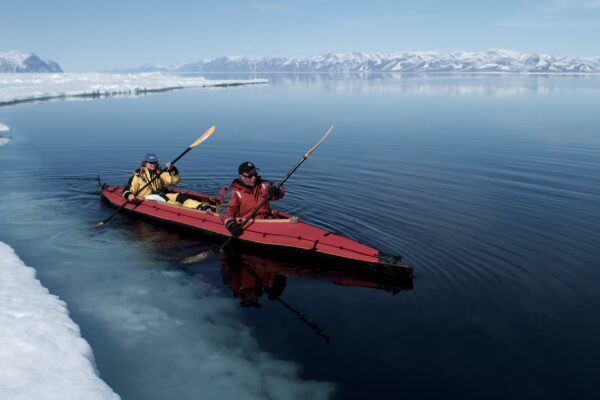 Polar Bears & Glaciers of Baffin Island
Take advantage of visiting the Arctic in the summertime when you can comfortably kayak in a very special place we have dubbed "Iceberg Alley". It is a narrow cove that often fills up with icebergs of all sizes. It is an amazing thing to experience the magnitude and size of some icebergs.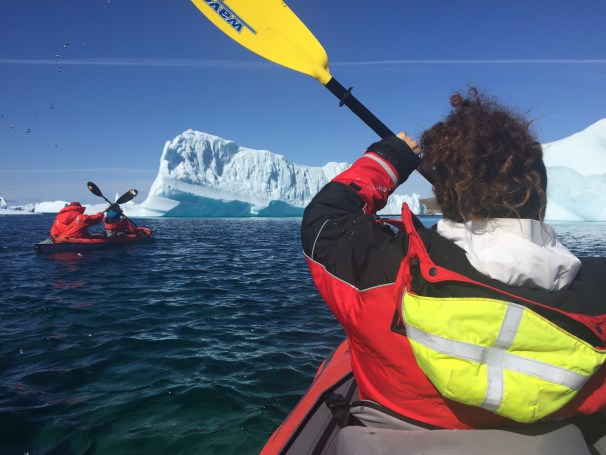 Snorkeling At The Floe Edge
Narwhal & Polar Bear, A Floe Edge Safari
The floe edge is a remarkable ecosystem that is quite dynamic for the Arctic. As the Sun melts the ice algae is released into the water, which brings fish that then attract whales like narwhal and belugas. That means you can claim to have swam in the Arctic Ocean but also that you can see the world from a narwhal's perspective. Luckily, we provide dry suits so you will stay warm.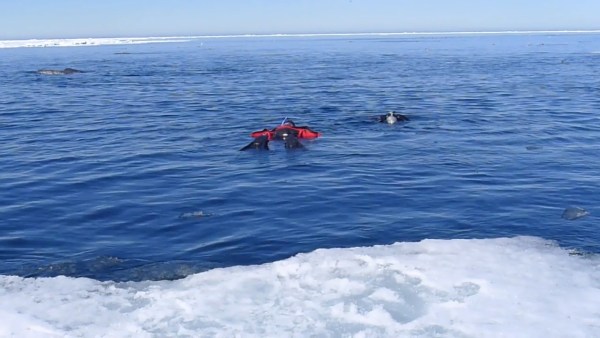 Natural Geography & Phenomena
The Earth is made up of some spectacular landscapes but sometimes the most incredible things we can experience are bigger than mountains. Seeing a colossal glacier encompasses vast mountain ranges or seeing the Northern Lights in person can leave you speechless. These are the trips you can try some of those experiences.
Witness the Northern Lights
The northern lights have been called "the greatest show on Earth" but that doesn't do it credit. The aurora starts all the way back at the sun and those sun rays collide with our atmosphere creating this dazzling phenomenon.
Guided Northern Lights Getaway
This is a trip dedicated to seeing and photographing the northern lights. You will travel to Iqaluit where you will spend your days exploring cultural and historic sites, try local foods and visit Inuit craft shops, but at night you will be transported to our secluded aurora site where your private guide will provide a northern lights photography workshop. This way you can capture great photos of this incredible event.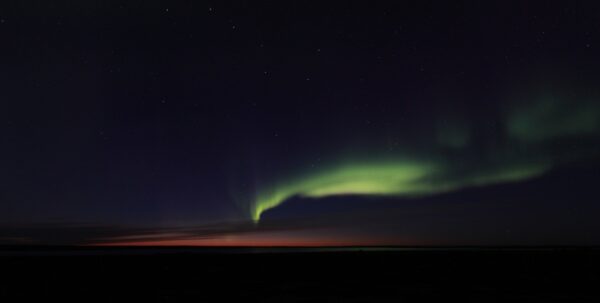 Spring Polar Bears & Icebergs of Baffin Safari
The amazing thing about visiting Baffin Island in the early spring is how visible the northern lights can appear. Since the Sun still sets a little earlier that means you don't have to stay up late to witness the aurora. You may see them after dinner as you walk back to your tent.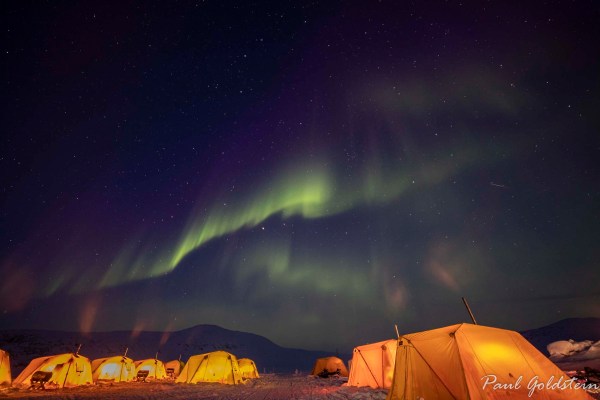 This is our summer getaway to Iqaluit that still focuses on exploring the city and photographing the northern lights. Iqaluit is situated within the aurora oval zone, a region considered the best for seeing the northern lights, you can even see them during the summer. Enjoy guided tours of the city during the day but get ready for a beautiful show at night when the Northern lights twist and twirl above.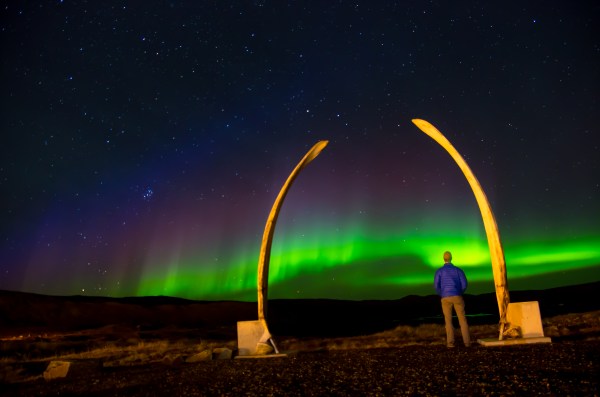 Polar Bear Migration Fly-In Safari
Our remote polar bear cabins put you right on the tundra next to Hudson Bay. As the autumn turns the water into frozen sea-ice the northern lights appear more often as the nights get darker. It is an truly wonderful feeling to step out of your cabin and look up at the reds, blues, greens, and even purples of the aurora.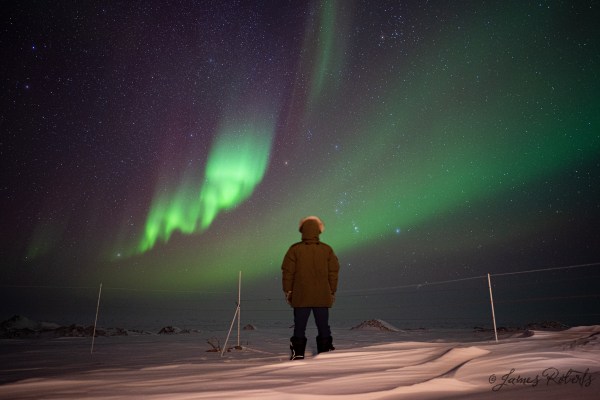 Visit a Glacier
Glaciers are something often overlooked when it comes to things you want to see in your lifetime. But as climates shift, seeing a glacier in person might become more of an once-in-a-lifetime goal then you thought. There is also something so powerful about seeing an ancient glacier carve it's way through a mountain valley and crumble off into icebergs. These two trips take you right to the edge of Coronation Glaciers in Auyuittuq National Park.
Spring Polar Bears & Icebergs of Baffin Safari
Visit the eastern coastline of Baffin Island in the spring when bays and channels are frozen over and let you explore almost anywhere you can take your snowmobile. As you look for polar bears you will visit the edge of Coronation Glacier that flows from the Penny Ice Cap.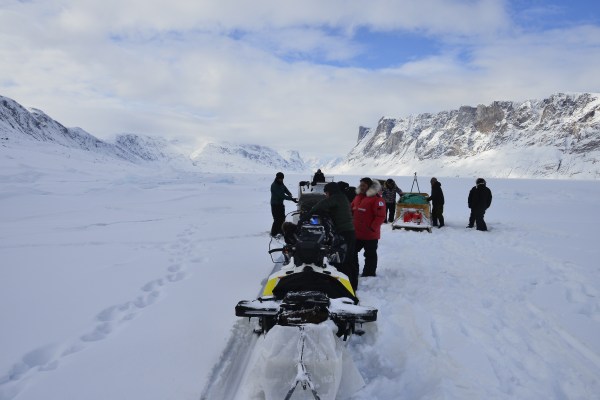 Polar Bears & Glaciers of Baffin Island
This is your chance to visit Coronation Glacier but during the summertime when you can enjoy a boat ride that takes you right up to the glacier. You may even notice icebergs breaking off and hear a symphony of crashing ice.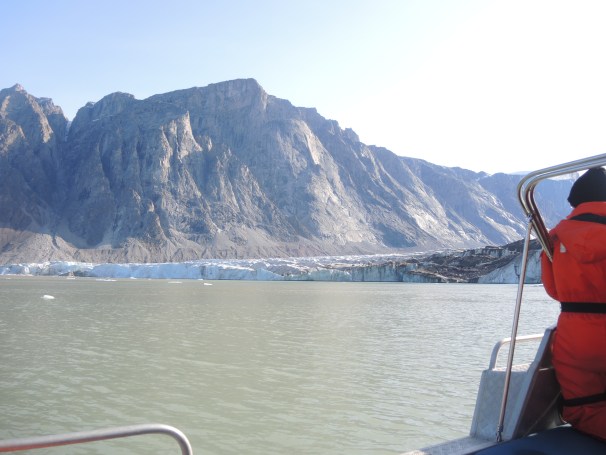 Experience The Arctic On A Safari
Get chances to view elusive Arctic wildlife and experience the majesty of the Arctic on safaris almost year-round. View all Arctic Safaris here.
Ready for adventure? Contact our Arctic Travel Advisors to book.
We now have a Gear Shop where you can browse some of the best outdoor clothing and equipment to buy or gift to friends and family.
Are you still curious about the many wonders of the Arctic or looking for more interesting content then explore more blogs here!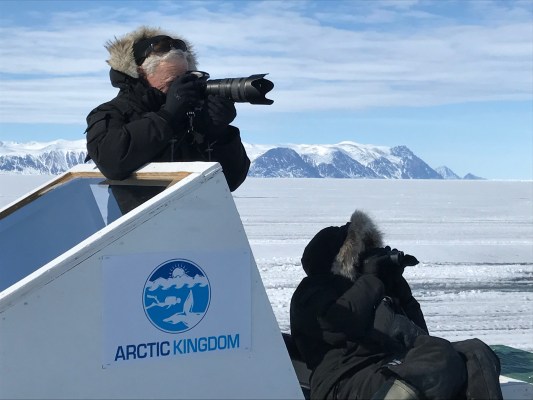 By: Mathew Whitelaw