November 12, 2021
Cory Trepanier was a brilliant painter, an inspiring filmmaker, devoted father, husband, and son, and he, without a doubt, transported his audiences to some of Canada's most remote and breathtaking locations.
His passion for the outdoors will continue to inspire people to go to those quiet places and want to protect the wild spaces. His paintings and films have one undeniable element to them; they connect you to that place on Earth and a moment in time.
He worked with Parks Canada to emphasize the importance of conservation, and his art encourages people to build an appreciation for nature.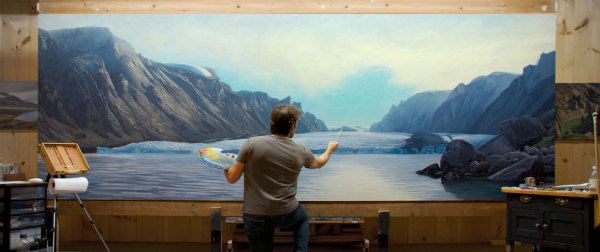 A Modern Explorer
I wish I knew more about painting to reference his style and technique but what I can acknowledge is the remarkable editorial element in all his work. It is clear that he worked hard to get to the locations he painted, and it is obvious that he wants you to feel like you are there, noticing the light on the rock alongside him.
There's a fun moment in an interview on TVO where he is asked if there actually was a rainbow at that moment, a cheeky way of asking if the paintings are idealized. With excitement and an adventurer's wisdom, he began to explain that with waterfalls, the mist often bends the light so, not only does it make rainbows, but it often can make it seem like they are dancing. Even the most spectacular parts of his paintings are basic science to someone who has spent time among these beautiful places.
There is a long line of explorers and adventurer painters that Cory is in the company of now. Figures like Albert Bierstadt and Thomas Moran would be some of the first Europeans to visit places we now call Yosemite and Yellowstone but were magical places on the edge of the known world. Their art, just like Cory's, allowed their audiences to experience these remote places and would lead to their conservation.
As a Canadian landscape artist, he walked in the footsteps of artists from the Group of Seven painters. I'm sure he was often asked what he thought about Tom Thomson, and the time I saw him answer that question, he described Thomson's method of immersing himself in that wilderness.
He explains how Thomson would spend a whole month in Algonquin Park trying to create a painting a day. It was a way of experiencing a place firsthand to know the wind and weather before you try and present it. How can you capture a breeze if you haven't noticed the subtle ways it changes the environment?
An Inspiring Passion
He did more than make a living out of his two passions, painting and the outdoors; he makes people care. That can be hard to pull off when so many people live among concrete sidewalks, but he was authentic, and people connect with that. His films awed people but left them concerned and interested.
With help from his wife, brother, and friends, he filmed his expeditions into the wild. The weather wasn't always perfect and pristine landscapes can be very difficult to traverse, but his films are faithful to the whole experience. Journeys are often further than you expected, and adventures can be harder than you thought but when you come home you look back on the special moments. Cory was gifted enough to return to his home studio and then paint those moments to share with all of us.
Like Bill Mason, the famous Canadian naturalist, artist, canoeist, and filmmakers, you watch any of Cory's Into The Arctic films and feel like you are there on the adventure. Cory's humble nature is matched only by his yearning to be there and paint. You can see him walking back and forth on a beach or marching up and down a hillside looking for composition and lighting but the moment he finds it…he whips out his easel and brushes.
"I am tempted to continue exploring further wanting to see what lies beyond the next ridge… Then, as often happens through this process, I stumble across a scene that completely takes me. I forget everything else and dive into my pack."
-Cory Trepanier, Into The Arctic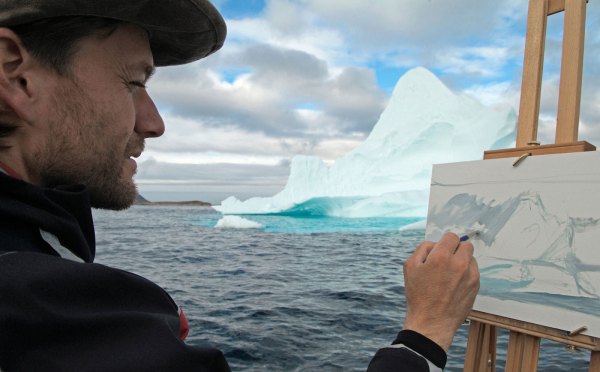 The confidence in which he began painting is empowering to behold. These moments were when his gift became evident. He is not just an outdoorsman… he is a devout painter.
Truly the renaissance man, he used the influence of the past but pouring light on the present. Emulating one of his heroes, Ansel Adams, Cory is a conservationist who uses his art to reach you. Cory would interact so intimately with the land for weeks before attempting to capture it.
His process was to transport himself into an environment he considered compelling. There is often a gigantic yet, delicate element to the locations he visited. This is a common theme in some of Earth's most powerful places. The way a river valley in the Yukon can seem ancient yet fragile or Mount Thor towering over everything around but seemingly standing alone.
He would begin to explore the land and experience the environment, which would lead to a eureka moment when he would be taken over with inspiration and need to start painting. He would create smaller paintings to capture key elements like lighting or variations of colouring, take a couple photos to make sure he had the structure, and then come home to his barn studio and for months throw himself into, often, gigantic canvases.
A skilled painter can leave you speechless, but a true artist leaves you attached to the subject of the painting. This mattered to Cory because these places became important to him, and he wanted to excite you but hoped that it would make the world a little better.
"That's what nature can do; it can bring a sense of awe and wonder. In this world where everything is about war and politics, and this and that, we need spaces to imagine…and to think good things."
-Cory Trepanier
Cory seemed inspired by the story of Thomas Moran's painting The Grand Canyon of the Yellowstone. How the awe that Moran inspired was so compelling that the government decided they would set apart areas of the country that are so beautiful that people could visit and experience the wonder. Soon, Yellowstone became the U.S.'s first national park.
He worked closely with Parks Canada to protect Canada's wild places, especially ones that might be easier to exploit because most people have never been there and are considered too remote to care. But Cory cared about them, and a painting of a waterfall in Nunavut might one day protect it from a dam. That is the power of his art and devotion to the land.
What He's Given Us
If you find yourself walking across a breathtaking landscape and have a titanic urge to sit down and paint it, that is how he inspired us. If you are drawn to somewhere few people have gone even though it looks hard, that is the example he provided us. If you take the time to observe every element of a place, from the smells to the feeling of bliss, that it is the bond we learned from Cory. When people seek to protect special places and preserve them for all to see, that is his legacy.
Cory left us with some of Canada's most spectacular works of art and took us alongside him to the places that inspired him. He pushed further and, without a doubt, worked very hard. He turned a passion for painting and a love of the outdoors into something more than a career; he became an example to us all.
If you can't hold back from following your dreams and need to pursue your creative spirit, then get out there and focus. Cory showed us the importance of working hard and that adventures come with ups and downs, but you can create something magical if you are dedicated.
Cory Trepanier connected us to the physical world in a way that made us all a little happier and inspired us to follow our aspirations. Despite any setback, like wind storms in the Yukon, polar bears on Baffin Island, and wolves at your tent on Ellesmere Island, if you stay true to your passion, beautiful horizons are waiting for you.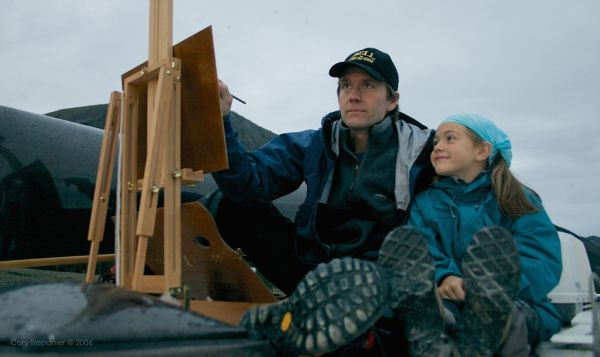 "Life abounds everywhere in the Arctic landscape, but it can allude those who don't bend down for a closer look."
-Cory Trepanier, Into The Arctic
Discover More About Cory Trepanier & His Body of Work
If you are looking for more resources on Cory Trepanier then please visit his website and other his platforms.
His website:
Cory Trepanier | Canadian artist and filmmaker. Passion: painting the ARCTIC and other wild places.
To experience the Canadian Arctic through Cory's eyes and witness the wonders he captures, you can now watch all three of his films on his YouTube channel for free.
To watch his Into The Arctic Trilogy:
INTO THE ARCTIC Films – YouTube
Watch featurettes of Cory's painting process from starting in the field to finishing on enormous canvas in his barn studio. Also, find clips of Cory's big and small projects and interviews here:
The photos come from RCGS.org and Corytrepanier.com
These videos are a gift from a beloved artist, inspiring conservationist, enthusiastic naturalist, and loving father / husband / son / friend. Our hearts go out to his family. Thank you, Cory Trepanier.
With appreciate by: Mathew Whitelaw