Written by
Mat Whitelaw - September 12, 2023
Sheila Watt-Cloutier: Inuit Advocate & Climate Warrior
Sheila Watt-Cloutier has lived through a dynamic period for Inuit communities. Born at a time when Inuit families were living off the land, using traditional methods and relying on dog sleds, she would witness an attempt to assimilate her neighbours and culture to federal interests.
Watt-Cloutier was recognized at a young age for her intellect and would travel much of Canada in education programs. She would return home to fight for the rights of Inuit people and develop an education program that would lift her community.
Elected president of the Inuit Circumpolar Council and inducted into the Order of Canada, Sheila Watt-Cloutier is one of the most impressive and important figures of a generation.
Join us as we explore the life and career of this Indigenous and human rights activist, writer, educator, and all-around legend.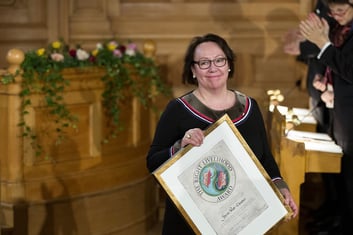 Early Life
Shiela Watt-Cloutier was born into a small Inuit community Kuujjuaq – formerly called Fort Chimo – in northern Nunavik (northern Quebec) in 1953. She never met her father, an employee of the Hudson Bay Company (HBC) trading post. He would leave the family when he was reassigned so she was raised by her mother and grandmother.
Her grandmother was a domestic worker at the HBC trading post and her mother was an interpreter and healer. She attributes her fortitude to being raised by single working women.
It was difficult for the family considering it was a time where her community lived off of hunting and ice fishing, a role typically dependant on elder males and expertise passed onto sons.
She was raised in a time that the Inuit community still lived off the land and travelled using dog sleds or kayaks. As a young Inuit girl, she was trained in preparing the animal for meals and crafting hides and other items into clothes and tools.
She has claimed that this period was foundational to her activism and that by living off the land she experienced the interconnected relationship of the environment and humans.
When she was 10 years old, she was chosen by the federal government for an education program where she'd live with a white family in Nova Scotia. She did well academically but found it traumatic and struggled with losing some of her Inuit identity.
After two years, government official sent her to a vocational centre in Churchill, Manitoba. Here, she would learn to cook, and other domestic jobs likes sewing. Her intellect was again recognized and so she was enrolled in an advanced learning program.
She found it comforting to be around students from other Indigenous communities and some of her family in Churchill. Yet, her struggle with identity came at a time when she and her friends became captivated by the pop culture of the 1960s but were deeply resentful of the assimilation to "the South."
Now at the age of 15, the government selected her to attend high school in Ottawa. She lived with her cousin her first year in Ottawa, but they were separated in her second year.
She felt isolated and dejected when a government councillor would discourage her from pursuing a medical degree. But her story was only beginning, and she would achieve things she couldn't have imagined.
An Educator & A Leader
Watt-Cloutier began working as an interpreter at a hospital clinic where she redeveloped her Inuktitut (the Inuit language) after so long in the south. At the clinic she witnessed first-hand the chronic health issues effecting her community along with the tragic rate of family violence and drug and alcohol addiction.
In 1974, she would marry Denis Cloutier and have two children. She began working for the Kativik School Board (KSB) and would move back and forth from Kuujjuaq to Montreal with her family.
During her time as a department head, she would push for policies that addressed the complex needs of Inuit students who faced unique challenges stemming from cultural alienation, family addiction, and domestic violence, which leads to suicide and further addiction.
She would run for office in 1993, for the position of corporate secretary of the Makivik Corporation, which is the body in charge of the funds granted from the James Bay and Northern Quebec Agreement. She would not win that year but learned from the experience and won in 1995 on a platform of addressing youth social and educational concerns.
Also, in 1995, she was elected as the Canadian president for the Inuit Circumpolar Council (ICC). The ICC is a multinational non-governmental organization representing the Indigenous peoples of the Arctic. She held this position until 2002 when she became the international chair of the organization until 2006.
Watt-Cloutier fought against the use of persistent organic pollutants, which is toxic waste that doesn't break down in the environment. She was critical of their harmful effect on Inuit food supplies and general health. Her work with the ICC would shed light on the connection between climate change and harm to traditional Inuit practices.
As an executive member of the ICC from 1995 to 2006, she was in a unique position during a dynamic time in climate change awareness. She was involved in a number of pivotal studies and initiatives, while being one of the only Indigenous women in the room.
In 2005, she filed the world's first legal action on climate, filing a petition against the George W. Bush administration. She argued that unrelenting U.S. greenhouse gas emission violated Inuit people's human rights. While the case was dropped by the court, she had built the foundation to argue the link between global warming and human rights.
Watt-Cloutier was nominated for a Nobel Peace Prize in 2007 for bringing awareness to the impacts of climate change on the Inuit people.
She would continue to work as a negotiator and political advisor bringing attention to the threat of global warming by building awareness and understanding of the topic.
In 2015, Watt-Cloutier published her book, The Right to be Cold: One Woman's Story of Protecting Her Culture, the Arctic and the Whole Planet. This award-winning memoir addresses her childhood and challenges throughout her life, while recognizing the achievements of Inuit people adapting to a changing world.
Fighting to Protect the World
When people think of heroes, they might have images from Marvel movies but Sheila Watt-Cloutier is the real deal. She spent her childhood observing one of the most drastic cultural and social shifts her community has ever experienced. She witnessed the systemic and biological issues facing Inuit people as an educator and political leader.
She has been the Arctic's David battling against Goliath, fighting for responsible climate action. An Inuit girl born of the snow and ice that would take on giants to protect us all. She embodies the analogy of the little ripple that turns into a giant wave that crashes against the walls of adversity.
She has made a difference in the world so we would like to recognize her contributions. We encourage you to learn more about Sheila Watt-Cloutier, her book, and her lectures such as her Ted talk.
https://www.youtube.com/watch?v=5nn-awZbMVo

If you want more profiles of Inuit icons then enjoy more of our Arctic Stories by clicking here.
Learn More About the Arctic
Explore our blogs and book club ideas if you want to learn more about the Arctic and hear more of their stories.
To see more of our stories, click here.
Also, visit our earlier book club selections by clicking here.
By: Mathew Whitelaw